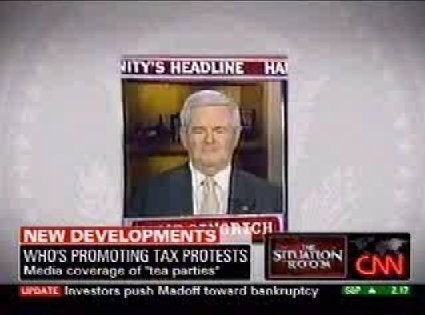 Cable news networks CNN and MSNBC are calling out their competitor, Fox News, by raising questions Monday about the propriety of Fox's highly promotional coverage of the burgeoning tax day tea party movement.
In a package that aired on the "Situation Room" Monday, media critic Howard Kurtz said Fox seemed to be a "co-sponsor" of tea parties. Kurtz closed by saying "the question is whether Rupert Murdoch's network wants to be so closely identified with what has become an anti-Obama protest movement."
Fox had a ready answer Monday afternoon from Neil Cavuto's fill-in host, Stuart Varney, who ended an interview with a guest by saying, "It's now my great duty to promote the tea parties. Here we go!"
On MSNBC, "Hardball" host Chris Matthews was flabbergasted by a Fox tea party promotion promising "fair and balanced" coverage of the events.
"You know, I got to believe that Roger has the biggest tongue in his cheek when he does these ads. 'We report. You decide.' Balanced coverage of an anti-government rally. Balanced coverage of that. It's amazing."
Kurtz and Matthews also questioned whether the tea party movement has true grassroots or just astroturf. Kurtz subtly jabbed the notion that the tea parties are a bottom-up campaign, noting that conservative celebrities like Michelle Malkin and Newt Gingrich are "among those backing what's being billed as a grassroots movement."
Mathews was a bit more caustic, asking a guest whether he was "personally angry that Newt Gingrich is hijacking a populous crusade."
"How much of this is real people," Matthews asked, "and how much of it is good old partisan politics?"
The Huffington Post wants to have citizen journalists at as many of the April 15 tea party events as possible. If you're interested in attending one of the protests and reporting back to us with dispatches, photos, or video, click here to sign up. We'll contact you shortly with further instructions.
Calling all HuffPost superfans!
Sign up for membership to become a founding member and help shape HuffPost's next chapter