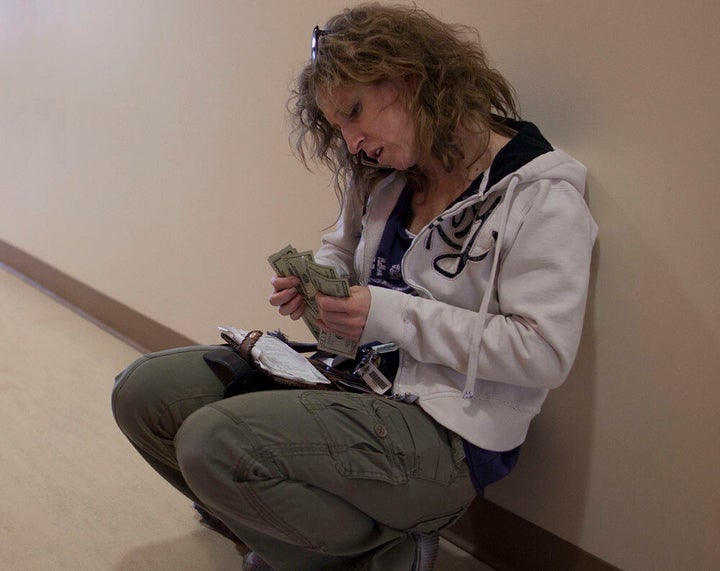 This is the time of year when everyone's minds turn to taxes and their finances. But even in the world's wealthiest nation and the greatest city in America, financial security remains a serious problem. Here in New York, one in four people do not have enough money to meet a basic family budget. Making matters worse, many of these families lack even a basic understanding of crucial financial tools and practices that could help alleviate their situations. Fortunately, social services exist to provide immediate help to these families, but in order to break the cycle and establish lasting and systemic change we have to go beneath the surface. Educating low-income New Yorkers and developing financial literacy is the key to creating financial mobility, security, and ensuring these families don't find themselves in the same place next year.
One resource is the Earned Income Tax Credit (EITC), a federal tax credit for people who work, but have low to moderate wages. Many often aren't even aware they qualify for the credit, so there are many programs designed to raise awareness among lower income communities. While it remains an important tool, United Way of NYC is working towards a more long-term, sustainable goal through its program, MoneyUP. This joint initiative with The Financial Clinic takes an innovative approach to helping low-income people get a grip on their finances and save for the future, rather than just offering a short-term solution.
The program offers free tax preparation for low income New Yorkers and helps them determine their eligibility for the EITC. Customers are encouraged to engage in additional year-round financial coaching focused on goal setting, debt reduction and savings building. Half of incoming MoneyUP customers have less than $100 in emergency savings and 22 percent do not have a bank or credit union account.
This program helps people like John, a New Yorker who earns a little over $20,000 per year and has a baby on the way. He came into the program with no formal bank account and was considering investing the little he had in what was likely a pyramid scheme. His MoneyUP coaches helped John open a bank account, set up a budget for him and his new family, convinced him to set up an IRA and savings account for emergency expenses, and counseled him on making positive investment strategies rather than taking high risks.
Another MoneyUP client, Melissa, was a recent immigrant and domestic violence victim who was struggling to support her two daughters on less than $150 each week. Melissa was surprised to learn she was a head of household and eligible for the EITC. Melissa used her $2,000 in tax refunds to pay for US Savings Bonds for herself and her children, back-to-school clothes, and rent. Now Melissa keeps records of her work-related expenses and income so she can be ready for next year's tax season.
A 2010 survey looked at the broader results from this program and found MoneyUP customers greatly benefit from year-round coaching and were more likely than other low-income New Yorkers to achieve long-term financial security. Additionally, MoneyUP customers who participated in ongoing coaching were better able to set realistic financial goals, more confident they would be able to achieve those goals, and less likely to use fringe financial services like check cashers and pawn shop loans. More than 35 percent reported having a written budget or spending plan according to MoneyUP: A Field Study, conducted by the Center for Financial Security at the University of Wisconsin-Madison in August 2010.
Other programs go beyond immediate relief to promote financial literacy and a long-term solution. New York City is home to the country's first local government initiative designed to educate, empower and protect low income residents to build assets. New York City's Office of Financial Empowerment (OFE) increases access to financial counseling, improves access to EITC, protects New Yorkers from predatory practices, and connects households to affordable banking and asset-building products and services.
Robin Hood's Single Stop program helps working families by providing free counseling at locations in over 40 of the city's poorest neighborhoods. Robin Hood invests $12 million a year in Single Stop, which makes it easier for New Yorkers to get high quality advice about public benefits, legal counsel and financial assistance all in one spot. The local model has been so successful that Single Stop USA, was recently formed to replicate the program on a national scale.
In-depth and ongoing financial coaching programs provide tremendous value, impacting the livelihoods of entire communities and giving people real security. By giving at-risk families these fundamental financial tools we can empower them to take control and truly change their lives. Organizations that work to provide emergency relief to those in need are excellent and necessary, but they only address the immediate issue. This tax season, rather than just giving vulnerable families a fish, we should teach them to fish through quality financial coaching that helps them pay off debt, set goals and build savings for their futures.
Related
Popular in the Community