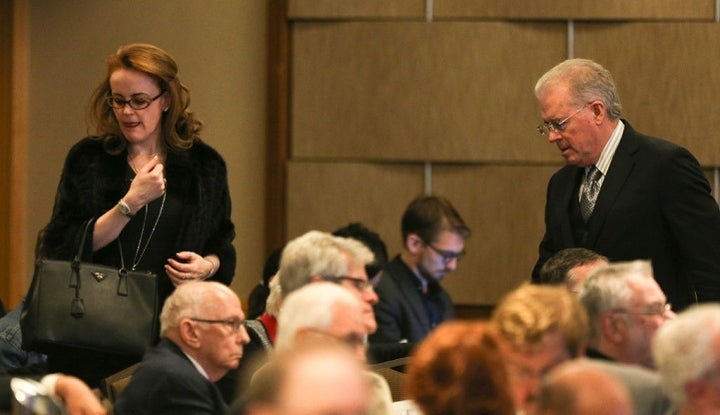 A controversial family credited with helping Donald Trump win the White House spent $4.4 million in 2017 to finance climate change deniers, according to its foundation's latest tax return filed in November.
The Mercer Family Foundation, led by Rebekah Mercer and funded by her billionaire father, Robert Mercer, donated almost $4 million in 2016 to organizations that reject the scientific consensus regarding man-made climate change or oppose more regulations on carbon emissions, according to BuzzFeed News.
The new details about the Mercers' continued support for climate change skeptics come on the heels of a U.N. report that found that humans have only 12 years to significantly reduce carbon emissions or face a global catastrophe — with more extreme weather and rising sea levels likely to cause mass displacement of people.
The Mercers gave $800,000 last year to the Heartland Institute, a Chicago-based think tank that argues that the science on climate change is uncertain. The family has contributed $6.7 million to the institute since 2008. Their foundation donated $170,000 last year to the CO2 Coalition, a nonprofit that touts the benefits of carbon emissions; it gave $150,000 to the coalition in 2016.
The Energy & Environment Legal Institute, a coal-funded nonprofit that uses lawsuits and public record requests to challenge environmental regulations and climate scientists, emerged as a new recipient of Mercer family largesse in 2017. The Mercers donated $200,000 to the institute, which had previously sued a handful of state attorneys general investigating whether ExxonMobil misled the public about the dangers of climate change.
The Mercer Family Foundation contributed to four other organizations that have promoted climate change skepticism, including the Media Research Center ($2 million), the Cato Institute ($300,000), the Manhattan Institute for Policy Research ($450,000), and the Oregon Institute of Science and Medicine ($500,000).
The Mercers were among the biggest boosters of Trump's 2016 presidential campaign. The family was closely aligned with Steve Bannon, the former White House strategist and Trump campaign CEO, and funded his conservative news outlet, Breitbart. The Mercers directed and funded a pro-Trump super PAC. They also owned a stake in Cambridge Analytica, a data firm that worked for the Trump campaign and abruptly shut down after it was revealed that the company had harvested private information from the profiles of tens of millions of Facebook users.
Late last year, Robert Mercer announced his resignation as co-CEO of the hedge fund Renaissance Technologies, amid outrage over his family's association with Trump and their financial support for a former Breitbart writer with reported ties to white nationalists.
In January, more than 200 scientists and academics endorsed a letter demanding Rebekah Mercer's removal from the board of directors of the American Museum of Natural History in New York. The family's foundation contributed $625,000 to the museum in 2017, and Mercer is still on its board.
Support HuffPost
The Stakes Have Never Been Higher
Related
Popular in the Community