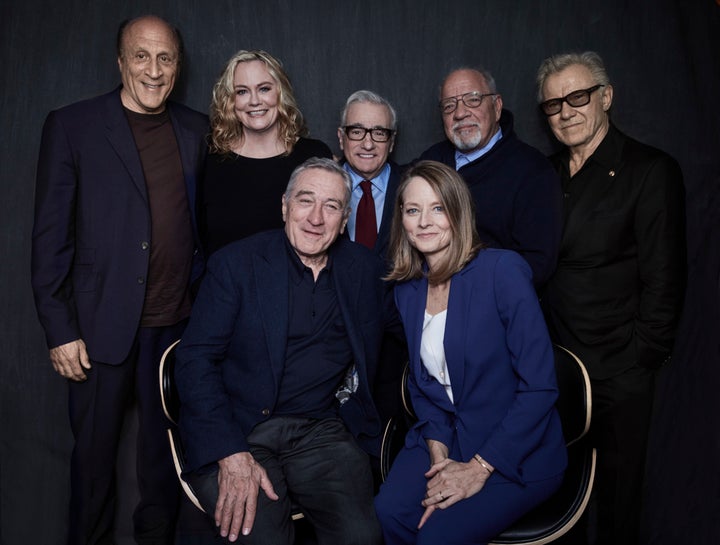 When Robert De Niro introduced the 40th anniversary screening of "Taxi Driver" at the Tribeca Film Festival on Thursday night, he started by saying, "Every day. Every day, for 40 fucking years, at least one of you has come up and said, 'Are you talkin' to me?'" He then led the audience at Manhattan's Beacon Theater in a collective chant of Travis Bickle's famous line of dialogue. Somehow, the gesture doesn't seem like it will put an end to the barrage of fan interactions. 
But the famously prickly De Niro must not mind that much. After the movie, De Niro and the other primary "Taxi Driver" cast members -- Jodie Foster, Cybill Shepherd and Harvey Keitel -- joined director Martin Scorsese, writer Paul Schrader and producer Michael Phillips onstage for a 40-minute discussion. The audience ate it up, cheering and laughing throughout their panel. Here are a few tidbits that stood out.
For Paul Schrader, the script started as "self-therapy."
It was Schrader's second screenplay, after 1974's "The Yakuza," which he co-wrote with Leonard Schrader (his brother) and Robert Towne. "There was a person who I was afraid of, who I was afraid I was becoming, who was this taxi driver," Schrader said. "And I felt that if I wrote about him, I could distance him from me. And it worked." Even after the script passed through studio executives' and marketing coordinators' hands, it still retained that original purpose, in Schrader's eyes.
Nope, it's only us who wax philosophically about the movie.
After De Niro won his 1975 Oscar for "The Godfather: Part II" and Scorsese became a big-name director thanks to "Mean Streets" and "Alice Doesn't Live Here Anymore," they maintained their "Taxi Driver" commitment for "bargain-basement prices."
"What I saw, I can't articulate; it just had to be done," Scorsese said. According to Schrader, he, De Niro and Scorsese never had existential discussions about Travis Bickle. They just felt a natural draw to his story and moved forward from there.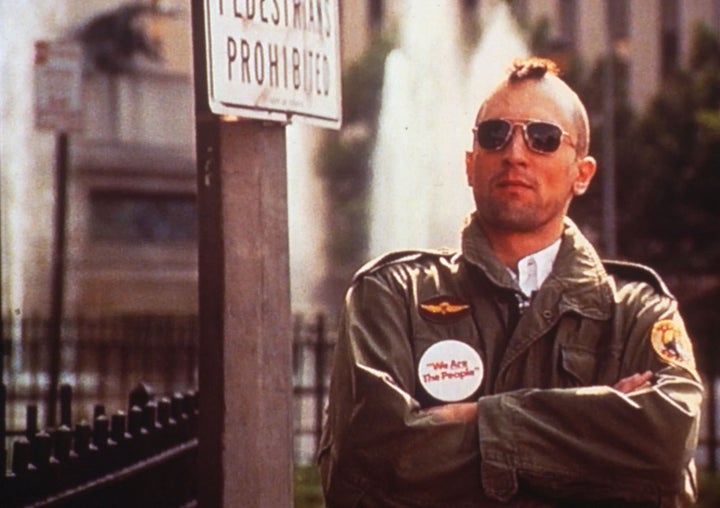 The actors did their homework, which included Harvey Keitel meeting a pimp.
De Niro was making "1900" in Italy when Scorsese was in Cannes, and they met there to work on the script. When De Niro returned to New York, he famously drove a cab for about 10 days to prepare for the role. Scorsese said on Thursday that De Niro told him someone got in the cab and asked whether he was the guy who'd just won the Oscar -- but De Niro swore he doesn't remember that happening.
Harvey Keitel had a bigger task before him in his quest to go method. Because he was playing Iris' aggressive pimp, he wanted to meet an actual pimp before the shoot. Keitel was reticent to recount the story, but Scorsese egged him on.
So here goes: Keitel was performing on Broadway at the time. Unsure how exactly to meet a pimp, he approached one of the many "girls" milling around 9th and 10th avenues in Manhattan. He approached one of them and pointed out that his name was on a Broadway poster nearby. She told Keitel that no one would want to speak to him, so he located a pimp himself.
Someone said he was a former pimp," the 76-year-old actor recalled. "I don't know what that means. We improvised a couple of weeks together, me and this fellow. He taught what it was like to play the role of the pimp. I played the girl, he taught me what the pimp would do ... We had good business together!"
Jodie Foster loved the violence -- she just didn't like her wardrobe.
Jodie Foster was 13 when filming the movie, and she was afraid her friends would make fun of the "hot pants and the dumb hat and the sunglasses" she had to wear. So she cried on her first day on the set.
But if the fashion choices were unappealing, the violent shootout at the film's close didn't faze her. The actress, now 53, said she's often asked whether it was a frightening experience. "It was fantastic," she said. "I remember [makeup artist Dick Smith] having those wonderful gallons of Karo syrup with things floating around in them, and all the guys would teach me what they were doing. ... Mostly it was just fun."
When shooting something so grisly, De Niro said, the least they could do was laugh. "It's just so gruesome that you make jokes about it," De Niro said of the cast's response while shooting. They pulled off the impressive overhead tracking shot that surveys that bloodshed in only two takes, largely because child-labor laws only left Foster with 20 minutes to shoot the scene.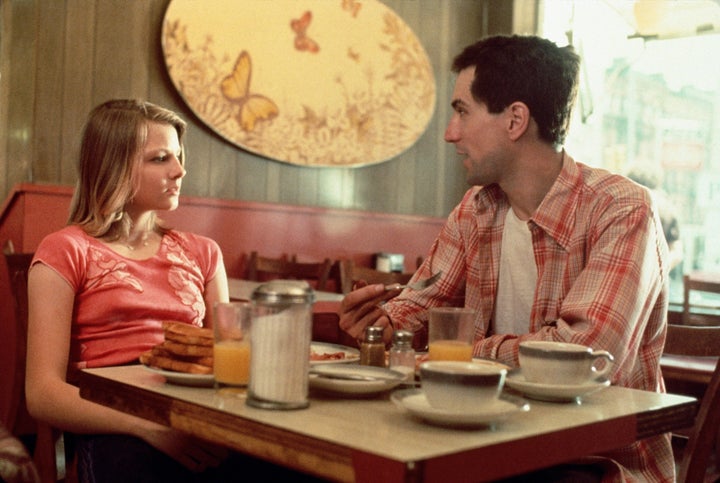 Bernard Herrmann didn't want to do the score.
Scorsese met the legendary composer -- famous for "Psycho," "Citizen Kane" and "North by Northwest," among many others -- through "Sisters" and "Carrie" director Brian De Palma, who had passed along the "Taxi Driver" script after deciding he wasn't interested. Herrmann was scoring De Palma's 1976 thriller "Obsession" when Scorsese pitched him on "Taxi Driver." "I don't do films about cabbies," he said when Scorsese first called. But Herrmann agreed to read the script, and he liked it, particularly because Travis poured peach brandy on his cereal. "That's interesting," he said, according to Scorsese.
The whole meeting was unusual for Scorsese, who usually opts for popular music in his movies. (Think "Jumpin' Jack Flash" in "Mean Streets," "Gimme Shelter" in "The Departed" and "And Then He Kissed Me" in "Goodfellas.") But Travis doesn't listen to music, so rock songs didn't really work -- except, of course, for the use of Jackson Browne's "Late for the Sky," while Travis sits at home watching "American Bandstand." Scorsese felt Herrmann was the "only person" who could convey Travis' psyche. 
He needed one thing in particular from Herrmann: a sound that registers the moment Travis thinks he sees something in his rearview mirror, during the film's closing shots. "You mean a sting," Herrmann told Scorsese. So the composer had his xylophonist play several notes, and when Scorsese said he needed "something special," Herrmann told him to "play it backwards." 
"He walked out," Scorsese said. "That's the last time I saw him." Herrmann died the next day, making "Taxi Driver" his final film.
Scorsese was convinced no one would want to see "Taxi Driver."
When Schrader walked past a line snaking outside a theater, he thought something bad had happened. He rushed up to the box office and asked what was going on, thinking the venue was being shut down. Turns out it was a crowd waiting to see the next showing -- and that's when they knew the movie was a hit. 
Calling all HuffPost superfans!
Sign up for membership to become a founding member and help shape HuffPost's next chapter
BEFORE YOU GO
PHOTO GALLERY
Tribeca Film Festival 2016 Preview