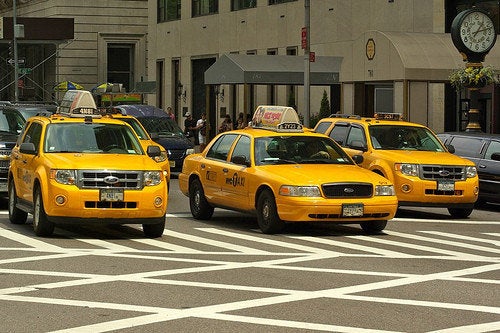 A tech start-up that connects taxi drivers and passengers suffered a setback Thursday after New York City officials said riders are not allowed to pay cab fares through the company's smartphone app.
Uber, a San Francisco start-up, allows riders to hail taxis through iPhones, text messages or the company's Web site. Users pay for cabs using a credit card that the company keeps on file. The company launched its app on Wednesday in more than 100 New York City cabs.
But in a statement released Thursday, David Yassky, chairman of the New York City Taxi and Limousine Commission, said drivers could not accept payments through Uber because it violates contracts the city has with two other companies -- Creative Mobile Technologies and Verifone -- which provide the technology that allows passengers to swipe credit cards in the backseat.
Yassky said taxi drivers who accept payments through Uber or other payment processors could be fined and have their licenses suspended or revoked. In the meantime, he said the commission would work on rules to facilitate apps once the contracts expire and seek proposals for a smartphone payment system in the city's 13,000-plus cabs.
Uber was giving free rides up to $25 this week to New York passengers who tried out the service. On Thursday, Travis Kalanick, Uber's chief executive, said he was still evaluating the company's options after the commission's statement. Kalanick said Uber, which is available in 17 cities around the world, may continue to operate in New York and help available taxi drivers and riders find one another, but not process payments.
He said the commission's decision "is part of what happens when you bring innovation to an older, highly regulated industry."
"It takes time for them to digest it," he said. "With Uber, people are getting around New York much more efficiently. They are getting rides in outer boroughs where they couldn't get a taxi before. Drivers are making a better living wage. Uber is making New York City a better place."
It may not be the only problem the company faces, however. Taxi officials also claim that Uber may violate city rules that prohibit cab drivers from accepting pre-arranged rides, using electronic devices and refusing fares, according to The New York Times.
Still, some New York taxi drivers who tried out Uber this week said they welcomed the app, which helped them locate passengers when business was slow. Uber gave drivers free iPhones to mount on their dashboards so they could locate riders.
Diego de la Rosa, 46, who has driven a taxi for more than 25 years, said he leases his yellow Ford Escape Hybrid for $120 a day. He loses money if he goes more than 10 minutes without a fare, he said.
Uber "fills a void whenever business is slow," he said in an interview. "I think it's great. It should be expanded to the entire fleet of cabs."
Uber is not the only start-up in the business of connecting taxi drivers and riders. Taxi Magic and GetTaxi allow users in other cities to hail taxis through their smartphones.
Related
Popular in the Community