On the 42nd anniversary of the Supreme Court's landmark abortion rights decision in Roe v. Wade, the U.S. House of Representatives voted 242-179 to pass a bill that would codify a ban on federal funding for abortions.
The bill would prevent women from having their abortions covered by Medicaid; restrict a woman's ability to buy private insurance plans that include abortion coverage; and deny small businesses a tax credit, which they currently receive through the Affordable Care Act, if they include abortion care in their health insurance plans. It would also prevent the District of Columbia from using its own local funds to subsidize abortion care.
Democrats tried to use a procedural move Thursday to sink the bill or send it back to committee. Rep. Gwen Moore (D-Wis.) submitted a motion to recommit the bill, asking that it be amended to "prohibit any violation of the medical privacy of a woman regarding her personal choice of health insurance coverage, including victims of rape and incest." But Republicans rejected the motion and passed the bill.
Social conservatives celebrated the move. "This is another victory for taxpayers, women, and their unborn children," the Family Research Council said in a statement.
Republicans skipped the committee process and brought the bill to the floor as a substitute for the bill they were supposed to vote on Thursday, a ban on abortions after 20 weeks of pregnancy. The latter bill was tabled after some Republicans took issue with the narrow rape exception, which would require women to have reported the rape to the police in order to qualify.
Before the taxpayer funding bill passed on Thursday, over a dozen Democratic lawmakers, one after the other, gave the same statement on the House floor in protest. "The House should vote for bigger paychecks and better infrastructure instead of attacking women's access to health care," they said.
The White House said Thursday that if the bill passes the Senate, President Barack Obama will veto it.
"The Administration strongly opposes H.R. 7," the Statement of Administration Policy reads. "The legislation would intrude on women's reproductive freedom and access to health care; increase the financial burden on many Americans; unnecessarily restrict the private insurance choices that consumers have today; and restrict the District of Columbia's use of local funds, which undermines home rule."

Before You Go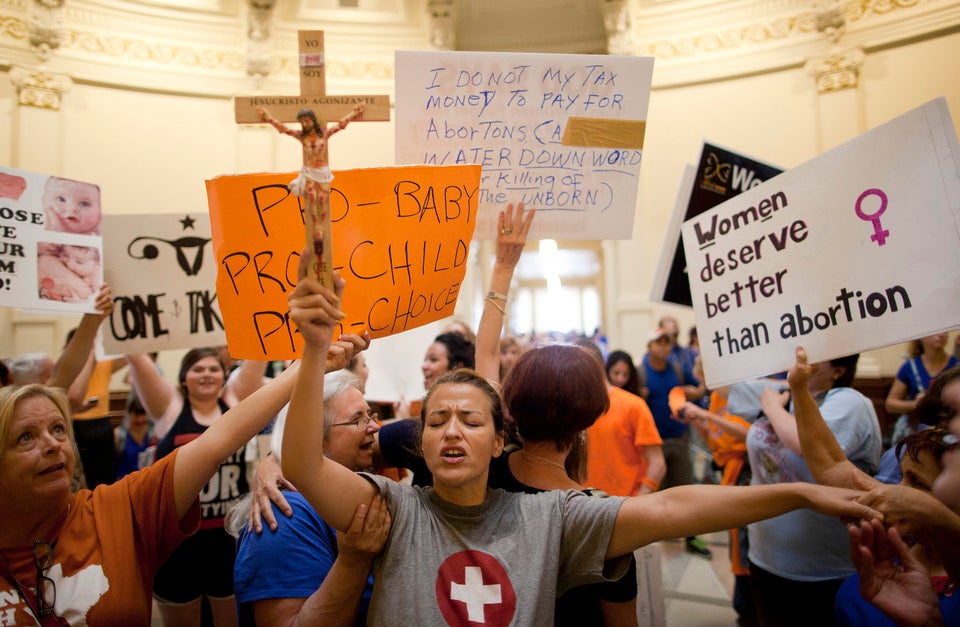 Abortion Protests Around The Nation
Popular in the Community