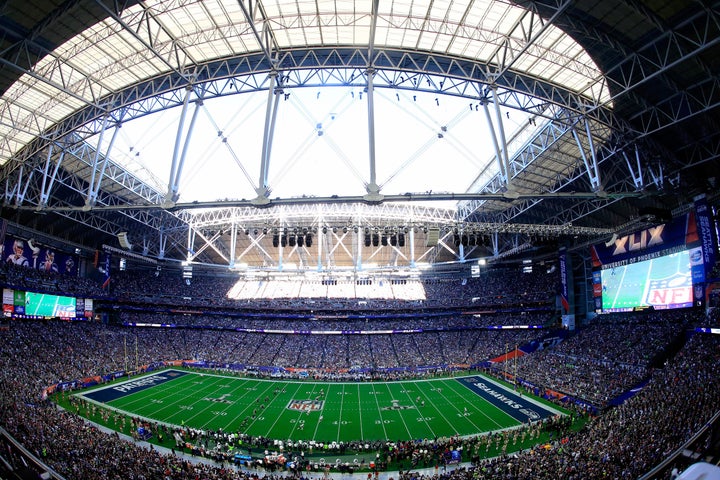 When the NFL season kicks off Thursday night in New England, football fans will file into a stadium built with $72 million in taxpayer money. Compared to fans in other NFL cities, residents of Foxboro, Massachusetts, can thank their team for giving them a bargain.
Taxpayers have spent nearly $3 billion on the 16 stadiums that will host NFL games during the season's opening weekend, according to figures in a new analysis from the Taxpayers Protection Alliance, a Washington, D.C-based conservative nonprofit group.
All told, 29 of the NFL's 31 stadiums have received public funds for construction or renovation. In the last two decades, the analysis found, taxpayers across the country have spent nearly $7 billion on stadiums for a league that surpassed $10 billion in revenue last season.
"Unfortunately, beneath all of the glitz and glamour, these venues are nothing more than monuments to corporate welfare and taxpayer handouts," David Williams, president of the Taxpayers Protection Alliance, said in a press release. "These stadiums have been built on the backs of taxpayers who had no or little say in the matter and in many cases have benefitted little or not at all."
The report provides a team-by-team breakdown of the "staggering" costs: $444 million to the Dallas Cowboys; more than $600 million for the Indianapolis Colts; and $424 million for the Cincinnati Bengals, in a city that later had to sell a public hospital to close budget holes.
Due in part to the size of its stadiums, no league relies more heavily on public subsidies than the NFL. Taxpayers contributed an average of $262 million to each NFL stadium built between 1990 and 2010, urban planner Judith Grant Long found in 2013, about $60 million more than the average MLB stadium received.
There is no complete accounting for the costs of stadiums to taxpayers, but the $7 billion figure is an accurate ballpark estimate, multiple stadium experts told The Huffington Post.
In fact, it may be too kind, said Rick Eckstein, a Villanova professor who co-authored a book on stadium financing. The TPA analysis relies largely on news reports, but those often miss other "subtle" costs that fall to taxpayers, like property and sales tax exemptions, the loss of stadium-related revenue to teams, and other forms of indirect support, he said.
"The public sector is underwriting most of the risk, while most of the benefits that accrue, accrue to the teams."
The new report links the subsidization of new stadiums to higher poverty rates and lower median incomes in their home cities, and it found that most NFL cities fared worse by both measures after paying for a new stadium.
That link is likely not as direct as the report hints, said Robert Baade, one of the first economists to study the effects of publicly financed stadiums on cities. It's impossible to determine a venue's impact on wages or poverty without complex modeling, he said.
There is, however, a "strong consensus" among economists that publicly financed stadiums are not worth their price, and the benefits stadiums bring do not align with their costs. Baade pointed to some of his earliest research, which found that cities that pursued what he called a "sports development strategy" indeed performed worse on a host of economic measures than similarly sized cities that did not build new stadiums to keep or lure pro teams.
If the benefits aren't flowing to cities, they are instead going primarily to NFL owners. A 2012 Bloomberg analysis found that since 2000, new stadiums had helped double team values across pro sports, and Baade noted that while it appears NFL teams are now putting more of their own money in than they used to, they are doing so primarily out of revenue streams -- luxury boxes, personal seat licenses and other in-stadium revenues -- that either wouldn't exist without a new stadium or are larger because of it.
"The public sector is underwriting most of the risk," Baade said, "while most of the benefits that accrue, accrue to the teams."
The imagined allure of an NFL franchise, though, means cities will keep spending, no matter what the research or opponents say. The NFL season will kick off while three cities -- Oakland, San Diego, and St. Louis -- are scrambling to assuage their current teams amid threats all three might leave for Los Angeles, and St. Louis and San Diego have already offered hundreds of millions of dollars in taxpayer money to build new stadiums.
So as fans continue to pour into newer, more lavish facilities built to maximize revenues for owners and teams, that $7 billion figure will only continue to grow -- long after the NFL season begins Thursday night.
Related
Popular in the Community