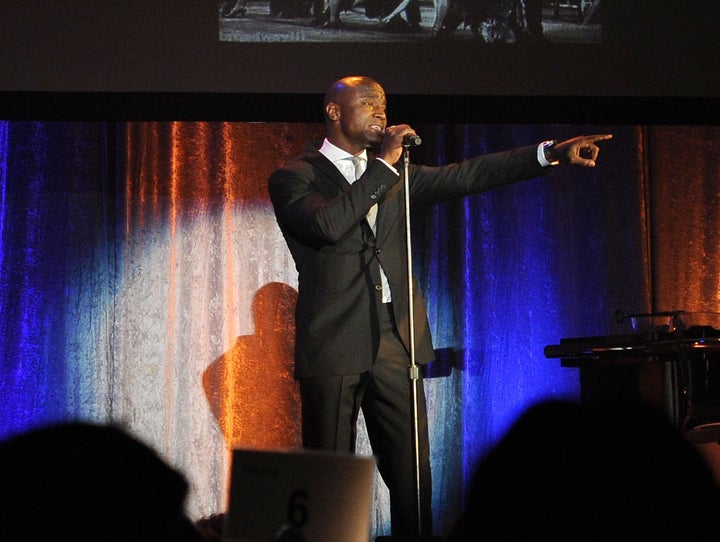 Taye Diggs is dark chocolate and proud of it -- but not for the reason you think. The "Private Practice" star is author to a new children's book, "Chocolate Me," that explores finding your inner sweetness, your inner chocolate. But you won't have to look too hard to find that in Diggs. Here, the actor talks shirtless "pec-offs," wife Idina Menzel and their two-year-old son, Walker.
What can we expect on "Private Practice" this season?
Dealing with different levels of tension. There's the situation with Addison wanting a baby and me wanting to remain with her but not necessarily wanting a child. And then the wonderful Benjamin Bratt is joining the cast and he's going to provide some sexual tension.
Are you going to have arguments with Benjamin Bratt -- 'I'm hotter,' 'No, I'm hotter'?
[Laughs] Exactly, we're going to take off our shirts and have a pec-off.
Ever been in a scene where you're like, 'Do I have to take my top off?'
Every once in a while or else you keep your tank going.
You're married to [singer and actress] Idina Menzel and have a baby son. Would it be the worst thing if he was tone deaf?
It wouldn't kill me at all. We're so in love with him, whatever he wants to do, we'll be supportive. I'm definitely going to do everything I can to make sure he's in the NBA -- just kidding.
Do you sing to him at night?
We sing everything, including made up songs like, "Sleep, Walker Sleep." Quite simple, not very lyrically
complicated.
I haven't been on but I'm just dying to go on it. They know I want to. I haven't even dropped any hints, I've just come right out and said, 'Whenever you need me, I'm here.'
Not to sound like I'm blowing smoke, but when did you realize that you weren't bad looking?
It was late. In all honesty, it was a case-by-case situation until I did my first film ["How Stella Got Her Groove Back"].
Come on, not in high school?
Absolutely not. It was very touch and go for a while.
You make it sound like someone was dying.
It was very special girlfriends that I just thought were unique ... in that they liked me. It wasn't until after "Stella."
No offense, that doesn't count. Because once you're in a movie...
That's how I see it. I still feel like the nerd in seventh grade.
You've also got a children's book.
It's called "Chocolate Me." It's about self-esteem, self awareness and self-love.
So I'm assuming chocolate refers to being black.
You would think that. The story is specific to me, but what's so great about this book [is] the message we're promoting is universal. It's for anyone who has ever felt left out and how you should always take some time and look within and let what other people call your faults, let them strengthen you.
Did you have self-esteem issues growing up?
One hundred percent. The book is based on a period in my life where I was five and lived in a neighborhood where nobody looked like me and the kids would make fun. So my mother had to sit down and tell me that regardless of what these kids say, my differences are what make me special, she loved me and I should look in the mirror and love who I am. In the book we refer to it as the sweet inside, to love your chocolate. Everybody should embrace their chocolate sweetness inside.
So your sweetness inside could be white or dark chocolate.
Exactly. We have t-shirts with strawberry chocolate, blueberry chocolate, chocolate latte. It's cute.
What t-shirt would you wear?
So your son is milk chocolate.
Absolutely! Cafe au lait!
Do you ever say to Idina, 'I'm gonna give you some chocolate love' while playing Barry White in the background?