The following story was reported by Capital and Main and published here in collaboration with The Huffington Post. Sign up here for email updates from Capital & Main.
Last April, when Federico Lopez and his sanitation team were ordered to clean a Taylor Farms storage area, the 23-year-old didn't like what he saw.
"I went into the hallway that they expected me to clean," Lopez remembers. "There was pigeon feces, dead pigeons, dead bats and black mold. I'm certified for that, but the rest of my coworkers weren't." The crew had only been given dust masks for the job by the temporary labor contractor who employed them.
When Lopez raised concerns about the cleanup, he says Taylor Farms, which is the world's largest producer of cut vegetables and salads, assured him everything was fine and not to bother with the mess. He says that later that evening, an equally unequipped and untrained night crew cleaned the room. Shortly after, Lopez was given his notice after only three weeks on the job.
This month, California Assemblyman Roger Hernandez (D-West Covina) heard Lopez's and other stories in the Central Valley town of Tracy from about 200 mostly Latino Tracy Farms workers and family members. Hernandez has introduced Assembly Bill 1897 (the Temp Worker Protection Bill), which would make Taylor and other companies that rely on labor contractors responsible for what happens to their workers when they're on the job. Currently, these employees aren't considered Taylor workers – instead, they are employees of the subcontractors who supply them to Taylor as though they were so many spare parts.
Thanks to this arrangement the two-thirds of Taylor Farms' 900 Tracy workers who work for subcontractors are considered temporary workers – even though some have worked at Taylor plants for 10 years. They can be fired at the drop of a foreman's hat for questioning an instruction or calling in sick.
Taylor Farms' reliance on temporary, low-wage workers is part of a management revolution that has radically changed the fundamental expectation that hard work will be rewarded with fair compensation. Whether this outsourcing trend continues will determine how unstable the national workplace becomes — and how difficult entry into the middle class will be for American workers.
With reported 2012 sales of $1.8 billion, Salinas-based Taylor Farms supplies processed produce to Darden Restaurants (whose holdings include the Red Lobster, Olive Garden and Seasons 52 chains), plus Chipotle, McDonald's, Subway, KFC, Long John Silver's, Pizza Hut and Taco Bell. It also supplies grocery chains such as Safeway, Raley's, Ralphs and Kroger, as well as big-box retailers Walmart, Sam's Club, Costco and Target. If you've bitten into a Big Mac lately, the chances are that the lettuce leaf you tasted passed through Taylor Farms.
Taylor Farms is a central link in the country's food chain — the system of food production and distribution from field to drive-through window and supermarket shelf. Taylor presents itself to American consumers as the face of farm-to-table sustainability, a company whose triple-washed packs of kale and vegetable medleys embody an enlightened corporate mission to celebrate organic agriculture, food freshness and dietary health. The company employs around 7,000 workers in 10 processing plants both in the U.S. and in Mexico. Its CEO, Bruce Taylor, who is also chairman of the Western Growers Association, earned about $850,000 in compensation in 2012.
However, an investigation conducted by Capital & Main into working conditions at the company's Tracy plants that included scores of interviews with Taylor workers and former employees, and tours of worker housing, reveals a business model in which Taylor Farms' spinach is treated with more respect than its production line workers. These workers are hired at the state minimum wage of $8 an hour by two local temp labor contractors. (Calls requesting comment for this article to both Bruce Taylor and Garth Borman, the president of Taylor Farms Pacific, which manages the Tracy plants, were not returned by press time.)
Roger Hernandez's legislation would force companies that contract with temporary employment agencies to share the liability for injuries or violations of workplace laws and health and safety rules that occur at a worksite. (See Gary Cohn's AB 1897 feature.) Current confusion among the courts and government agencies over who the actual employer of record is on subcontracted worksites has vastly complicated worker claims for job injuries, wage theft and other complaints.
Similar laws have been passed in Illinois and Massachusetts. However, AB 1897's supporters believe that, just as Taylor Farms sets the pace for the rest of California businesses that rely on temp worker contractors, the bill's passage will change the dynamic for a key link in the nation's industrial food chain. The owners of that chain pay 86 percent of its 20 million workers low or poverty wages to plant, harvest, process, pack, transport, prepare, serve and sell what Americans eat. Taylor represents the platinum standard for corporate industries that seek to maximize profits by treating their workforce as someone else's problem – whether they be the temp labor contractors or the taxpayers who must pick up the tab when it comes to providing workers' medical care, food stamps and other social services.
According to a report issued this May by the National Employment Law Project (NELP), labor outsourcing is a growing national problem. Who's the Boss: Restoring Accountability for Labor Standards in Outsourced Work says there were about 3.4 million so-called staffing-agency jobs last year, or 2.25 percent of total national employment, a number that represents a 41 percent increase since 2008.
"What our report shows is that a lot of employers are now using subcontracting structures to outsource their labor," says study co-author and NELP general counsel Cathy Ruckelshaus. "And this is sometimes used as a way to evade either labor organizing or labor-standards requirements that apply only to employers."
The big problems, Ruckelshaus says, are where there is labor-intensive work: "Any place you see an industry or a job where there are a lot of workers needed, the employers are starting to outsource the recruiting and hiring and, in some cases, firing of the workers, because they don't want to comply with labor standards. You'll see it in janitorial, you'll see it in agriculture, in garment, in some retail and even restaurant jobs, homecare, construction."
At the heart of the Taylor Farms version of this model stand two temp labor contractors — SlingShot Connections and Abel Mendoza. Both outfits earn $6 for every hour clocked by the 300 temps each that they supply to Taylor.
Capital & Main learned that in addition to procuring workers for Taylor Farms, Mendoza, which also supplies temp field labor, sells its own $7 boxed lunches to its field hands and even rents cash-only apartments to its mostly undocumented workers. Teamster representatives say that Mendoza even supplied hecklers who tried to crash Roger Hernandez's meeting with Taylor Farms workers.
"I would rate Abel Mendoza, SlingShot and Taylor Farms as the most abusive employers I've encountered in my 20 years of doing this work," says Doug Bloch, the political director of Teamsters Joint Council 7, which has been leading an organizing effort in Tracy. "There's always a need for temporary labor in any agricultural industry, but at Taylor Farms you have people who have been working five years or 10 years or longer as a 'temp.' There is nothing temporary about their employment whatsoever."
A 2012 University of California, Berkeley Labor Center study concluded that temporary workers in California are twice as likely as non-temps to live in poverty, face lower wages and less job security. They are also twice as likely to receive food stamps and be on Medi-Cal as other employees. For temporary workers employed in manual occupations, particularly, it may also mean being subject to unsafe working conditions and other abuses as host companies and temp agencies each blame the other for health and safety violations.
"When somebody files a workers comp claim, nobody wants to take responsibility for it," says the Teamsters' Bloch. "The insurer gets bounced back and forth like a pinball between Taylor Farms and Abel Mendoza. The same thing happens when workers file claims with the Labor Commissioner. Everybody's pointing their finger and saying, 'I'm not the employer, it's the other guy.'"
After his meeting with workers in Tracy ended, Roger Hernandez told Capital & Main that he's designed AB 1897 to "de-incentivize" the outsourcing of labor as a business model. "The client-employer that employs these temp agencies should not be trying to evade the responsibility that's required under state law," he says. "Ultimately the buck has to stop with the client."
Besides AB 1897, Taylor Farms workers continue to place their hopes on the Teamsters' organizing drive to unionize the two plants. A bitter, eight-month campaign ended with an authorization election last March, after which the National Labor Relations Board took the rare step of impounding the ballots pending its investigation into union accusations of retaliatory firings, intimidation and workplace harassment committed by Taylor Farms.
"You know, that's the American dream," Doug Bloch says. "The promise that if you show up to work, you're going to get fulltime employment and you're going to get duly compensated and you're going to get taken care of if something wrong happens on the job. This just isn't a problem at Taylor Farms, this is a problem for a whole generation of young people that are entering the workforce in all industries — where people are working multiple part-time jobs, working as temps and working with absolutely no job security whatsoever."
Before You Go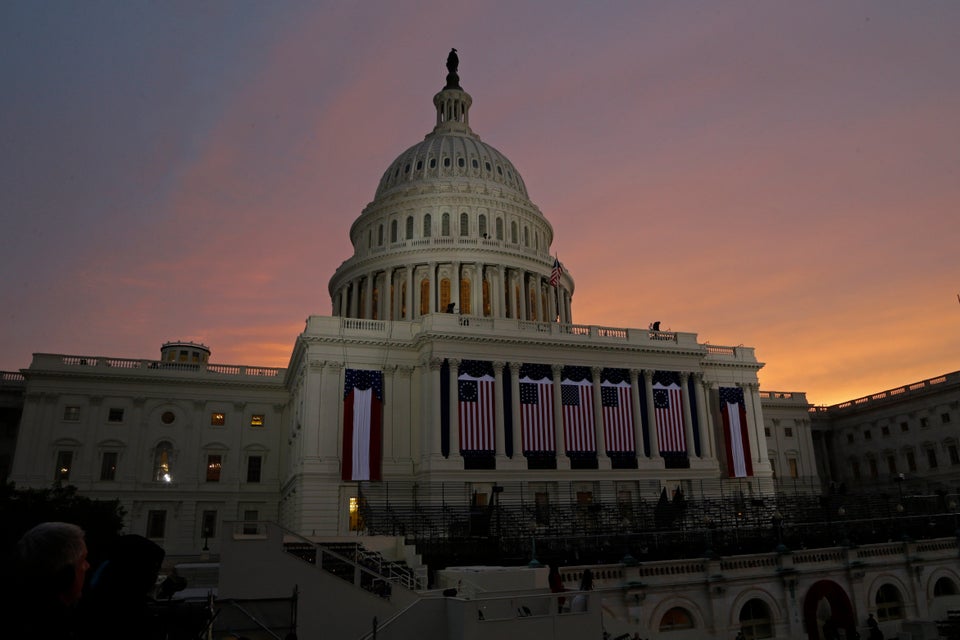 U.S. Capitol Photos
Popular in the Community