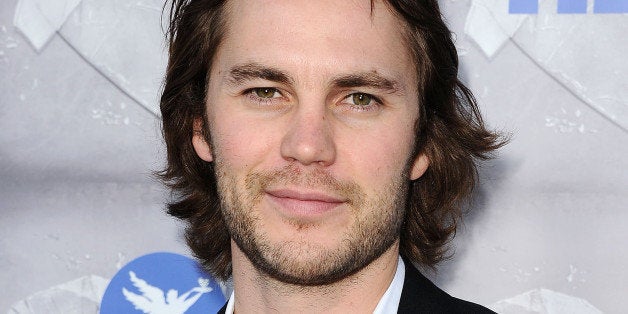 Taylor Kitsch, winning accolades for his performance in the "The Normal Heart" as Bruce Niles, the closeted first president of Gay Men's Health Crisis in Ryan Murphy's HBO film adaptation of Larry Kramer's AIDS drama, said he and Mark Ruffalo cried and argued between takes while making the film. Ruffalo plays the lead role of Ned Weeks, based on the fiery Kramer himself, who demands that Niles be out and open. During one scene Ned even brings a TV camera crew to film the Wall Street banker.
"[Bruce is] living a duality to his life," Kitsch said in interview with me on SiriusXM Progress. "He's already been shunned by the family and what not. He's been personally affected on so many levels. I have a lot of intense scenes with Ruffalo in which he's literally trying to make me come out on camera — which is devastating to Bruce. So in between takes we'd be like, 'You know what, we no doubt have the same goal here, but our approach is incredibly different.' They both have great merits. I think what Ned did so brilliantly, or Kramer, was make it so personal for everyone. That's a fearless thing to do… That was an amazing thing to explore with Ruffalo on set. There's takes where both of us are crying just standing there. And then there's takes where, just, I couldn't be angrier. It was an incredible process to go through with Ruffalo. It's funny because, you get so — it's all heightened, in the sense of, in that moment, Taylor Kitsch and Mark Ruffalo, but because you're so in that moment with him, you truly believe it's the right way — I'm living that, I'm fighting for his POV here. It led to good arguments."
Kitsch remarked on how Bruce Niles could actually remain in the closet at the time in which the film is set, the early '80s, and how it would be impossible for someone so high-profile in a gay organization to be closeted today.
"He was the first president and he wasn't even out of the closet," he said. "I mean, you couldn't do that now. Everything now, with the Internet and social media — there's no way you could do that. It just sounds like it was a cry for help, really. He wanted to be out of the closet. He wanted to be himself. He wanted to feel comfortable in his own skin, but he just couldn't and that's a pretty tragic part of his life."
And Kitsch recalled a devastating scene in which Bruce's boyfriend Albert's dead body is literally tossed out with the garbage at an Arizona hospital, as an orderly asks Bruce for money just to handle the body, as Albert's sobbing mother looks on.
"I think it kind of encompasses that insecurity in what people do or how they react to fear of the unknown," he said, referring to a time of heightened media hysteria around AIDS. "And that happened, which is even scarier. Paying someone to put them in a garbage bag. It's so inhumane on so many levels. It was just — that was the one scene I just wasn't a big fan of doing a lot of takes of. And [director Ryan Murphy] knew that as well. And yeah, we didn't do a lot of takes. We didn't need many. It was something you kind of try to forget that is just scarred in your memory."
REAL LIFE. REAL NEWS. REAL VOICES.
Help us tell more of the stories that matter from voices that too often remain unheard.