Here's yet more evidence that there weren't "very fine people on both sides" during the extremist rallies held in Charlottesville, Virginia, last year.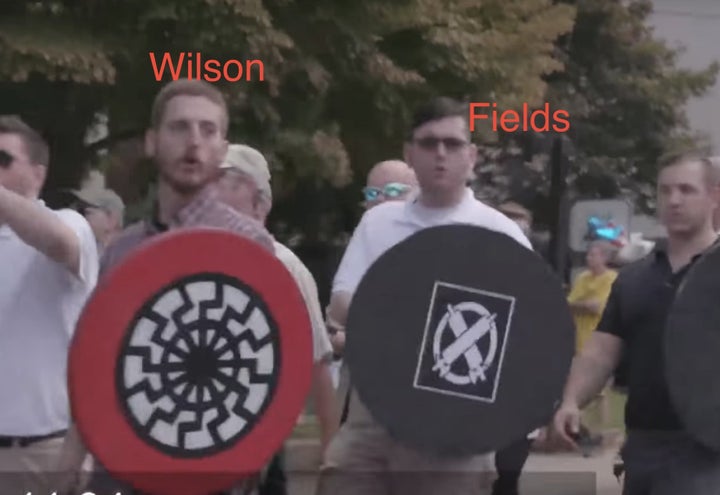 Activist Emily Gorcenski and journalist Ford Fischer surfaced photos and videos this week that showed Wilson is no stranger to extremist rallies. He was seen fighting and marching alongside white supremacists during the torch march on the University of Virginia's campus on Aug. 11, and wielding neo-Nazi regalia at the extremist rally the next day.
The discovery adds Wilson to a laundry list of white supremacists and neo-Nazis at the rally who were ultimately shown to be violent criminals.
Many who attended Unite the Right (and certain politicians) have tried to blame counterprotesters and anti-fascists for the violence that weekend. But counterprotesters didn't fire a gun into the crowd; viciously beat DeAndre Harris in a parking garage; drive a car into a crowd, killing local activist Heather Heyer, as Fields is accused of doing; or conspire to commit violence, as four white supremacists are accused of doing in new federal charges. It was white supremacists who are believed to have committed all those crimes.
As it turns out, Wilson was among them.
On Aug. 12, Wilson was seen holding a shield with a black sun wheel ― a neo-Nazi symbol ― and appearing to shadow Kessler, a white supremacist and the rally's organizer, throughout the day. He's also been pictured carrying a flag for Identity Evropa, a white nationalist group that advocates for a white ethnostate on college campuses.
Just two months later, Wilson would tell authorities, he took acid, carried a gun into a secure area in Nebraska and brought an Amtrak train to a halt. He was carrying a National Socialist Movement ID at the time, and told authorities that he did it "to save the train from black people."
Investigators searched Wilson's home in the St. Louis area and found a secret compartment behind his fridge that contained ammunition, a tactical vest and the homemade shield he used in Charlottesville. 
"You now have a choice to make," U.S. District Judge Gerrard told Wilson at his sentencing on Friday. "You can either renounce the white supremacist nonsense that you've been fed and go back to the way you were raised as a young man. Or you can coddle up to plenty of other white nationalists that you will find incarcerated."
Calling all HuffPost superfans!
Sign up for membership to become a founding member and help shape HuffPost's next chapter