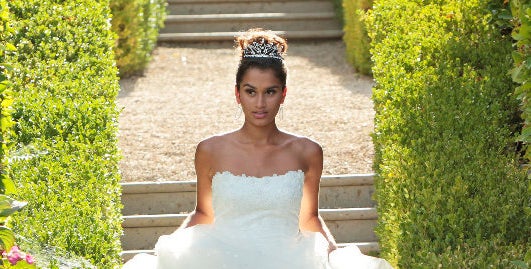 Taylor Nolan, a 23-year-old mental health counselor from Seattle, seemed to click with Nick Viall early in this season of "The Bachelor." Soon, however, she got swept up in a bitter feud with sometime house villain Corinne Olympios ― and, after getting sent on a two-on-one date in the bayou near New Orleans with Corinne, Taylor was sent home. (Corinne is one of four remaining women vying for Nick's hand.)
In a few tense moments that aired between the rivals, Taylor said Corinne lacked in maturity and emotional intelligence ― judgments that many viewers found condescending at best ― while Corinne lambasted Taylor as a "dumb bitch" who, she claimed, no one else among the bachelorettes liked. 
Now safely off the air ― at least until the "Women Tell All" reunion episode ― Taylor caught up with HuffPost's Here to Make Friends podcast about how the conflict played out, her connection with Nick, the franchise's diversity problem, and her dramatic two-on-one date. Here are a few highlights:
On moments from the show that make her cringe now:
"The first thing that I said that I definitely cringed at ― because I tried very hard to make sure I wasn't labeling, I wasn't personalizing things, and I can't tell if it was a splice or if it was really just, I had reached the end of my rope ― and I said "She's a manipulative bitch." And I was like, oh, Taylor, no ... I didn't like that I said that. 
"The other really cringeworthy thing was hearing Corinne say, "I can't believe she's a mental health counselor, and that people would go to you for advice." Hearing things about my professionalism, that wasn't part of the show and who I was in that environment, definitely hit a nerve for me." 
On the diversity problem of the "Bachelor" franchise:
"For me, I'm half-black half-white, and that was something I've had to face some adversity on and struggle with my own identity in terms of my race and my culture, but I think it is disappointing that we have to have this conversation about race on this show that has such a national platform. But I think they're definitely going in the right direction now, and I think Rachel is a fantastic pick to be the person to break this cycle of whiteness on the show ... There were some seasons where it was literally a full-white cast.
"I think this show in some ways reflects society, and in some ways can try to lead society in a different direction ... I think Rachel being the Bachelorette is definitely a new direction of pushing society in a different way."
On how race played into her own "Bachelor" experience:
"Reflecting on my two-on-one and talking with some previous cast members and cast members from my season, one thing I found super interesting was that, in struggling with my racial identity growing up, Corinne definitely reminded me of those girls in middle school and high school who would make fun of me or bully me for being part black. I found it so ironic that of course I end up on a two-on-one, directly compared to a woman who is white and has had a very privileged life. It really put things in perspective for me, looking back."
On Rachel as Bachelorette:
"My initial thought as I left was definitely that Rachel was going to be the next Bachelorette. I think all of us were kind of pulling for her and hoping it was going to be her."
For more from Taylor on her experience on "The Bachelor," and life after the show, check out HuffPost's "Here To Make Friends" podcast below: 
Do people love "The Bachelor," "The Bachelorette" and "Bachelor in Paradise," or do they love to hate these shows? It's unclear. But here at "Here to Make Friends," we both love and love to hate them — and we love to snarkily dissect each episode in vivid detail. Podcast edited by Nick Offenberg.
Want more "Bachelor" stories in your life? Sign up for HuffPost's Entertainment email for extra hot goss about The Bachelor, his 30 bachelorettes, and the most dramatic rose ceremonies ever. The newsletter will also serve you up some juicy celeb news, hilarious late-night bits, awards coverage and more. Sign up for the newsletter here.
Calling all HuffPost superfans!
Sign up for membership to become a founding member and help shape HuffPost's next chapter
BEFORE YOU GO
PHOTO GALLERY
Tweets About "The Bachelor" Season 21, Episode 8