"She was random, she was smart. She was super funny and super fun."
That's how Tim Smith remembers his 12-year-old daughter, Taylor, who died suddenly last weekend from complications due to pneumonia, according to Buzzfeed.
"Initially it's shock, and waves of depression, and hoping that it's not real, and hoping that every time you take a nap or go to sleep, you find out it wasn't real," Smith told CBS-affiliate WJHL-TV of his daughter's sudden death.
Saying goodbye has been incomparably heart-wrenching, but Taylor's parents say they found some comfort this week in an unexpected place: a letter that Taylor herself wrote -- to her future, 22-year-old self.
Written on April 13, 2013, the letter was in an envelope emblazoned with the words: "To be opened by Taylor Smith on April 13, 2023." The teen's parents say they found the letter while sorting through their daughter's possessions.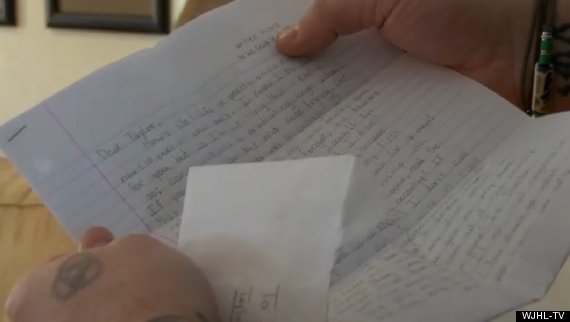 Taylor's dad holds his daughter's letter to her future self.
"She liked doing quirky things and she liked doing meaningful things, she always created stuff," her dad told Buzzfeed. "The fact that she wrote this letter wasn't a surprise, but what she wrote was."
In her letter, Taylor, who was a student at Liberty Bell Middle School in Johnson City, Tenn., asked her future self about her high school education and about her relationship with God. The letter began:
Dear Taylor,

How's life? Life is pretty simple right now (10 years in your past). I know I'm late for you, but as I'm writing, this is early, so: congratulations on graduating high school! If you didn't, go back and keep trying. Get that degree!

[…] Have you prayed, worshipped, read the Bible, or gone to serve the Lord recently? If not, get up and do so NOW! I don't care what point in our life we're in right now, do it!
Taylor's letter was also peppered with questions about college ("What are we majoring in?"), as well as some about traveling ("Have you been out of the country?"), the latest episodes of "Doctor Who" and whether or not she'd been to Dollywood recently.
At the end of the letter, Taylor also offered her 22-year-old self a piece of advice.
"Remember it's been 10 years since I wrote this," she wrote. "Stuff has happened good and bad, that's just how life works and you have to go with it."
The letter, says Taylor's family, exemplifies the sort of person the teenager was: full of life, wisdom and love for those around her and for God.
"Her dad said what made her so special was she had the wisdom of an adult but the faith of a child," Taylor's aunt, Kathy Oakes, told the Johnson City Press of the young woman.
This week, Taylor's letter went viral, as netizens have eagerly shared her words of wisdom.