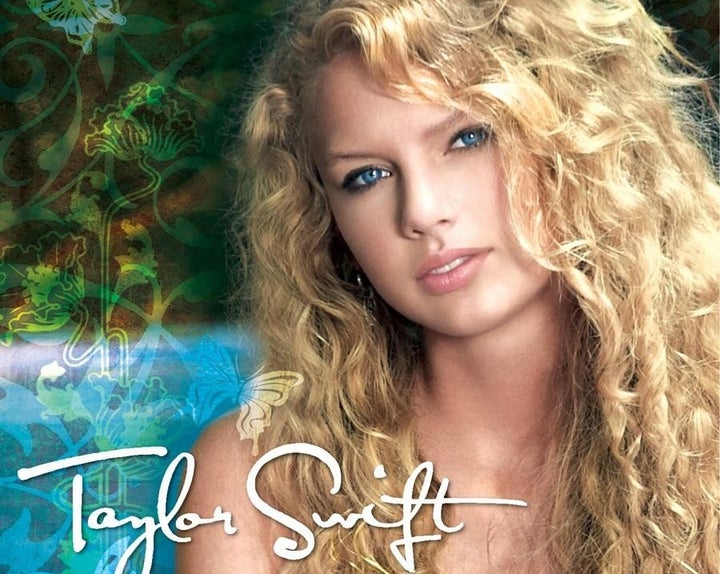 On her self-titled debut album, Taylor Swift tells us about "Our Song." You know, the one about the sound of screen doors slamming and window tapping. No one could have known that 10 years and four studio albums later, her songs would become the soundtrack to our own lives. Who hasn't belted "You Belong With Me" at the top of their lungs or found comfort from a breakup in "All Too Well?" If you're not raising your hand, you're lying. 
This week marks the 10th anniversary of Swift's first album, so what better time to reflect on how the country princess transformed into a bona fide pop star? Let's count the ways in which she's changed since she name-dropped Tim McGraw all those years ago. 
1. The Taylor Swift style evolution. 
When the world first met Taylor Swift, she was marketed as a regular ol' country girl who was plucked off the farm and onto the stage of the Grand Ole Opry. (In reality, Swift was born in suburban Pennsylvania and grew up there until she moved to Nashville at the age of 14, but shhhh ― don't tell.)
Back then, her go-to outfit could best be described as a knock-off extra from "Nashville." She regularly sported colorful cowboy boots and boldly patterned dresses. Slowly yet surely, however, Swift and her sense of style matured. She began to make bolder and less conservative choices on the red carpet, ditching the boots for heels and making regular appearances on best-dressed lists. 
Each of Swift's albums corresponds to a different fashion era ― "Red," for example, gives off retro '50s vibes, whereas "Fearless" is all about the princess fantasy. In the year following the release of "1989" Swift finally cemented her place in fashion royalty, rocking body-baring couture looks left and right and co-chairing the 2016 Met Gala. 
2. From solo to squad.
The concept most commonly associated with Swift today ― besides the snake emoji ― is the squad. After the release of her fourth album, "Red," and a string of failed relationships, the world witnessed a major shift in Swift philosophy.
On "1989" she was no longer just singing about ex-boyfriends who left her crying in the rain at 2 a.m. (why is it always 2 a.m.?) but shifted the focus to the importance of having a group of girlfriends. Previously, she had eschewed mentioning the word feminist in public interviews. Now she was shouting it from the rooftops, claiming it was a central component to her new album.
"Feminism is probably the most important movement that you could embrace, because it's just basically another word for equality," she told Maxim in 2015. 
The release of her song "Bad Blood," which has arguably flimsy feminist principles (more on that later), put Swift's female friendships with the likes of Selena Gomez and Gigi Hadid front and center. 
3. Goodbye country, hello pop music. 
Listening to "1989," it's almost impossible to detect any hints of Swift's country origins amid the electronic and '80s-inspired production. With each album, Swift has drifted farther away from the Nashville sound, carving out her own space in the industry and taking control of her voice. 
"I think for me it's really important to constantly challenge yourself, and also I think you have to keep people's attention by surprising them," Swift said of abandoning the country twang for "1989." "As far as my musical direction goes I would always like to keep people on their toes in that regard." 
Perhaps one day, she'll loop back around and deliver a country album a la "Joanne," but for now, it's safe to categorize Swift as a pop star.  
4. Her songwriting skills have greatly improved. 
No shade on "Teardrops on my Guitar," but many of the songs on Swift's first album relied upon trite country themes of heartbreak, high school longing and pick-up trucks. While Swift has always had a hand in writing her own music, her talents as a songwriter have seriously improved since her debut. 
Look no further than "Red" to see how she's flourished as an artist. In our humble opinion, "All Too Well" is the finest track Swift has ever produced lyrically. In the epic ballad, Swift takes a through another love story (heeeeey Jake Gyllenhaal), but expertly uses details like "dancing in the refrigerator light" to paint a picture of relationships that's so realistic, you can't help but relate. 
And if there's anyone out there refuting her songwriting ability, just ask Nils Sjober.
5. Welcome to New York.
If her first album was all about Nashville, the Taylor Swift of 2016 is decidedly a New Yorker. As a promotional effort for "1989," Swift partnered with the official New York City tourism board and the singer herself took up residence in the city ― she reportedly lives in a penthouse in Tribeca. In a series of videos, Swift broke down some New York-specific words like "bodega" and "stoop," much to the chagrin of real New Yorkers everywhere. 
6. Don't mention Katy Perry.
The one person left out of Swift's feminist transformation was ... drumroll please ... Katy Perry. Although the two rival pop stars used to be friends, they apparently entered into some sort of blood feud in 2014, when Swift insinuated that a female artist (Perry, duh) tried to "sabotage an entire arena tour."
"She would come up to me at awards shows and say something and walk away, and I would think, 'Are we friends, or did she just give me the harshest insult of my life?'" Swift told Rolling Stone. But in 2013, her frenemy did something awful. "She did something so horrible," Swift told the outlet. "I was like, 'Oh, we're just straight-up enemies.'"
7. She's expanded her repertoire ― for better or worse.
OK, it was for the worse. 
8. She's apparently dating Drake now.
No one has confirmed the rumored romance, but Swift and Drake have been making headlines this week for their cuddly behavior at his 30th birthday party. She reportedly even met his mom. 
The pairing is surprising given how different Swift and Drake are from each other. (Also, in what world would Drake go from Rihanna to TSwift?) Let's be honest ― Swift was hardly writing her love ballads about a rapper from Toronto.
Actually, while Swift was recording her first album, Drake was probably still a regular on "Degrassi," so maybe this pairing makes perfect sense? 
9. Introducing Kanye West. 
If there's any person whose rise to superstardom has paralleled Swift's, it's Kanye West. Over the past 10 years their paths have intersected more than once, propelling each of their careers into new and surprising directions. 
The connection, of course, began at the 2009 VMAs, when West interrupted Swift's acceptance speech to inform the world that she had been incorrectly awarded "Best Female Video." The public cast Swift as a victim and West as her aggressor, irrevocably tying their fates together. 
In the following years, West and Swift would make amends, even hinting at possible collaborations, and hugging onstage at the 2015 Grammy Awards.
Who would've known that a year later, controversy would find these two again when Kim Kardashian released the Snapchat receipts of Swift approving certain lyrics of Kanye West's "Famous."
This time, West was the victim ― he called Taylor for her opinion after all ― while Swift was saddled with the reputation of being a master manipulator.
10. She took control of her own voice. 
In 2015, Swift penned a rallying cry about Apple's streaming service changes and how they disenfranchised artists who'd worked tirelessly to distribute their music to the masses. But, in her own words, the letter wasn't really about her. It was about seeing justice in the music industry and protecting the voice of the artist. 
"This is about the new artist or band that has just released their first single and will not be paid for its success," she wrote. "This is about the young songwriter who just got his or her first cut and thought that the royalties from that would get them out of debt."
High-powered record companies and men in suits have likely had a big influence on Swift's career. She probably couldn't have gotten this far without them. But by standing up for the proverbial little guy, Swift honored those who haven't been as fortunate, in hopes that one day some other girl with a guitar has the chance to make her voice heard too. 
Hit Backspace for a regular dose of pop culture nostalgia. 
Calling all HuffPost superfans!
Sign up for membership to become a founding member and help shape HuffPost's next chapter