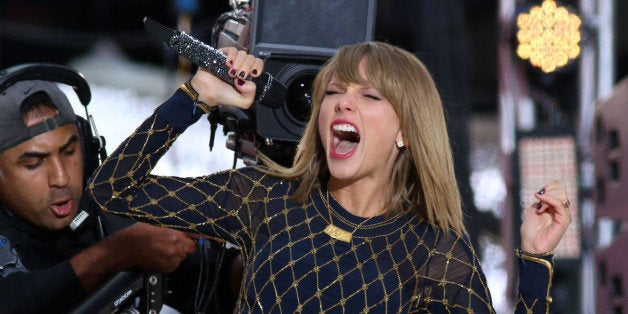 As regrettable as it is to admit, there was definitely a period of time when I doubted Taylor Swift. Regardless of the praise Red received as the genre-crossing epic of a Swiftian album, I could never seem to get on board with the ostensibly erratic mix of mellow guitar tracks and synth-heavy singles on the album. For a groundbreaking record-to-end-all-records, it seemed too indecisive and tentative, with one foot in the door of pop, and the other reluctant to leave country behind. For the first time, Taylor seemed unsure of herself, like she was trying too hard to fit into the music world, something she should never have to do, since she's clearly already claimed her position as the superstar singer-songwriter who seems as relatable as the girl next door. Red was like the awkward phase in junior high, when you know where you want to go, but don't quite know how to get there yet.
However, whatever qualms I had about Taylor have been shattered for good by her new album, 1989. The hesitant electro-synth beats on Red turn into a confidently pop album with a plethora of insanely catchy tracks, and I couldn't love it more. And unlike Swift's former albums, there isn't a song on 1989 that I can't envision as a top single on the radio.
Perhaps the biggest difference between 1989 and Taylor Swift's former albums lies in the subtle lack of ex-boyfriend shaming and ranting breakup songs. Taylor seems to have gained confidence, not only in her music, but also in herself, and her ability to not take herself so seriously is evident in the wittiest lyrics that she's ever written before. Apart from the few mellow breakup tracks on 1989, the majority of the album includes tongue-in-cheek lyrics that poke fun at the reputation Taylor has garnered as the resident heartbreaker of the music industry. "Blank Space," aside from being a peppy earworm of a pop anthem that I anticipate to be a No. 1 single sooner rather than later, easily wins the award for being the sassiest, funniest and most essentially Taylor Swift song ever. Not only does she diss her "long list of ex-lovers," she's basically laughing at herself, and her message - that she totally knows exactly what you're thinking about her love life -- comes through loud and clear.
Critics have also noted several potential influences from other artists on 1989. Though "I Know Places" has a dark, intense feel that has drawn comparisons to Lorde, the track, with its haunting verses complemented by a soaring chorus, is also fairly reminiscent of "Haunted" from Speak Now, although "I Know Places" has a far more refined, mature sound to it. And sure, "Wildest Dreams" definitely sounds like something more appropriate for a Lana Del Rey album, but Taylor pulls off the lyrics with such conviction and passion that I really don't care.
Although much has been said of Taylor's complete break away from her "country roots," I can't help but wonder how drastic of a shift 1989 really is. Is it honestly a surprise that Taylor Swift is declaring her new album to be pop? Ever since Fearless, Taylor has been one of the chart dominators of "popular music," essentially already one of the reigning queens of pop. The greatest thing about Taylor Swift, though, is that despite her prominent presence on the music charts, her cleverly cultivated image as the perpetual underdog makes you believe that her songs are less "No. 1 single beloved by many" and more "this is a personal story that I'm telling to you because you, dear listener, are my friend."
In fact, despite Taylor's transition away from the guitar-heavy, ex-boyfriend ranting, this album is still brimming with her unique songwriting voice. A few songs on 1989 even sound like they would be right at home on her previous albums, suggesting that Taylor's pop music isn't quite as unfamiliar as the hype would lead you to believe. ("How You Get the Girl" sounds like it could be straight off of Red, and "Clean" sounds like it would fit right onto Speak Now or even Fearless.)
Whether 1989 is a permanent departure from Taylor's guitar-twanging country days of yore or not, for the first time ever, not once have I found myself dying to know who her songs are about. Rather, I find myself reveling in the expertly crafted tracks of this incredible singer-songwriter who has [finally] rediscovered herself. Pop or not, I can't wait to hear what she's prepared to amaze the world with next. You can sure as heck bet I'll never doubt Taylor Swift again.
Calling all HuffPost superfans!
Sign up for membership to become a founding member and help shape HuffPost's next chapter