After announcing her highly anticipated new record "Lover," the singer released the album's second single, "You Need To Calm Down," on Thursday, and it's the gay anthem we never knew we needed.
The upbeat track, which clocks in under three minutes, features Swift somehow managing to give a shoutout to the LGBTQ media watchdog organization GLAAD, allude to the bigoted protests of Westboro Baptist Church and call out toxic behavior on the internet.
"You just need to take several seats and then try to restore the peace / And control your urges to scream about all the people you hate," she sings. "'Cause shade never made anybody less gay."
Swift explained that the song is directed at those who feed off negativity in our culture.
"It's about how I've observed a lot of different people in our society who just put so much energy and effort into negativity, and it just made me feel like, "You need to just calm down, like you're stressing yourself out," Swift told Apple Music of her new single. "This seems like it's more about you than what you're going off about. Like, just calm down."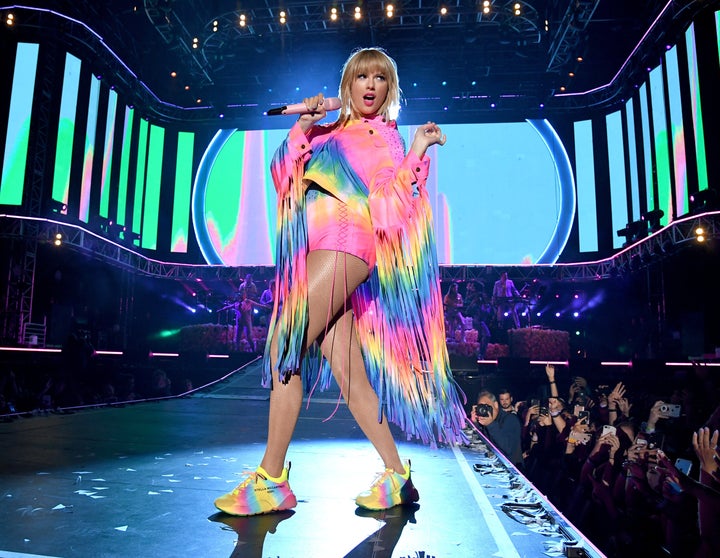 Earlier this month, Swift shared a letter she wrote to her senator in support of the Equality Act, an amendment to the 1964 Civil Rights Act that protects LGBTQ people against discrimination on the basis of sexual orientation and gender identity. She asked her legion of fans to do the same.
After the song's release, GLAAD received an influx of $13 donations ― an amount that just so happens to be the singer's favorite number.
"Taylor Swift is one of the world's biggest pop stars," GLAAD director of talent engagement Anthony Ramos said in a statement. "The fact that she continues to use her platform and music to support the LGBTQ community and the Equality Act is a true sign of being an ally. 'You Need to Calm Down' is the perfect Pride anthem, and we're thrilled to see Taylor standing with the LGBTQ community to promote inclusivity, equality, and acceptance this Pride month."
Swifties everywhere ― even those who may have doubted the singer after her disappointing lead single "ME!" ― took to the internet to celebrate undisputed bop.
The music video for "You Need To Calm Down" arrives on Monday. Swift explained she wanted fans to just focus on the song initially.
"I wanted you to hear the song first, then see the video," the singer wrote. "Because the video is very worth the wait. There's a lot going on in the video so I wanted that to be a separate discovery."
Listen to the full track below.
This article has been updated to include a GLAAD representative's comment.
Support HuffPost
The Stakes Have Never Been Higher
Popular in the Community