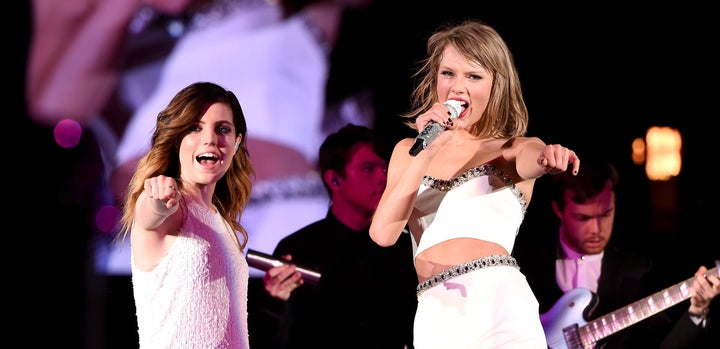 The siblings of indie-pop band Echosmith are no strangers to misheard lyrics. Sometimes the chorus of their hit song "Cool Kids" is heard as, "I wish that I could be like the cookies," instead of "cool kids."
Though more delicious sounding, the line is unfortunately wrong. But when asked for their personal fave misheard lyrics, they point to their friend Taylor Swift's song "Blank Space." Officially, the line in the song is "long list of ex-lovers," but Echosmith isn't so sure.
"One of the biggest ones as of late is probably the 'Starbucks lovers' situation with Taylor Swift. I still can't hear whatever the other line is, actually," lead singer Sydney Sierota told The Huffington Post.
"I think Starbucks maybe, like, worked out a deal with her," joked bassist Noah Sierota. 
Before the band headed out on their Blurry Face Tour with Twenty One Pilots, they teamed up with Hard Rock to kick off its Pinktober campaign. To get things started, the band donated memorabilia, including a dress, a guitar and handwritten lyrics. They also played a free concert at Hard Rock Cafe New York, at one point covering Swift in honor of a fan's 22nd birthday.
HuffPost caught up with Echosmith's Noah, Sydney and drummer Graham Sierota at the concert to talk about the campaign and to finally find out if they really wish they could be like cool kids or cookies.
Do you really wish you could be like the cool kids?
Noah: I think in a sense we kind of always go through that a million times ... The main message we want to get out with our music and that song is to accept yourself for who you are, and it's something we kind of have to remind ourselves.
More important, do you wish you could be like the cookies?
Noah, Sydney, Graham: Yes!
Sydney: White Chocolate Macadamia Nut. Like a warm one, though. Nobody wants cold cookies.
Noah: I'd be a Snickerdoodle. I'm a Snickerdoodle guy. And, yes, I would like to be like the cookies. They're soft and chewy and wonderful. Everybody loves them.
Graham: Sugar cookies or M&M's.  
You were on the 1989 Tour with Taylor Swift. How'd that come together? 
Sydney: Yeah, it was definitely planned. I think her life, and even our life, is just too crazy not to plan. So she had her manager reach out ... and they were just like, "Hey, what dates would you like to do if you'd like to come guest and do a secret performance with her?" and we were like, "Yes, of course," and we figured out that Philadelphia worked out pretty great, and it was 65,000 people, so it was crazy. 
Sydney: Actually, I was texting Taylor about like hair and makeup and asking who she used in NY because I was going to NY. It was this whole thing. We were talking, and then I realized that we were both gonna be in London at the same time. She's playing and I had an off day randomly, and I was like, "OMG, we're gonna be in the same place," and she was like, "Yeah, I'd love for you to come to the show. A bunch of my friends are coming," and I was like I don't know what that means ...
Sydney: Yeah! Exactly. So Emma Watson was definitely like one of the coolest people I got to meet. We got to talk for a while, which was awesome.
Did you talk about "Harry Potter"?
Sydney: No, we didn't talk about "Harry Potter" whatsoever ... I feel like everybody talks about "Harry Potter," so I figured it be better to talk about life.
Ooh, you guys are the cool kids then, because I definitely would've.
Noah: I would've gone the "Harry Potter" route for sure.
If you wished you could be like the Hogwarts students, what house would you be in?
Noah: I think Ravenclaw doesn't get enough love.
Sydney: I mean, I don't know if I'd take one specific one, but one I wouldn't want to be in is Slytherin.
Noah (to Sydney): I feel like you would be Hufflepuff. Graham's a Gryffindor.
Kanye says he's running for president. What do you think? 
Sydney: I mean, I don't know. Like is this real, or is it a joke? You know what I mean? Because I feel like you never know with Kanye for something like that, but I wouldn't be surprised if he tried.
Noah: Why not? We had an actor for president once [Ronald Reagan]. We did have an actor governor [Arnold Schwarzenegger]. That was even cooler.
Sydney: I mean, that's who I think of when I think of an actor in politics. I don't even think of Ronald Reagan.
If you hung out with my dad, you'd know all about him.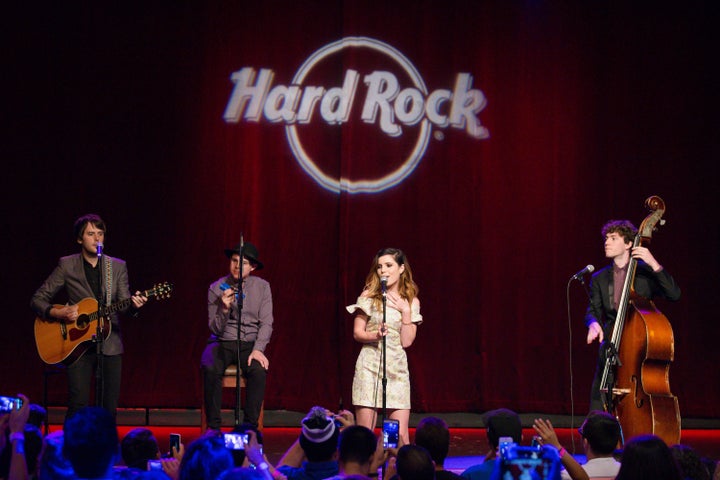 If you wished you could be like Kanye and run for president, who's your running mate?
Noah: I would choose, I think, Arnold Schwarzenegger.
Sydney: You know what, I would probably pick Taylor Swift. Because wouldn't everybody want her to be president?
Graham: I'd pick Harrison Ford.
The music video for "Let's Love" has puppies in it. Did you think of the song first or just want to make a video with puppies and the song came second?
Sydney: First comes "Love," then comes puppies.
If you wished you could be like the puppies, what puppy would you be? 
Noah: Have you seen "Cujo"? I'd be Cujo.
Graham: I'd be an R2-D2 dog.
Noah: Like a robot bionic dog?
That's great, because then you'd be a puppy forever. So what interested you in working with Hard Rock on Pinktober?
Sydney: We've been to Hard Rock a thousand times and also to promote finding a solution to breast cancer is amazing. October is National Breast Cancer Awareness month, and this was the perfect opportunity to step into that, and we were happy to give a dress and a guitar, and it felt pretty cool, I gotta say. 
"It felt cool" because you're obviously cool kids. Or is it cookies?
 This interview has been edited and condensed.
PHOTO GALLERY
Taylor Swift's '1989' Tour
For a constant stream of entertainment news and discussion, follow HuffPost Entertainment on Viber.
REAL LIFE. REAL NEWS. REAL VOICES.
Help us tell more of the stories that matter from voices that too often remain unheard.