A lonely Taylor Swift fan wants to bag a date to his idol's concert in Australia -- and has posted a dry-humored YouTube plea that could read just like one of her songs.
Shortly before Marius Helde Larsen moved Down Under from Norway in September, he was gifted a pair of tickets to the "Blank Space" star's show in Sydney later this month.
But the 30-year-old admits he's struggling to make friends, and is now looking for a companion to go to the gig with him for free.
"I moved to a new country. But before that, my friends back home had seen my dancing and singing to a Taylor Swift song, again and again and again," he said in the footage.
His friends thought he'd be able to share the spare ticket with his new girl or bestie, he says. But, he sadly admitted in the video, the only friends he's made so far are cute local animals encountered on his walks. In the footage, Larsen wistfully looks out into the Australian wilderness several times as he wonders why he can't get a date. He also scratches his back with a boomerang as he reveals having trouble with understanding the local culture.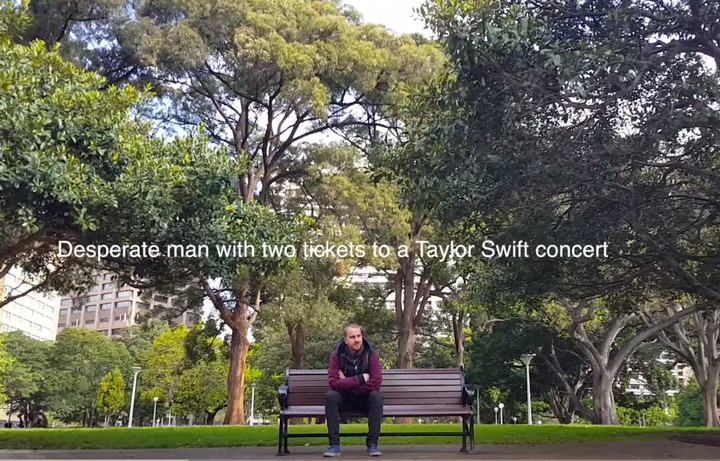 He even shared a few sentiments that could be straight out of one of the pop star's hits: "Time is running out. I'm getting desperate here. It's on my mind all the time."
"The other day I thought I might have found what I'm looking for, but I freaked out, a true Taylor Swift fan, but I didn't know how to approach her," he said.  "I don't know that crowd, and most of them are not my age. Is there anyone like me among them? Someone I can understand? Please help me."
He leaves his email address on the screen for potential partners to contact him.
Larsen said he normally preferred rock music, but that his appreciation of Taylor Swift started with her smash hit "Shake It Off" last year.
"Me and my friends were in Iceland and for three days, and we were waiting for this song to come on the radio, and it never did. Then all of a sudden, it came on and we were laughing and singing and screaming -- you can see it in the video -- it was a lot of fun," he told HuffPost Australia.
PHOTO GALLERY
Taylor Swift's '1989' Tour
Calling all HuffPost superfans!
Sign up for membership to become a founding member and help shape HuffPost's next chapter