DENVER ― After four hours of deliberations, a jury in a trial that ensnared Taylor Swift and a former disc jockey who groped her during a meet-and-greet in 2013 has ruled in Swift's favor.
The jury on Monday awarded Swift the $1 she sought as a symbol of KYGO DJ David Mueller's assault and battery, while simultaneously denying both of Mueller's claims that members of Swift's team interfered with his employment.
Mueller, 55, sued Swift after the 2013 event, claiming he was wrongfully fired because she falsely accused him of groping her. The 27-year-old pop star responded with a countersuit for assault and battery.
"I acknowledge the privilege that I benefit from in life, in society and in my ability to shoulder the enormous cost of defending myself in a trial like this," she said. "My hope is to help those whose voices should also be heard. Therefore I will be making donations in the near future to multiple organizations that help sexual assault victims defend themselves."
Swift, who had largely remained composed throughout the trial, sobbed Friday during closing statements.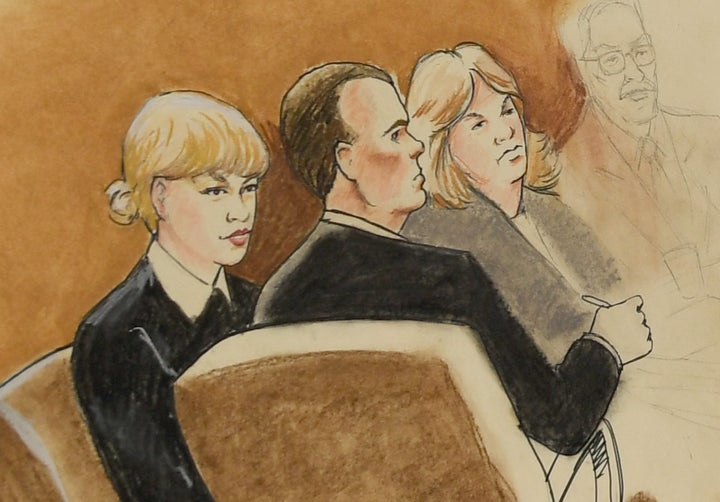 "That is an ass-eating grin," Swift's lawyer, Douglas Baldridge, said Monday during closing statements, describing Mueller's smile.
Mueller has steadfastly denied he placed his hand under Swift's skirt, arguing instead his hand was in an odd position as he moved to join the photo.
Swift's countersuit asked for a symbolic $1 in damages, which she wants to serve "as an example to other women who may resist publicly reliving similar outrageous and humiliating acts."
"The single dollar I ask you to award her... is of immeasurable value," Baldridge said Monday. "It means no means no. And it tells every woman that they will determine what is tolerated with their body."
Swift previously stated she will donate any proceeds she's awarded to charities that protect women from sexual assault.
Unlike criminal cases, where guilt must be demonstrated beyond a reasonable doubt, this is a civil case, U.S. District Judge William J. Martinez emphasized in a statement to jurors Monday, and therefore requires less evidence.
"In a civil case, such as this one, the burden of proof is preponderance of the evidence," he explained. "To prove something by a 'preponderance of the evidence' means to prove that it is more probably true than not. This standard does not require proof to an absolute certainty, since proof to an absolute certainty is seldom possible in any case."
While Swift was dismissed, her mother, Andrea, and her radio relations manager, Frank Bell, remained as defendants in the suit, as they ― not Swift ― notified Denver country music station KYGO of Mueller's alleged misdeeds in 2013, leading to his termination two days later.
Martinez's ruling limited the damages Mueller could theoretically have been awarded to $300,000, representing the last two years of his $150,000 annual salary with KYGO. In pretrial testimony, Mueller indicated he thought he was owed upward of $3 million.
Throughout the trial, an office across the street from the federal courthouse in Denver has been broadcasting encouraging Taylor Swift quotes. Monday's note read, "People throw rocks at things that shine."
After the verdict, the message was updated.
Popular in the Community