A quick search about the breakup on TikTok (one hashtag already surpassed 67 million views) will give you a clue as to how Swifties are handling the news. Swift fans are confused, shocked, hurt or dubious that it's even true. One fan told Vulture the split made her "believe that love wasn't real anymore. And I puked."
To non-Swifties, this might seem like a pretty intense reaction to a famous person's breakup. But according to psychologists, this is actually pretty par for the course — especially with a celeb as beloved as Swift. People tend to develop one-sided connections known as parasocial relationships with stars they adore, and she has perfected the art of keeping her millions of fans close and committed.
With these parasocial bonds, people feel deeply invested in the lives of celebrities and develop an idea of who the person is and how they'd get along. As a result, it can feel "really impactful to see someone you care about go through a harm," said Janelle S. Peifer, a licensed clinical psychologist and an assistant professor of psychology at the University of Richmond.
Why We Get So Invested In Celebrity Relationships
Parasocial relationships are most commonly seen with celebrities and sports teams, according to Emily Hemendinger, an assistant professor of psychiatry at the University of Colorado Anschutz Medical Campus. They can manifest as a playful crush, over-investment in the person's life, or even extreme dislike or hatred for them.
For the most part, parasocial relationships are harmless, said Hemendinger. And in some cases, they can even be beneficial — especially if they help someone work through their identity or self-esteem (which Swift has a solid track record of doing).
There are a few reasons someone might develop a parasocial bond with a celebrity like Swift. First: We all need social connectedness, and if you're isolated or feeling lonely, a parasocial relationship can fill in those gaps and help you feel close to another person, even if you don't personally know them, Hemendinger said.
Another reason is fantasy or escapism. Life can be dull and even painful at times, and investing in the happenings of your favorite singer's love life can give you a quick break from reality. "Celebrities and their relationships can provide an escape for daydreaming or distraction from one's current life circumstances," Hemendinger said.
Lastly, people often project their own aspirations, beliefs and personality traits onto the person on the recipient end of the parasocial relationship. Their identities can get intimately wrapped up with the celebrity. "This causes us to feel that much closer to the person and feel as though we actually know them," Hemendinger explained.
Consequently, when good things happen to a celebrity, we feel good, and when bad things happen (like a break-up), we feel bad.
In the age of social media, it's easy to get swept up in a parasocial relationship. Celebrities are encouraged to share their lives and create relationships with their fans, said Peifer. People can open up their apps and see what Swift's up to, so it can legitimately feel to some as if she's a close friend. It's natural to want to know more when something like a breakup happens.
It can feel like we're owed something such as an explanation from the celebrity for what's going on. "Social media, in particular, has increased the level of identification that people have with celebrities," Peifer said.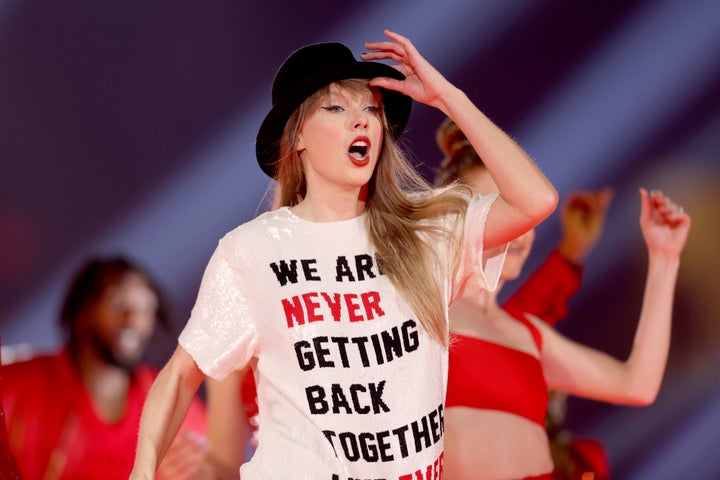 Why The Curiosity Is So Deep With Taylor Swift
If it feels like you're seeing a more intense reaction to or wave of speculation around the Swift-Alwyn breakup than you've seen with other celebs, even those with strong parasocial followings, you might be right. Swift's life, and her romantic relationships in particular, have been in the spotlight since she was a teen. Many of her fans have grown up with the star, experiencing life's milestones right alongside her.
"This relationship isn't something that has been short-lived," Peifer said. Swift has embraced and invited her fans into her life and is known for dropping Easter eggs about her love life in songs, causing her fans to debate which ex-boyfriend she's singing about. They're invested, and they have been for quite some time.
This intimate fan-artist connection, layered onto the parasocial element, makes the news of the split all the more jarring. Even though Swift's breakups lead to stellar songs (over here daydreaming about the next album), fans want to see things work out for her. "There's going to be shock, sadness, confusion, and even people who are annoyed or get really worked up if you bring up the topic of Taylor Swift's breakup," Hemendinger said.
If you're feeling blue about the breakup, you're in good company. Due to the close bond so many fans have with Swift, it's totally normal for emotions to come up, said Peifer. Be gentle with yourself, and if you start to feel overwhelmed or like if you really feel love is dead, be mindful about how much T. Swift content you're consuming. Take a break from the scrolling. Put down the laptop, turn the TV off and, if need be, set a timer for yourself, Hemendinger suggested.
And, remember: Despite her massive success and track record of being accessible to fans, Swift is human, and you may never get answers about the split beyond generalized explanations. Celebrities need appropriate boundaries, just like each and every one of us, to work through life's ups and downs.
"Just like a friend or family member, they deserve privacy, as well as time and space to grieve and heal," Hemendinger said.