With this year's MTV Video Music Awards just around the corner, Taylor Swift appears to be reflecting on her own history with the annual ceremony ― including the time she was interrupted by Kanye West, who now goes by Ye.
Though Swift didn't mention Ye directly, she seemingly alluded to that infamous pop culture moment on Sunday during the Mexico City stop on her Eras Tour. As the 12-time Grammy winner sat down to perform "Champagne Problems" off her 2021 album "Evermore," the audience began chanting her name over and over.
"It's the best way to be interrupted, by the way, just people chanting your name," she told the crowd, as seen in video clips from the show. "It's really the only way to be interrupted ― and I would know."
For those who need a refresher, Swift was in the midst of accepting the best female video award at the 2009 MTV VMAs when Ye stormed the stage and proclaimed Beyoncé's "Single Ladies" more worthy of the honor.
This isn't the first time that Swift has appeared to have a laugh at the 14-year-old situation while on tour.
She broke down in giggles last month in Seattle while performing an acoustic version of "This Is Why We Can't Have Nice Things," a 2017 track that was rumored to have been inspired by Ye.
"I can't even say it with a straight face," she told the crowd, after singing the line: "And here's to you, 'cause forgiveness is a nice thing to do."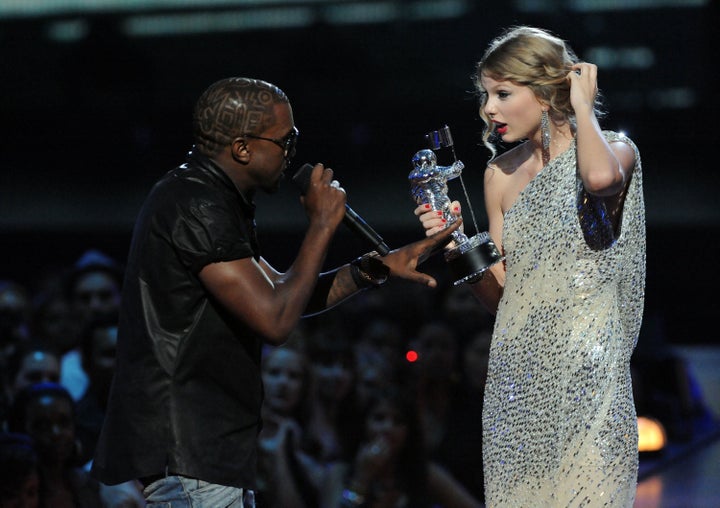 Earlier this year, actor Taylor Lautner ― who presented the award to Swift in 2009 and was in a relationship with her at the time ― offered his own take on the situation.
In a chat with his wife, Tay Lautner, on "The Squeeze" podcast, the "Twilight" star said he was "unaware that the Kanye thing was not a skit" until after it happened.
"I'm just assuming that this whole thing was a practiced and rehearsed skit, because why else would Kanye West be jumping up on the stage interrupting Taylor Swift? It just didn't make sense," he recalled.
Just moments later, the reality of the situation began to sink in.
"The second she turned back around and I saw her face for the first time," he said, "I was like, 'Oh! That wasn't good.'"
Swift is nominated for eight VMAs at this year's ceremony, which is set to take place Sept. 12. If she secures at least seven of those wins, she'll surpass Madonna as the most-awarded artist in VMAs history.
Support HuffPost
The Stakes Have Never Been Higher
Popular in the Community