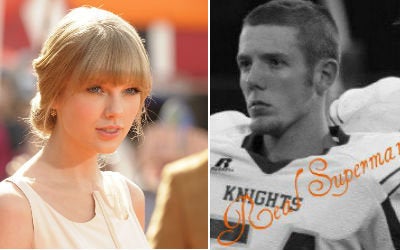 Kevin McGuire is fighting cancer for the second time and the lifesaving drugs he needs are in short supply. But, the high school senior is nowhere near giving up -- he even has a plan to try and secure a prom date with Taylor Swift.
Known as the "real life Superman" around his high school in Somderdale, N.J., according to his Facebook page, McGuire was first diagnosed with leukemia at 13 and thought he beat the disease in 2010. But McGuire received the devastating news recently that the cancer is back.
However, the resilient 18-year-old, who's played football and basketball for his school, still has big dreams. He hopes to take his celebrity crush, Taylor Swift, to prom on his birthday in June and his sister, Victoria McGuire, has organized a Facebook page to promote his cause.
"Through out his ups and downs Kevin never even questioned "why me?," Victoria wrote on his Facebook wall to which 8,268 people have subscribed. "Nothing, and I mean NOTHING brightens Kevin's day more than Taylor Swift. Kevin DESERVES more than anyone a special event in his life."
While McGuire fights for Taylor Swift's attention, he's also facing a harsh medical reality.
Supplies for a key drug in treating childhood cancer, methotrexate -- which is expensive to produce and offers a thin profit margin -- is in dangerously low supply, MyFoxPhilly.com reports.
But just as McGuire is keen on making his prom night perfect, he's also just as determined to do whatever it takes to combat this disease.
"I had no doubt I would kick its butt the first time, and I did," McGuire told the news outlet. "Hopefully I'll be able to continue that this time, even if methotrexate isn't in the picture."
CORRECTION: An earlier version of this story stated that Nicole Durand, Kevin McGuire's cousin started the "Taylor Swift take KEVIN MCGUIRE TO PROM!" Facebook Page. McGuire's sister, Victoria, set it up.

Popular in the Community