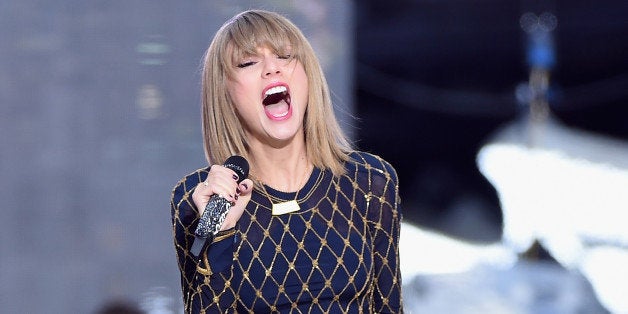 On Monday, news broke that Taylor Swift's back catalog had been removed from Spotify, another blow to Swift fans after her new album, "1989," was previously barred from the streaming service. Swift's move comes in the wake of her Wall Street Journal op-ed from July that discussed, among other things, streaming services and the drop in album sales.
"Music is art, and art is important and rare. Important, rare things are valuable. Valuable things should be paid for," Swift wrote in an op-ed for Wall Street Journal. "It's my opinion that music should not be free, and my prediction is that individual artists and their labels will someday decide what an album's price point is. I hope they don't underestimate themselves or undervalue their art."
No, Taylor Swift is not going to be the end of Spotify. But her actions have repercussions that best remain tiny little ripples and not turn into tidal waves.
While I agree with Swift that an artist's work warrants a fair monetary exchange, her move underestimates the impact of Spotify and other services. There are few other artists in the world who have the kind of pull and power as Taylor Swift (see: Beyoncé, Kanye and Jay Z, for starters). In a year where no other artist has had an album go platinum, Taylor Swift's "1989" sold more than 1.2 million copies in its first week. Disregarding whether Swift's music is good or not (not here to meddle in the subjective), her albums have very much been in tune with what is popular. She isn't taking risks, she isn't trying to establish a new sound. "1989" is a reaction to the revived '80s disco-pop movement. It's easy to sell and will get radio play no matter the location. But for the artists who aren't writing what's in the mainstream, the addition of streaming services has been a huge boon in terms of helping them reach a larger audience, build a bigger fan base and, perhaps, even get discovered by labels. Unsurprisingly, not everyone is Taylor Swift.
But where Swift really comes up short is with her own fans. Besides the benefits of exposure that smaller acts receive from streaming services, the concept of listeners having access to a nearly unlimited library of music is, in my opinion, one of the most beautiful developments in music history. Such creations are the nature of the Internet age. Now that we know what we are capable of having access to, fighting such a system would not only fail, but is simply regressive. Swift is fighting a battle she really can't win. This would be like Elvis Presley saying he didn't want his songs on the radio.
Streaming services aren't just the future. It's life in the here and now. As reported by the RIAA, streaming services grew by 28 percent in the first half of 2014, now accounting for 27 percent of total industry revenues. As reported in Time, 42 percent of "14- to 34-year-olds listen to music using either on-demand services like Spotify and YouTube or through internet radio services like Pandora." (Anecdotal evidence would suggest this demographic is Swift's target group.) On Tuesday, SoundCloud inked a licensing deal with Warner Music Group, one of the three major global music groups (Sony and Universal being the other two), its first with a major label. This is part of SoundCloud's plan to roll out a paid subscription plan in the first half of 2015, and will grant "Warner and its artists latitude to choose what tracks will be made available on the service at any given time."
Here's another: Currently, Spotify pays artists between $0.006 and $0.0084 per song stream. On top of that, Spotify gives nearly 70 percent of its revenue, earned through premium subscribers and advertisements, to the music's rights holders. This primarily includes labels, publishers and distributors. How much of that money are labels handing to their artists? In most cases, it certainly isn't nearly enough. While Spotify claims some artists have received a significant payback, this model needs to be improved. They can start by bumping up the monthly premium subscriptions. Listeners need to learn they have to pay to play if they want streaming services to be a viable form of music consumption.
Swift leaving Spotify isn't bad, it's just silly. As an artist who is making a significant amount more money than the vast majority of her peers, her actions come off disingenuous. Swift might be able to ignore Spotify's (kind of pathetic) attempt to return her music to the platform for now, but in time she will need Spotify just as much as it needs her. Streaming music services are where her fans are going. It's where everyone is going. We're not in 1989 anymore.
Calling all HuffPost superfans!
Sign up for membership to become a founding member and help shape HuffPost's next chapter