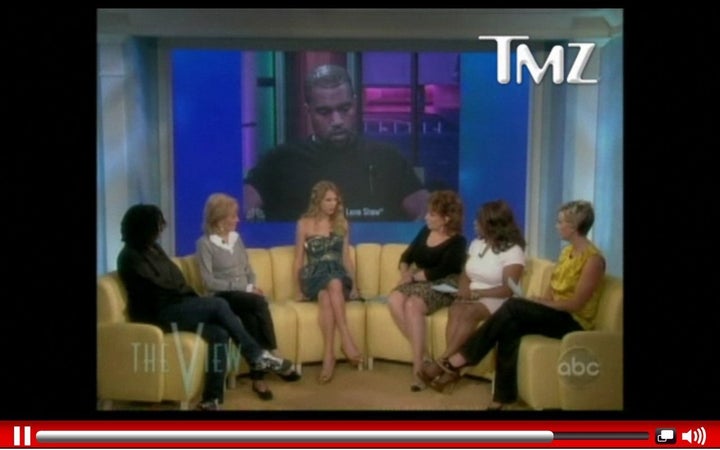 UPDATE: Kanye called Swift after "The View," the AP reports:
Representatives from "The View" say West called Swift after her appearance on Tuesday's show. During the broadcast, the 19-year-old singing sensation said West had yet to contact her to apologize for hijacking her MTV Video Music Awards acceptance speech on Sunday.

The incident caused an uproar and led West to give an emotional apology on Monday's premiere of "The Jay Leno Show."

"The View" says Swift has accepted the apology.
"I think my overall thought process was something like, 'Wow I can't believe I won. This is awesome. Don't trip and fall. I'm going to get to thank the fans, this is so cool--oh, Kanye West is here," she said. "Kanye West is here, cool haircut, what are you doing there? And then ouch, and then I guess I'm not going to get to thank the fans."
Then Kanye got into an altercation with Taylor's mom, who "tore into him" backstage.
Kanye told Jay Leno last night that he wanted to apologize to Taylor in person and she said would meet with him, but "he has not personally reached out or anything."
Though Kanye's outburst left her "rattled," Swift said the outpouring of support from fans has helped. "I never imagined that there were that many people looking out for me," she said. "It was really wonderful to see there were people out there defending me so I didn't have to."
WATCH: