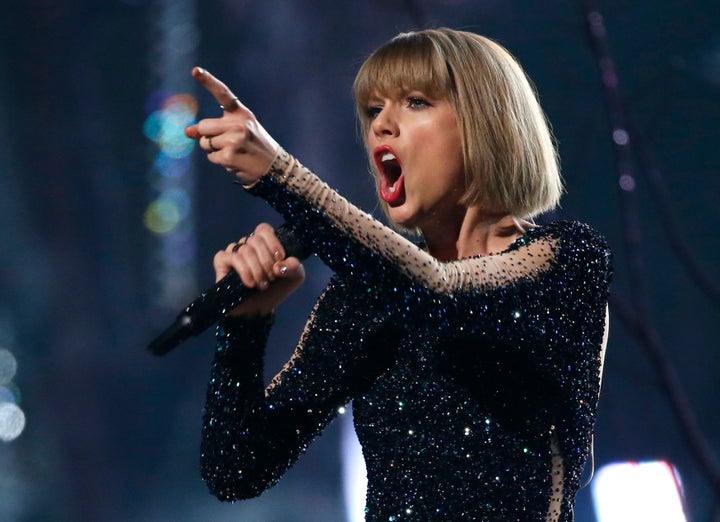 Taylor Swift is a woman of many talents ― singing, using her personal life for professional gain, convincing all of us to turn against Camilla Belle in 2010, etc. ― but who knew she could see the future?
Now, a forgotten interview with Swift from 2015 has surfaced, indicating that the "1989" singer long feared what Kim Kardashian turned into a reality. Clearly on that Professor Trelawney divination tip, Swift once told presenter Dave Berry that one of her recurring nightmares is being recorded without her knowledge. Say whaaaaaat? 
"I always feel like someone has bugged the room and is either videoing me or recording me, that's one of my paranoias," Swift said. 
In her response to the incriminating Snapchats, Swift emphasized that she was not aware that her conversation was being recorded, which could amount to a criminal offense in the state of California. 
She captioned her Instagram note addressing the incident, "That moment when Kanye West secretly records your phone call, then Kim posts it on the Internet." 
So either Kim read the interview and decided to be Taylor's own personal Freddy Krueger for the week or this is a case of Alanis Morissette levels of irony. Let's just be thankful no one showed Kardashian the passage about Swift's second greatest fear. 
"I always have nightmares that I'm being framed for murder and then I'm being framed SO well that I can't remember if I did it or not in the dream," she said in the same interview. "So that really winds me up and then I'm just freaked out for the next couple of days." 
In completely unrelated news, Kim Kardashian will be replacing Viola Davis on the new season of "How to Get Away with Murder" ... 
Calling all HuffPost superfans!
Sign up for membership to become a founding member and help shape HuffPost's next chapter
BEFORE YOU GO
PHOTO GALLERY
Taylor Swift