On Thursday, Taylor Swift took the stand in a Denver, Colo. courtroom to deliver much-anticipated testimony about an incident she says took place at a fan meet-and-greet event in 2013. The pop star stated that during a routine photo op, former DJ David Mueller slipped his hand under her dress and "grabbed [her] ass underneath [her] skirt." At the time, Swift was just 23 years old. The incident resulted in Mueller being fired from his job at Colorado radio station KYGO-FM.
Mueller, 55, sued Swift in 2015 for damages, saying that the singer had falsely accused him of groping her and had, according to Reuters, "pressured station management to oust him from his $150,000-per-year job." One month later, Swift, now 27, then counter-sued Mueller for $1 for assault and battery. According to EW, the countersuit stipulated that the suit would "serve as an example to other women who may resist publicly reliving similar outrageous and humiliating acts."
In a deposition, Swift reportedly said that the groping "was not an accident, it was completely intentional, and I have never been so sure of anything in my life."
Mueller's lawyer, Gabriel McFarland, attempted to pick apart Swift's narrative of the 2013 incident. Swift was not having it.
Some highlights include....
″[Taylor Swift is] speaking for all assault victims right now with her refusal to back down or be guilted," tweeted one woman.
Dunham is right. Swift's example is a powerful one, something that is important for women and girls around the world who idolize the pop star to see.
Swift's fans are, by and large, young women and girls. And for women and girls ― who are by virtue of their gender more likely to be sexually assaulted, groped or sexually harassed than their male peers ― it's a powerful thing to hear one of the most famous women in the world stand in her truth and refuse to waver.
As Slate's Christina Cauterucci put it: "For young fans of Swift's, hearing a beloved artist speak candidly about the emotional damage of sexual assault and stand up to a courtroom of men trying to prove her wrong could be a formative moment for their developing ideas of gender, sex, and accountability."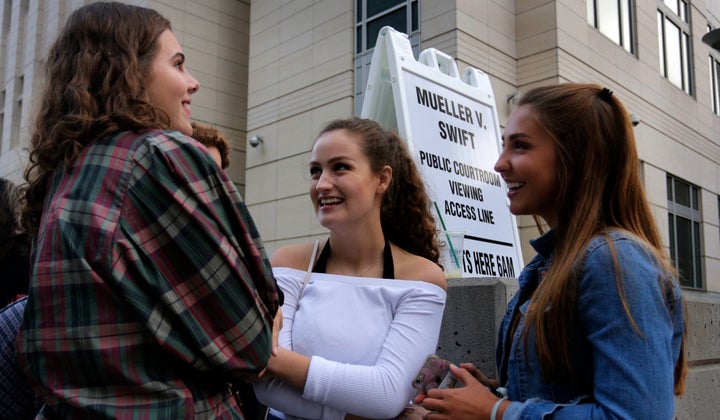 In photos taken outside the courthouse this week, young women can be seen lining up to get into the courtroom to watch the case unfold. Segments of Swift's fan base were literally sitting in the room with her as she faced down her alleged groper, and refused to bend to his claims that she had misinterpreted or lied about what happened to her.
"You can ask me a million questions...and I'm never going to say something different," Swift said to McFarland at one point, reported HuffPost's Ryan Grenoble. "I never have said anything different."
Of course, Swift, being a mega-rich, mega-famous, white, blonde, straight, cisgender, conventionally beautiful woman has many advantages that most alleged victims of sexual harassment and assault will never have. And these advantages certainly played a role in allowing her to push forward without fear of life-altering retribution or debilitating financial expense. But rather than settling and back-channeling and attempting to avoid the publicity she knew would come along with taking a case like this to trial, she used her privilege and made herself an example.
It is a cathartic and powerful image indeed to see a woman not only speak up but successfully resist being defined by these false and damaging narratives. And because that woman was Taylor Swift, the world was watching while it happened.
Support HuffPost
The Stakes Have Never Been Higher
Before You Go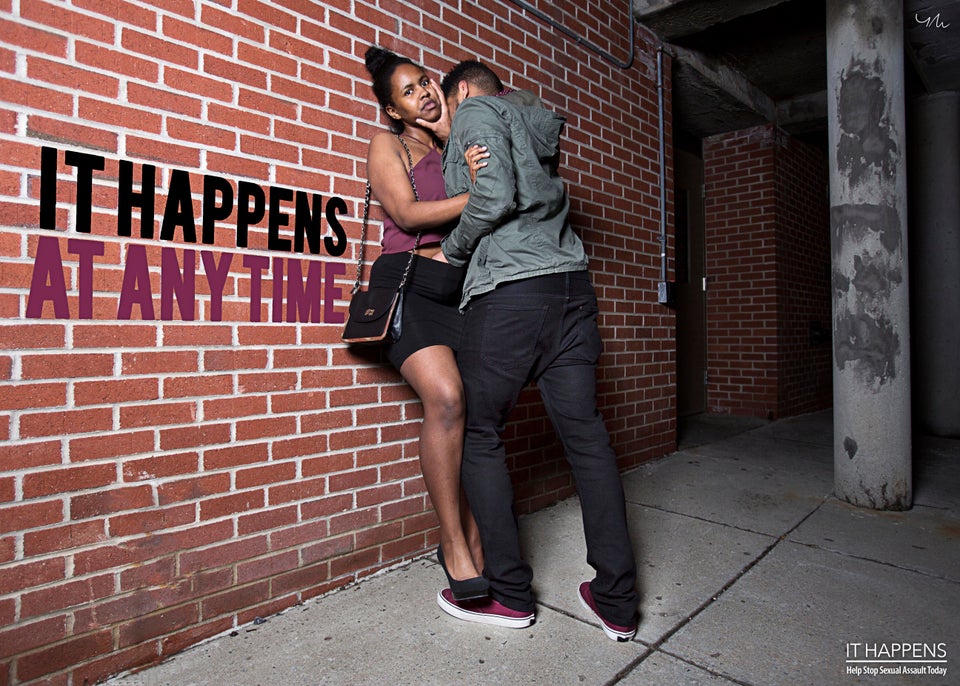 'It Happens' Sexual Assault Series by Yana Mazurkevich
Popular in the Community