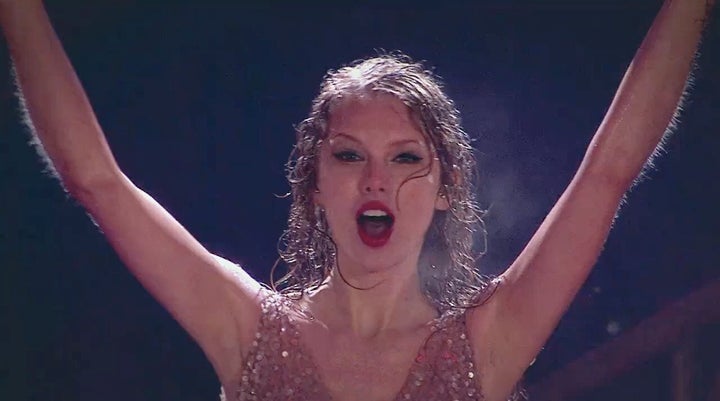 A note to moms: If you're thinking about taking your daughters to see Taylor Swift as their first concert, and maybe your first show since the Indigo Girls in 1996, please don't. If you're thinking you'll see a sweet Southern singer/songwriter on stage with her guitar, a few pretty dresses, and simplistic but heartfelt lyrics, you won't.
The overwhelming message of the Swift concert to the sea of girls ages 5 to 55: be pretty, be conventional, be quiet (well, it's OK to scream for me), and definitely put on some lipstick.
When my 10-year-old daughter learned to belt out "A Place in this World" on her guitar a few months ago, I began to feel some affection for Swift. Country music up until the quasi-country, anti-Bush Dixie Chicks had never appealed to me, but Swift's commitment to writing her own songs and to making her own way in the music business was compelling. And she even maintained some dignity after being publicly berated by an obnoxious Kanye West.
On a recent trip to Washington, DC, my husband and I splurged on Swift tickets for ourselves and kids -- an 8-year-old boy and two girls, ages 10 and 12. We thought the young singer would be especially inspirational to our daughters who love her music and are avid musicians.
We joined the ebullient, predominantly female concertgoers in floral H&M jumpers and cowboy boots streaming into DC's Verizon Center. Many arrived holding their daughters' hands before the first two opening bands to stand in long lines for Swift t-shirts and merchandise and take photos next to the towering Swift cutouts in the lobby.
The scene was sweet until you got to the CoverGirl stands (Swift is a CoverGirl) where girls of all ages sat on stools before stage mirrors to receive makeovers -- perhaps selecting the lip and eye colors that Taylor wears.
The message -- you're not really beautiful until you cake your tiny, pre-pubescent face with makeup -- wasn't the empowering one I had envisioned. (I later watched a five year old with ruby red lipstick pouting because the color had come off in her cotton candy. Welcome to the hardscrabble world, baby.)
OK, I thought, that's advertising -- not Swift's fault? Actually the pre-tweens in makeup set the scene for the CoverGirl meets Disney extravaganza.
After her opening "Sparks Fly," that featured an inordinate amount of hair flipping, Swift stood on the stage for what felt like a long and awkward few minutes, taking in the screams of her girl fans, eyes wide open with feigned amazement. Glancing to the far reaches of the arena where fans paid upwards of $130 per ticket (the going rate on Craigslist), she gazed left. She gazed right. She beamed. She stood still and put her hands to her heart.
Throughout the concert, even the best songs -- "Speak Now" and "Fifteen" -- were convoluted by an elaborate stage show and a relentless multimedia set with projected live images of Swift inside a gigantic framed mirror. Hearts and words with curly-cue lettering flashed on the screens. (The most ironic image projected was of a girl's quaint bulletin board with a tacked up ticket stub for a concert that cost $10.)
Dancers swirled up and down a staircase in the middle of the set and around Swift like something out of Glee, but not as entertaining. The music and lyrics (which do speak to girls) were secondary to the sparkle and fireworks -- literally -- of the stage.
Fleshing out the princess theme, Swift even drifted just above the crowd in a floating balcony -- her eyes seemingly meeting the eyes of each concertgoer. My husband was sure she was singing just to him.
My 10-year-old girl stood rapt on her chair, taking in everything. Like most of the girls (except the 13 year old making out with her boyfriend in the row in front of me) she loudly sang along with each song.
I didn't expect Taylor Swift to make any radical, edgy, feminist remarks, but I also didn't expect Gidget meets the Little Mermaid. What an incredible platform for Swift to say something as simple as "Girls rock!" or something even crazier like "Love yourselves!"
Instead, she finished each song by looking wide-eyed into the crowd and noting how "amazing" it was that so many people came to the show and how "beautiful" everyone looked (incredible how she could see people with all those lights in her eyes).
Maybe my family got the vacuous experience we deserved. That would be true if it were just a benignly bad concert experience. The problem is that it was an insidious concert experience that emphasized everything but the artist's voice -- the flowing fairy dresses and saccharine monologues covering up Swift's real power. Covering up girl power.
The best moments were rare authentic ones with Swift's top lip a wee bit sweaty, hair oh-so-slightly disheveled, strumming "Mean" on a banjo and later "Fearless" on a ukulele. That's what we had come to see, but it was fleeting.
As the house lights came on, my older daughter, age 12 and a half, gave me a deflated, knowing look. My younger daughter was tired but managed to quietly gush: "I loved it." My son loved his glow stick.
I hope more discerning parents than us might think twice about Swift tickets. Better to have to explain the explicit sexuality of someone like Gaga and her "Born this Way" message than to have to undo the message of female powerlessness -- especially from an artist who is so fervently emulated by girls. If you have tickets already, perhaps you can prep your music lover. It's sort of like a game of I Spy: look hard and look deeply for Swift's voice. It's there, just buried in the fluff.
Speak Now tour? More like Speak softly and smile a lot.
Related