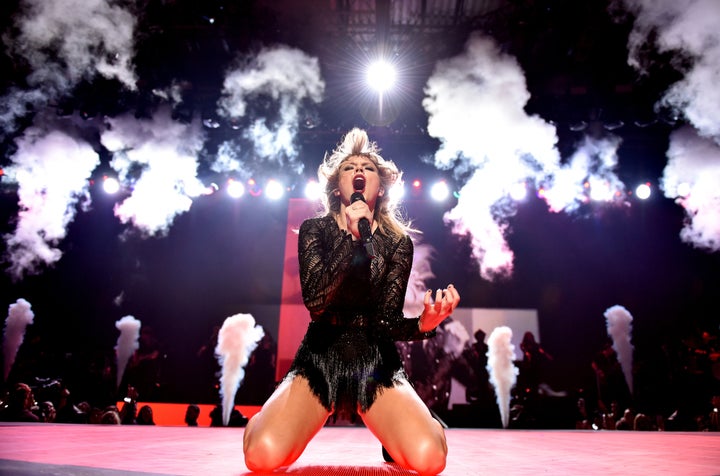 The past few years have been kind and kind of cruel to Taylor Swift. Her mega-selling 1989 album cemented her spot as one of the most-beloved women in pop music, a distinction she now shares with Beyonce and Adele. But unlike her fellow leading pop divas, Swift might simultaneously qualify as one of the genre's most-hated female stars.
It's hard to think of a more polarizing pop queen since the heyday of Britney Spears, or one who has been dogged by as much "controversy," positive-to-negative press, love/hate commentary, and intense scrutiny of her personal life from one album to the next. Her last cycle included whirlwind courtships and break-ups (with Calvin Harris and Tom Hiddleston), a XXX "cameo" in Kanye West's "Famous" single and video, a social-media showdown with West and his wife Kim Kardashian, and public mudslinging with the likes of Demi Lovato and Katy Perry.
What's a most-beloved and most-hated pop star to do next? In Swift's case, reinvent herself... again. On August 25, she previewed her forthcoming sixth album, Reputation (due November 10), with a new "groundbreaking" single, "Look What You Made Me Do."
While the "groundbreaking" aspect is relative (remember, she began her musical life as a sweet-as-pie country star, so any pop move is still seen as daring for her), this might be her most meta, confessional work to date. Sure, she already has a reputation for going after exes in her lyrics, but this time she's played her revenge game a little differently. 
Swift nails everyone who has wronged her while nailing no one in particular. "I don't like your little games/Don't like your tilted stage/The role you make me play, the fool/No, I don't like you," she sings over a hypnotic electro groove that's miles away from her country-pop beginnings but wouldn't sound so out-of-place on an album by her pop frenemy Kate Perry. One can only imagine whose names are "in red, underlined" on her shit list.
She may be "smarter" and "harder," but Swift is playing tough while (still) playing the victim. Clearly she hasn't shaken anything off. The evolution is really all in the music, but some fans will be so busy speculating about the identity – or identities – of her tormentors (my money is on "Kimye") that how they feel about her latest change in musical direction might be of secondary importance.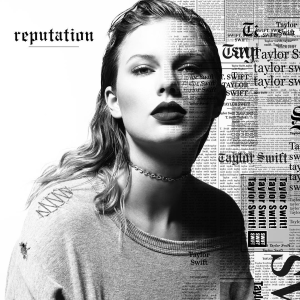 But about that change in musical direction – is it a good one? In the HuffPost article about the new song, one reader commented: "Im sure her fans will eat this up, but it was kinda lame to me. If any other female singer released this, no one would care..."
That's actually the same thing I said about "Shake It Off" three years ago when it heralded her complete 1989 transition from country princess into pop queen. Would people have embraced it the way they did if it had been Meghan Trainor's debut single? Yes, it's catchy, but that doesn't make it a great song. To my ears, it always sounded annoyingly jejune, like a musical sandcastle any tween could construct. One gust of wind and poof!... gone.
Despite covering similar thematic ground, "Look What You Made Me Do" sounds less juvenile and has a bit more gravitas. Swift's delivery is breathier and sexier, like she's trying to titillate us with her anger, which is definitely not something any tween would do with sand. It's also not something Fearless- or even Speak Now-era Swift would have done. Our knowledge of her trajectory gives it inherent shock value.
But her latest reinvention would scream "Bonus cut!" on any other established pop star's album. "I'm sorry, the old Taylor can't come to the phone right now. Why? Oh, because she's dead," she says in a spoken-word interlude near the end of the song. That may be dark by Swift standards, but the track is not nearly as edgy and new as she thinks it is. The answering machine reference is so '90s (Who comes to the phone anymore?), as is the interpolation of Right Said Fred's impossibly cheesy hit "I'm Too Sexy." If only she'd let her well-documented love of hip hop seep into her music more, she might have looked to something like, say, Kool Moe Dee's ultimate '80s dis track "How Ya Like Me Now" for retro inspiration.
We'll never know what people would think of "Look What You Made Me Do" if they judged it purely on its musical merit. As a pop star's fame enters the stratosphere, It becomes harder for fans and other listeners to separate celebrity from art. Whether they love or hate what you do will always be tangled up in whether they love or hate you. Would Beyonce's Lemonade have received such blind (and deaf) devotion had her sister Solange recorded it? Would Adele's "Hello" have been such an international blockbuster sung by Leona Lewis instead?
For all the talk about Swift pushing boundaries, she's only pushing her own. She's hardly the first artist to produce modern pop music. Others have switched genres before her. Others have grown up and evolved just as dramatically, some even more so. For truly boundary-pushing pop reinventions, check out Kesha's Rainbow or the self-titled debut album from Swift's ex, Harry Styles.
I prefer pop Swift to country Swift, but mostly because it's catchier, not because I think it's better. I don't question the singer's dedication to the art of pop, but in a sense, pop compromises her art, highlighting her limitations as a vocalist and burying the quirk she displayed on her early hits. Her first-phase singles like "Love Story" and "You Belong to Me" sounded more singular and heartfelt than the majority of her work since 2012's Red. It's too bad she let Rihanna sing "This Is What You Came For" after co-writing it with her then-boyfriend Calvin Harris. It's her strongest non-country offering so far and proof that she can still score on musical merit alone.
Much of her other pop material, though solid sonically, is fairly interchangeable with the work of her pop peers, a trend that continues with "Look What You Made Me Do." Musically, there's nothing here that pop music fans haven't already heard on other records. For such a supposedly personal song, "Look What You Made Me Do" sounds strangely robotic and anonymous.
It's notable mostly because it's written and sung by Taylor Swift. She gets credit for being daring because of who she used to be musically, so she'll never have to reinvent the wheel while reinventing herself. It's a ploy that should continue to work for another pop album or two before the audience might demand something less calculated and pose-y. For now, though, it's enough for her to be Taylor Swift taking on the world, a most-loved/most-hated position that gives her rooting value and something to write about.
"And the haters gonna hate hate hate hate hate," she sang on her previous album's introductory single. They're still hating, and she's still milking it. Bad blood continues to be the source of Swift's greatest inspiration, and as it spills, it'll fill her coffers with even more gold and platinum.
Calling all HuffPost superfans!
Sign up for membership to become a founding member and help shape HuffPost's next chapter