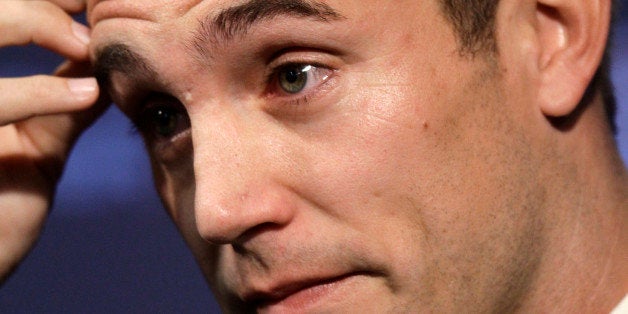 ESPN failed to disclose an endorsement deal between its lead soccer analyst, Taylor Twellman, and cash-prize fantasy sports company Draft Kings, the network said Monday.
ESPN's policy, in effect since April 2011, requires "all talent" to have commercial relationships vetted and approved by the network. According to the policy, "all relevant, approved talent endorsements will be publicly disclosed on ESPN.com."
But in an email to The Huffington Post, an ESPN spokesperson said that the network had approved Twellman's "very small endorsement relationship," and that relationship -- which had not been previously reported -- "has no material impact on his on-air soccer commentary," so the network felt it was unnecessary to disclose it. The only relationship ESPN has ever listed on its endorsement disclosure page for Twellman, a former pro and national team player who recently signed an eight-year contract with the network, is Nike.
A Draft Kings spokesperson said that the company does not comment on specific endorsement contracts.
On Friday, the Wall Street Journal reported that ESPN's parent company Disney is investing $250 million dollars in Draft Kings, valuing the company at $900 million. As a condition of the deal, Draft Kings committed to spend $500 million in TV ads on ESPN over an undefined time-period.
Twellman has tweeted dozens of times to promote Draft King's cash prizes for soccer fantasy contests in both MLS and the English Premier League. Twellman calls MLS games for ESPN as a color commentator. The links he tweets take users to a dedicated landing page with a URL that includes Twellman's name and welcomes them as "Taylor Twellman Fans."
During the 2014 World Cup in Brazil, Twellman regularly tweeted promotions for another cash-prize fantasy sports company, Draft Street. Draft Street tweets promoted cash prizes, U.S. national team jerseys, and special offers like a 100 percent bonus on an initial deposit into a Draft Street account. (Money must be deposited into a user's account to play cash-prize fantasy sports.) Draft Street was acquired by Draft Kings in July 2014.
Asked why Twellman's relationship with Draft Kings was never included on the network's endorsement disclosure page, the spokesperson pointed to a statement by Norby Williamson, ESPN's executive vice president for production, suggesting that Twellman's endorsement of Draft Kings was not relevant and therefore did not need to be disclosed under the network's policy. Norby's statement said ESPN plans "to publicly list any relevant, approved endorsements involving ESPN commentators on ESPN.com."
ESPN's endorsement policy classifies certain types of relationships as "strict review categories." These "categories of endorsements are subject to strict review and a strong presumption that they will not be approved," the policy states.
One strict review category is gambling and lotteries. Federal law does not consider fantasy sports to be gambling, even when cash payouts are involved, but rather a "game of skill." That law, however, was written before the cash-prize fantasy sports industry boomed by taking advantage of that very exemption. At the time the law was written, the cash involved in fantasy sports was generally a nominal participation fee, not large-scale prize money based on daily results. Five states -- Arizona, Iowa, Louisiana, Montana and Washington -- consider fantasy sports to be "games of chance," and therefore illegal sports betting under state law.
Twellman did not respond to repeated requests for comment.
Calling all HuffPost superfans!
Sign up for membership to become a founding member and help shape HuffPost's next chapter