Growing up, I was hooked on Shel Silverstein. I mean, who wouldn't be right? From the prose to the graphics, he had a creative way of telling a story. Must be why so many schools still use his books for story time.
Eventually, we grow up. While I still have my copy of Where the Sidewalk Ends, my taste for poetry has matured just a little.
One of my favorite modern day poets is a kid. That's right, a kid.
In a course I took at University of Denver, the instructor encouraged the class to explore different poetry and break out of our comfort zone. But, kind of ironic that as a kid I read poetry written by an adult, but now as an adult I read poetry written by a kid, isn't it?
With his first anthology published at the age of fifteen, Aaron Ozee was on his way to becoming a bestselling American poet.
For me, it started just a few years ago with the purchase of Celestial Inferno: Poems of Another Realm. The anthology contains poems touching upon various emotions that really express how we feel about life such as fear, greed, love, and hate. And from that moment on, I was hooked.
However, it was a more recent work by Ozee that caught my eye. Now in his early 20s, Ozee has branched out to writing stories for children. Despite no longer being a kid, Ozee has shown that he is still a child at heart. His most recent work, My Darling Child Shiloh, is a children's book, illustrated by Mallory Clark.
My Darling Child Shiloh - Cover Image
"The book originally manifested as a poem," Ozee told me in an email. "I wrote it back in my senior year at Addison Trail High School and then partnered with Mallory to illustrate the book when I first began taking classes at the College of DuPage."
So what influenced Ozee to craft his work for younger generations?
"Many of my readers suggested that I apply my poetry to children's literature," writes Ozee. "My friends and family encouraged me to broaden the reach of my creativity and it eventually led me to embark on a new path that would lead me to conjure my first children's book, My Darling Child Shiloh."
The book itself is set around a little boy named Shiloh and his mother. It addresses the selfless bond they share and highlights the true importance of family. But I won't share the whole story (you'll have to read it yourself), since it was the actual reading experience that stood out to me.
"We arranged the book in a way that visually requires you to periodically, yet unknowingly, pivot your line of sight from one side of the book to the other," writes Ozee. "By doing this, it takes the child twice as long to read the entire book which helps to expose them to the text and the illustrations presented throughout in a way that makes them more memorable and meaningful."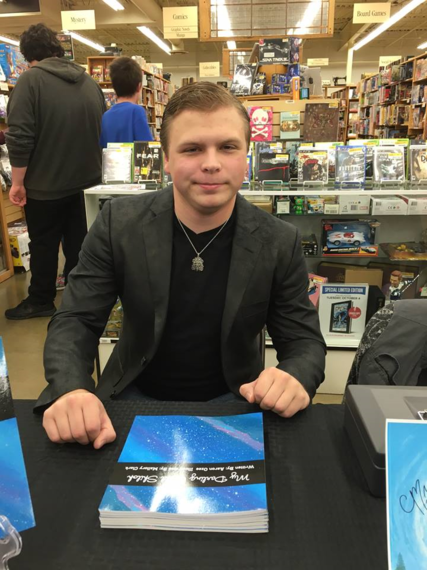 Ozee signing copies of My Darling Child Shiloh in October 2016.
According to Ozee, he began writing at the age of five. His poetry was first published at the age of 15 and he has since authored nine books of poetry and one children's book.
Despite not being a poem in the traditional sense, My Darling Child Shiloh still has me interested in what lies in Ozee's mind. While I don't have kids yet, I at least have the first book for them when (and if) I do!
Related
Popular in the Community