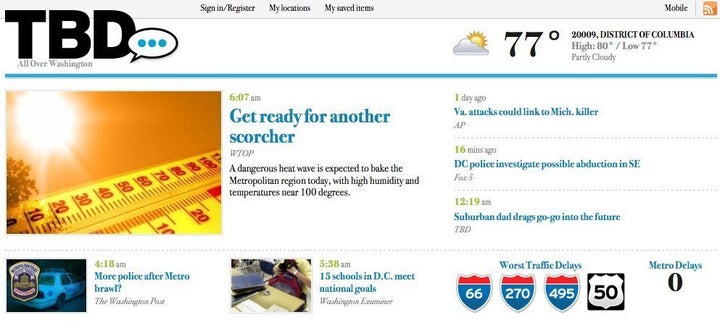 The local Washington, D.C. news site TBD officially launched Monday morning, ending months of speculation in journalism circles about what it would look like. TBD was always going to cause a stir, since it is a high-profile venture in every sense of the word -- coming, as it does, from the people who brought you Politico, the site that everyone who follows politics or the media talks about incessantly, whether in praise or, more often, in criticism.
The thinking behind TBD comes from the same playbook that owner Robert Albritton used when he formed Politico: get some big editors, spend a bunch of money, and cover the minutiae of the turf obsessively. The site is being edited by Erik Wemple, former head of the alternative weekly Washington City Paper. TBD even mimicked Politico by poaching a top editor from the Washington Post -- namely, Jim Brady, who ran washingtonpost.com for many years. (The Post ran an article about TBD last week that suggested it is more than a little shaken by its arrival, no matter how much the new site links back to it.)
Why is so much attention being paid to a local news site? Well, TBD is something of a canary in the coal mine. The news industry is desperately searching around for new journalistic and business models, and local news has been seized upon as a potential savior. Local, so the thinking goes, is where the money's at -- where you can offer people something they can't get anywhere else. This explains the rise in so-called "hyperlocal" coverage, which hones in with intensive zeal on the day-to-day happenings in neighborhoods and regions.
TBD -- with its wealthy backers, who are likely willing to let it lose money for the time being--is perhaps the most prominent and lavishly financed for-profit hyperlocal venture yet. The site is also partnering with local television stations--also owned by the Albritton family -- and over 120 local blogs to fill in the gaps in its coverage. All in all, people are looking to see whether TBD can make a go of it -- and whether its model, which combines aggregation, social media and original reporting (much like, it must be said, the Huffington Post), is one that can be replicated for local news elsewhere.
It's difficult to give a complete appraisal of a site after just a day, but certain things jump out about TBD. Looking at it, it's easy to see signs of the Politico style everywhere. Just as that site really, really, really wants to be your go-to place for politics, TBD really, really, really wants to be your one-stop shop for hyperlocal D.C. news. Unlike many sites -- which tend to try to open with buzzworthy features or scoops to catch attention early on -- TBD seems to want to show readers exactly the kind of thing they're going to get from day to day.
There are traffic and weather tips everywhere you look, and a focus on things like overcrowded grocery stores -- nothing to necessarily tempt many beyond the immediate D.C. area, but the kind of news-you-can-use that local readers may pass along to each other. The site also makes heavy use of aggregation, relying on other D.C.-area sites -- including its white whale, the Post. There's lots of crime and sports, but not much politics or enterprise reporting. It's telling that, as editor Wemple writes in a letter to readers, TBD will have as many reporters working on traffic-friendly lists (one) as on covering local politics for the entire D.C. region (one).
The social news features are also interesting. Every story has a pre-filled Twitter link next to it, making it possible to easily and instantly post the story in your feed. Wemple says that six people will focus solely on reaching out to readers.
Ultimately, it remains to be seen if TBD will be successful, but it will certainly be interesting to watch what it does. More than one nervous journalist will follow its every move, fingers crossed.
Related
Popular in the Community