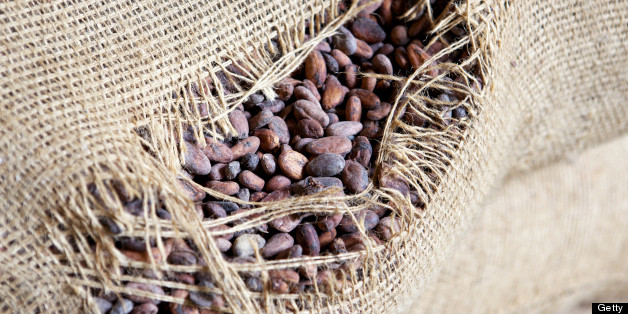 TCHO (pronounced "choh" -- the "t" is silent), a phonetic spelling for the first syllable of chocolate, masterly mixes alchemy and artistry to produce award-winning organic, beyond fair trade chocolate from its Pier 17 headquarters along the San Francisco bay.
Known as much for its hip designer packaging, hi-tech leadership (former WIRED magazine founders Louis Rossetto and Jane Metcalfe run the operation) and innovation -- including beta-testing for new blends, iOS apps, and Cropster, a cloud-based software that insures traceability, fermentation, and flavor data -- TCHO is raising the bar on how premium chocolate is grown, sold, and made worldwide.
"We're committed not only to making the best chocolate possible, but, also to making a better world," said Chief Chocolate Maker Brad Kintzer, noting that their deep connection with cacao farmers is probably the key ingredient for TCHO's success. Kintzer has a serious background in chocolate, having worked at Scharffen Berger (including Joseph Schmidt and Dagoba product development), Lake Champlain Chocolates, Michael Recchuiti Confections, and others.
Rather than focusing on percentages of cocoa on each bar -- which can be often be misleading, if not meaningless -- TCHO designates its dark chocolates by their flavor profiles: "Fruity" (single origin sourced from Peru); bright acids like in mandarin oranges in "Citrus" (from Madagascar); hearty richness in "Chocolatey" (Ghana); and roasted nuts in "Nutty" (Ecuador).
Almost all of TCHO's chocolate products are both organic and/or fair trade and the company is trying to raise consciousness about the widespread slavery taking place in the chocolate trade. We've written on Civil Eats before about the stark human rights abuses associated with chocolate here and here, especially rampant in the Ivory Coast, the world's leading cocoa producer and exporter. TCHO refuses to buy chocolate from the Ivory Coast and is committed to taking a stand against slavery.
Changing the way chocolate is made and experienced seems to be TCHO's singular vision. To that end, Kintzer and the TCHO team are focused first on elevating the lives of cacao farmers, many of whom, worldwide, have never tasted chocolate made from their own beans, and most of whom are subjected to a highly volatile market. The company started TCHOSource, a unique program dedicated to partnering directly with growers and working closely with them to produce cacao, setting the stage for beyond fair trade chocolate, farmer empowerment, and long-term, sustainable development.
"In order to get the best chocolate, we provide innovation, technology, and know-how to help empower cacao farmers to farm superior beans and improve their lives," Kintzer said. "It's a clear win-win for farmers and chocolate lovers alike."
In partnership with Equal Exchange, TCHOSource is in year three of a five-year, multi-million dollar USAID Cooperative Development Grant working with cocoa and coffee cooperatives in Peru, Ecuador, and the Dominican Republic to improve their crops and livelihood. TCHOSource is also providing technical expertise on cacao quality improvement projects in Honduras, Tanzania, El Salvador, Haiti, and Guatemala. The World Cocoa Foundation (WCF) and TCHO are now collaborating to introduce innovations and quality improvements to cocoa grown in Ghana.
The common thread of successful co-ops around the world is capitalization and for that capital to be in farmers' names based on their usage of the co-op, Kehoe explained. "That fact is little known in Latin America, where the term co-op has been distorted from a form of business organization to a more socialist rural development and environmental ideal," he said. "Co-ops need to be properly capitalized to be good business partners and to compete with private entities.
Our project has supported our partners with cooperative financial experts and has had significant initial impacts on raising farmer equity in their co-ops."John Kehoe, Vice President of Sourcing and Development for TCHO, said that the grant is different in many ways. "It's a supply chain driven and managed project, rather than being run by an NGO," Kehoe said. "It's cooperative-to-cooperative development, as Equal Exchange is a worker owned coop assisting producer co-ops in Dominican Republic, Peru, and Ecuador, with TCHO bringing a focus on quality, technology, and innovation."
TCHO also has a model farms program executing best practices and helped develop an organic fertilizer production center. Nurseries and an "elite trees" program help teams select the most productive and best tasting planting material to produce two "Bio Fabrica" or budwood gardens which are two hectares each. The grant also assists the co-ops with soil analyses and other agricultural inputs in order to increase yields, while monitoring fermentation and and drying through digital data loggers and testing new solar drying models.
Its major innovation might be the onsite "Flavor Labs," mini-chocolate factories like the one it has in San Francisco, decked out with souped-up hair dryers and space heaters, retro-fitted electric coffee drum roasters resembling a Ronco turkey roaster. To date, TCHO has installed seven of these pioneering Flavor Labs in various locations, including Peru, Ecuador, the Dominican Republic, and one in Ghana on its way. The whole surprisingly low-tech outfit costs about $10,000 per site.
TCHO and Equal Exchange also train cacao farmers in sensory analysis with common terminology so that everyone can relate to the way the chocolate tastes and share that data with HQ. All of this data then gets synched up in Cropster, a cloud-based software that allows the farmers, cooperatives, and buyers to track cocoa from pod to palate, creating a faster feedback loop so that adjustments to processing can be made quickly as conditions change.
Theodore Weihe, an expert in international cooperative development for over three decades, is currently the project manager for the Equal Exchange/TCHO USAID grant. "It's absolutely unique and the only one of its kind," Weihe said. "It's a worker co-op that supports producer co-ops overseas supplying product to consumer co-ops in the U.S."
Weihe explained that as the chocolate industry further specializes, quality is the major differentiator. "By looking at the flavor profile, chocolate is becoming like wine and coffee. We think that's the way the industry is going," Weihe said. Having worked in over 50 countries, he believes that Latin America is where the future of fine chocolate will be, noting that like cupping coffee, the next step is cupping cacao or chocolate.
Weihe noted that the grant is not only helping the company deepen its quality, but it's also helping the co-op farmers beyond their relationship to TCHO as they can then sell their product at a premium to other buyers and markets, where the demand for fair trade chocolate is higher.
So while TCHO has right of first refusal with each coop, it's helping improve chocolate growing from bean to bar, allowing for farmers and other international buyers to benefit along the way. Last year, in Peru's National Quality Competition, all of the top five finalists for the best cacao beans in Peru for 2012 were from growers either directly involved in one of TCHO Flavor Labs, or who had access to one.
Cristina Liberati is the Grant Projects Coordinator at Equal Exchange, and was previously at TCHO, helping to manage the grant since 2011. She explained that while neither TCHO nor Equal Exchange are professional development organizations, they run the program in a highly efficient way.
"This project is really seen a shift within the cooperative movement for being innovative and outside the box," Liberati said. "Most co-ops are struggling to survive as businesses, this grant gives them the opportunity to realize what could they do with extra resources and it's bringing a lot more focus on the growers."
And through that process, the world might learn that chocolate can be both tasty and good for farmers. "People eat chocolate to escape, to lose themselves in a sensory experience," Liberati said. "This type of work focuses on both a high quality product and a story with it, that the farmers are vital to the process. Hopefully, it will ultimately awake both of those senses as people enjoy the chocolate."
Originally posted on Civil Eats.
Calling all HuffPost superfans!
Sign up for membership to become a founding member and help shape HuffPost's next chapter