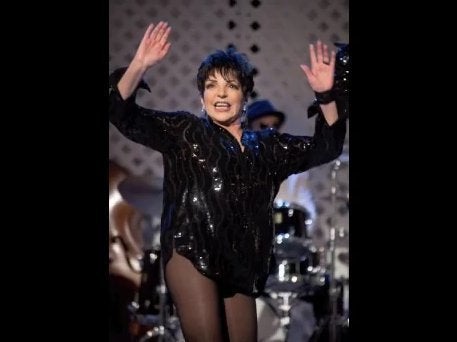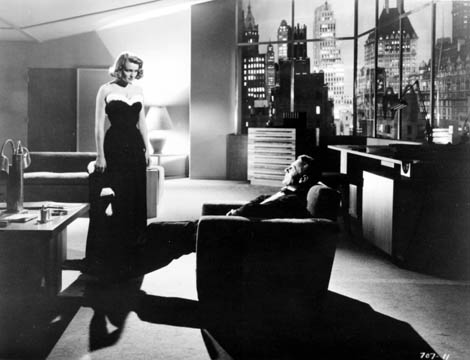 The Fountainhead with Patricia Neal and Gary Cooper Photo: Courtesy of TCM
Liza Minnelli, Kim Novak, Robert Wagner, Tippi Hedren and Debbie Reynolds in person. Black Narcissus, Vertigo, Cabaret, and The Fountainhead projected on gigantic screens at Grauman's Chinese and Egyptian Theatres. Could any classic film fan wish for more? You could. And, at this year's annual TCM Classic Film Festival, which takes place from April 12th through the 15th, you'd get more: Kirk Douglas, Stanley Donen, Angie Dickenson, Norman Lloyd, Rhonda Fleming, and Norman Jewison appearing at special events and screenings of Two for the Road, Chinatown, Casablanca, The Longest Day, and The Thomas Crown Affair. But before going on about this year's festival, a look back is essential.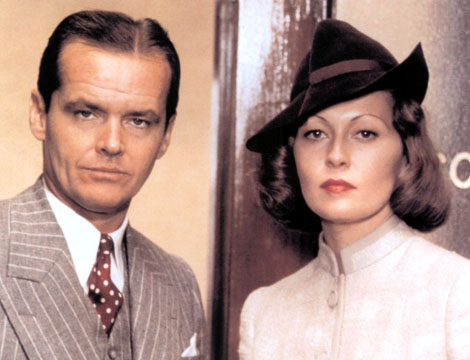 Chinatown's Faye Dunaway and Jack Nicholson Photo: Courtesy of TCM
TCM's 2010 festival featured an opening night restoration of George Cukor's A Star Is Born (1954) starring Judy Garland and James Mason reinterpreting the roles originated by Janet Gaynor and Fredric March from William Wellman's 1937 original film. In subsequent days and nights, TCM programmers would regale us with no less than a 100-year-old Luise Rainer discussing her career and introducing a magnificent restoration of The Good Earth (1937) and Juanita Moore and Susan Kohner reminiscing about their work on Douglas Sirk's Imitation of Life (1959), which also starred Lana Turner and John Gavin.
Last-minute, surprise guests at TCM 2011 included Angela Lansbury introducing Gaslight (1944) and Julie Andrews' discussing her late husband, Blake Edwards' Breakfast at Tiffany's (1961). I sat next to a young woman who had never seen it before. She was enthralled by the unusual love story and dazzled by its extraordinary style with cinematography by Franz Planer and wardrobe designed by Hubert de Givenchy and Pauline Trigere, supervised by Edith Head.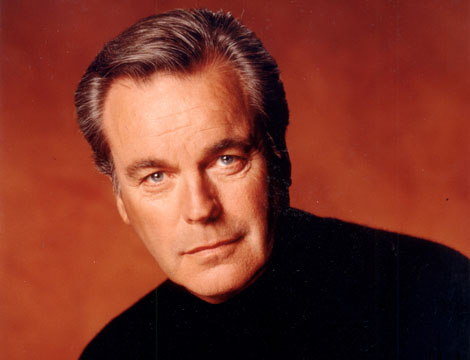 Robert Wagner will introduce The Longest Day and other films at TCM 2012Photo: Courtesy of TCM
Flying all the way from Paris and showing no signs of jet lag, a still lovely and energetic 79-year-old Leslie Caron opened last year's festival at the premiere screening of the 60th-anniversary restoration of her very first film, An American in Paris. Ever jubilant, she proclaimed, "The real opening night is tonight and the opening 60 years ago was just a dress rehearsal." She mirrored an overwhelming sense of cinephilic enchantment that infuses all events with TCM's imprimatur, "I feel like all of you, absolutely amazed... Hollywood Boulevard... the memorabilia, the pictures of all those great stars that have come before us. I'm a fan." Then when it couldn't get any better, Peter O'Toole enchanted a packed house with his humor and insights about his famous colleagues and his own career in an extended interview with Robert Osborne, soon after adding his signature and hand prints to further immortalize the sacred concrete in front of Grauman's Chinese Theatre.
2012: Four With Audrey, Two With Deborah, Jean & Joan
It's no wonder that this year's festival focuses on style in the movies, as it features four more classics from the icon of style herself, Audrey Hepburn: Charade, Sabrina, Funny Face, and, one of my personal favorites, the underrated, Two for the Road (1967), which co-starred the magnificent Albert Finney and introduced audiences to a young character named "Jackie," played by Jacqueline Bisset.
Art deco on film will be exemplified by a screening of George Cukor's The Women with its unsurpassed cast: Norma Shearer, Rosalind Russell, Paulette Goddard, Joan Fontaine and Joan Crawford.
Three-time, Academy Award-winning film editor Thelma Schoonmaker will introduce her late husband, Michael Powell, and Emeric Pressburger's masterpiece Black Narcissus (1947). Thanks to Schoonmaker, Martin Scorcese, the Film Foundation and British Film Institute, the film has been restored to its original splendor with all scenes of the young Clodagh -- played by Deborah Kerr, which the Catholic Legion of Decency demanded be cut from U.S. versions -- reinstated. The film introduced a teenage Jean Simmons as Kanchi and also starred Sabu, David Farrar, Kathleen Byron, and the incomparable Flora Robson.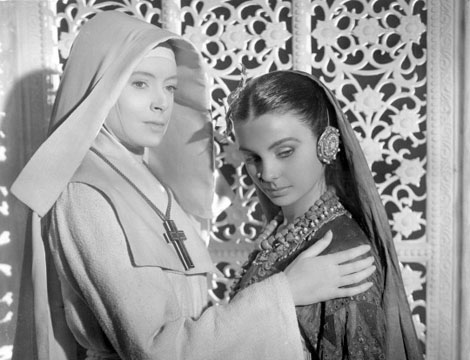 Deborah Kerr and Jean Simmons in Black Narcissus Photo: Courtesy of TCM
Bonjour Tristesse (1958) starring Kerr along with David Niven, Jean Seberg, and chanteuse Juliette Greco will be screened on Saturday. New York City's Film Forum will also show Preminger's classic from April 27th to May 3rd, with a special introduction by Foster Hirsch, film historian and author of Otto Preminger: The Man Who Would Be King. Film Forum's award-winning director of repertory film programming, Bruce Goldstein, will host "So You Think You Know Movies," Friday evening's session of film clips and movie trivia. Goldstein is the founder of Rialto Pictures, a Chevalier in France's Ordre national de la Légion d'honneur, and recipient of awards from The New York Film Critics Circle, National Society of Film Critics, and National Board of Review. He and his dedicated staff continue to infuse Film Forum with classic and cult cinematic treasures, making it one of NYC's essential cultural institutions.
On Friday, Richard Brook's Elmer Gantry (1960) will play at the Egyptian Theatre. It features a seminal performance by the always underrated, luminous Jean Simmons (who later married Brooks), who wasn't nominated for her role as Sister Sharon Falconer -- but did win Oscars for performances by Burt Lancaster and Shirley Jones.
Rounding out its roster, TCM has assembled films by John Ford, Max Ophuls, Jean Renoir, Howard Hawks, Alfred Hitchock and other directors from Andrew Sarris' pantheon, which will yield classics such as The Grapes of Wrath, The Searchers, Letter from an Unknown Woman, Grand Illusion, Bringing Up Baby, and To Catch A Thief.
Cult film noir -- Robert Siodmak's Crisscross (1949) with Yvonne De Carlo and Burt Lancaster, Robert Parrish's Cry Danger (1951) with Dick Powell and Rhonda Fleming, expected to attend the screening at the Egyptian Theatre, and William Wyler's Counsellor-at-Law (1933) with John Barrymore and Melvyn Douglas with Douglas' granddaughter, actress and classic film enthusiast Illeana Douglas, in attendance -- is also laced throughout this year's festival.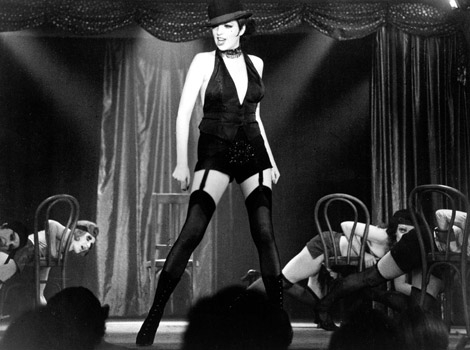 Liza Minnelli in Cabaret Photo: Courtesy of TCM
I won't be there in person this year, but tonight when Liza Minnelli and Joel Grey are interviewed by Robert Osborne before the lights are dimmed for the world-premiere of the 40th-anniversary restoration screening of Cabaret (1972) and Saturday as Kim Novak places her hands in wet cement and autographs her square of eternity in the forecourt of Grauman's Chinese Theatre, I'll raise a glass in celebration no matter where I am.
Popular in the Community