TCU quarterback Trevone Boykin was arrested after allegedly injuring a police officer during a brawl outside of a bar in San Antonio early on Thursday.
The 22-year-old senior allegedly charged at bicycle patrol cops who intervened in a fight at Pat O'Brien's. It started with TCU players, including Boykin, allegedly scuffling with patrons. Then, he fought with employees who tried ejecting him from the bar. 
The student "was very aggressive and was being held back by the group he was with," according to a police report obtained by ESPN's Mark Schlabach. 
Authorities say Boykin punched one cop in the face. Several officers tackled the player, who struggled until an officer threatened to use a stun gun on him.
The cop he allegedly punched had bruises, abrasions and swelling. 
Authorities charged the quarterback with assaulting a public servant in the third degree, a felony. Bond was set at $5,000 and Boykin was released after appearing before a magistrate on Thursday morning, according to Bexar County sheriff's department records. 
The charge carries a punishment of two to 10 years, USA Today reported.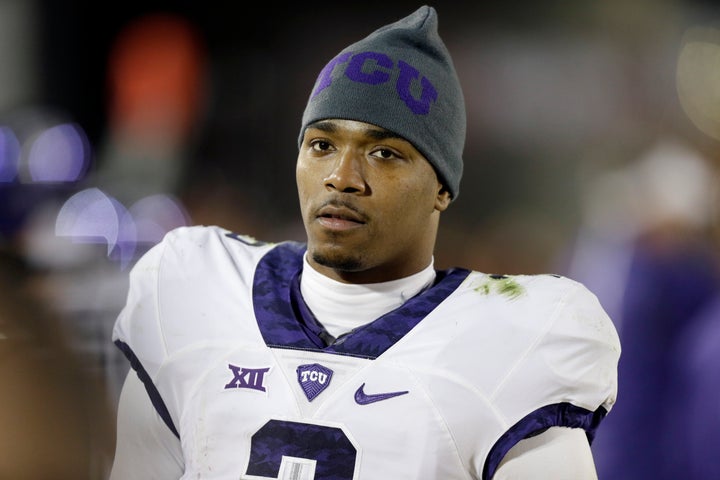 The 11th-ranked Horned Frogs are in Texas to play No. 15 Oregon in the Alamo Bowl on Saturday. 
But they'll have to do without Boykin and wide receive Preston Miller, who were suspended for a "violation of team rules," coach Gary Patterson said in a statement. 
"We are disappointed in their actions and apologize to the TCU Horned Frogs Nation," the statement reads. 
TCU has gone 10-2 this season, with Boykin throwing 31 touchdowns and passing for 3,574 yards. The arrest is sure to hurt Boykin's prospects in the upcoming NFL draft. CBS Sports reported that scouts weren't keen on him because of his "lack of size, mechanics and accuracy."
REAL LIFE. REAL NEWS. REAL VOICES.
Help us tell more of the stories that matter from voices that too often remain unheard.