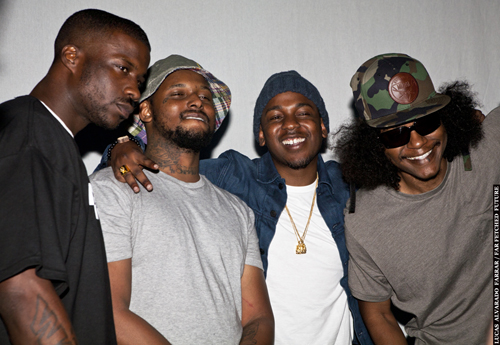 Additional help for this post by Lucas Farrar
The pieces are all in place. A few weeks ago Top Dawg Entertainment, home to bubbling hip-hop heavyweights Kendrick Lamar, Jay Rock, Schoolboy Q & Ab-Soul, announced a joint venture with Aftermath/Interscope, the houses Jimmy Iovine and Dr. Dre built. Major distribution in hand, this revelatory news is the last official co-sign needed (Dre. Snoop. Pharrell. Game. Check?) in the eight year journey of building their home-grown West Coast label.
The whole ascension of the movement could be an instruction manual of how to build an independent label in a digitizing 2012, stretching out and maximizing the immense marketing and retail opportunities of a laptop. Mostly opting out of physical releases, they've cut out the middleman to focus putting out album-quality projects masquerading as "mixtapes." The past year and a half TDE has released Ab-Soul's Longterm Mentality, ScHoolboy Q's Setbacks and Kendrick Lamar's generational Section.80 (on top of Jay Rock's debut LP Follow Me Home).
All have been critically acclaimed by someone important, revered by their peers and most importantly, connecting with the fans. These projects have simply been billed as appetizers with the full-fledged albums on the horizon, starting out with Kendrick's Good Kid in a Mad City later this year ("The Recipe" is guaranteed to be a summer hit with the headphone impresario liberally borrowing Kendrick's trademark harmonic double-time flow). We caught up with the next two on deck, Schoolboy Q and Ab-Soul.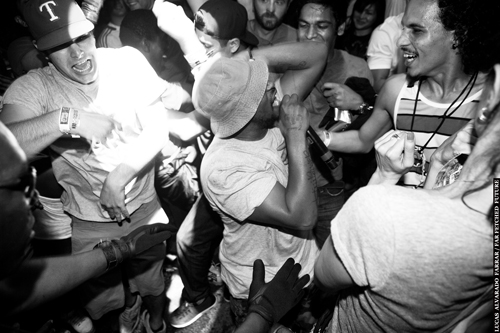 For the uninitiated, Top Dawg Entertainment is Black Hippy, an in-house supergroup that is the best example of steel sharpening steel since the days of Wu-Tang, a comparison that's been brought up before and not entirely ridiculous for once. Frequently collaborating on one another's projects, you can always expect a killer verse, hook or well placed ad-lib (EXTRA PILLS!!) from one of the four members. "When I put Kendrick on a song, I put him on the song because I want him to kill it. He SUPPOSED to kill it! Every time." says Schoolboy Q. "Ab-Soul is SUPPOSED to kill it, just like I killed them on their records." Hailing from different walks of California living (Compton, Watts, Carson & Hoover), they rap like they've been holed up in the same basement for years. Their studio slumming habits in the "House of Pain" (their studio) has resulted in a level of camaraderie and in-house competition that lesser rappers dream of reaching.
But when all four of them appear on a song together it becomes the rap Olympics, only one of them can end up on top. Nothing crystallizes this better than "Say Wassup," one of the standout posse cuts of 2011. It perfectly exemplifies the free-thinking, "we don't give a f--k" attitude of Black Hippy. Their video (shot entirely by themselves) provides a fisheye's glimpse into their day: hanging out in abandoned construction yards, locking down dinner tables at Foo Chow's, and four friends furiously trying to out-rap one another. They each get their own 16 bars, Pocahontas' daddy, Anita Baker and Captain Crunch all name-dropped in the span of a minute.
The highlight is when they come together to form like Voltron on the third verse, trading syllables like a hot potato. Kendrick raps, "We're a green light, you a no-go. Hey Q go!" as he rebukes, "No Rock go!" throwing it back to Jay Rock to finish what they started. Speaking on their process, Q says, "We always want to have the hottest verse. We tell each other if we kill each other, but we don't do no wipe the verse over with each other... We won't do that with nobody else though." This dynamic shows the level of respect they have for each other not only as friends, but fellow competitors in the game. Each member understands and plays their role like a well-oiled championship team.
Schoolboy Q has been described by himself and by others as the "alter-ego of Kendrick," opting for his own special brand of snap-neck, thumping drug raps instead of the more socially conscious verses of Lamar. His most recent project, Habits and Contradictions, has held down the title of Best Hip-Hop Album of 2012 since its release in early January. HnC ditches the jazz thumping aesthetic on Setbacks for a more fully realized, darker, paranoid vibe by frequent TDE collaborators Digi+Phonics and THC (with assists from heavyweights Lex Luger & The Alchemist). Q details the perils of gangbanging and its dangers with equal parts of desperation and regret, as he stretches out his flows and vocal inflections to places he hasn't been before. The anthemic "There He Go" sees him taking a page of Nicki Minaj's book, using a borderline baby accent to brazenly proclaim that the "coast ain't been this hard since Pac, Death Row and Dr. Dre." He animates individual syllables, making a simple hook of "they be like THERE HE GO!" sound 50 kinds of epic.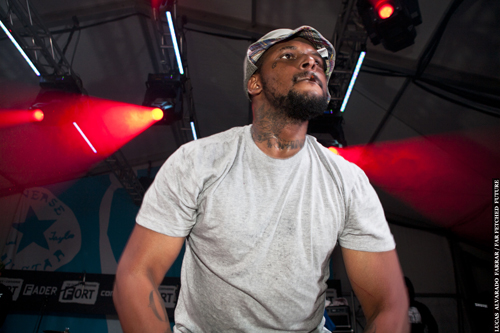 Born Quincy Matthew Hanley, his time spent as a high school dropout and as a member of the 52 Hoover Crips in his younger days bring an immediate sense of authenticity in the music that comes with a lifetime of bad experiences. With a college football scholarship gone, and a six-month jail stint finished, he was at a crossroads in his life. Heeding the words of 50 Cent, he looked at all that was left and it was rap. He found his release through the music, and a home in TDE. He explains, "TDE is everything to me right now, you know what I mean? They believed in me when no one else did. I didn't even believe in myself when they believed in me." Since then, the music has been getting exponentially better with each release, the by-product of being around good people and a good environment everyday. Each member is another's biggest cheerleader. "I don't want to see them lose... we all want us to be number one."
Ab-Soul, the designated "genius" of the group, echoes the same sentiments. "I just really think we're all genuine, like family. We're all genuine friends that are trying to look out for each other's best interests. We're not just co-workers, I actually feel like we grew up together in a sense." Soul Brother #2 a.k.a Herbert Anthony grew up in the suburbs of Carson, distant from the gangbanging lifestyle that his fellow group-mates are more accustomed to living in. This natural disconnect allows him to occupy the more mysterious space in the group, always hiding behind a pair of black sunglasses and his trademark hair (an enormously bushy afro that is the product of rising barber prices). He is the existentialist of the group, touching on science, Babylon and reincarnation throughout his music. His previous release Longterm Mentality sees him carving out his own lane as the "thinker" in the group as he shows why he doesn't deserve to be an afterthought amongst his TDE peers. Songs like "Almost There," "#LTM," and the aptly titled "Top Dawg Under Dawg" have Soul carrying the burden of being the last one counted, "taking the bitter with the sweet." He raps to simply earn your respect, a commendable sentiment, one that people can truly relate to. However, with his debut album coming down the pipeline sometime this year (it's close to being finished), he was much more earnest. Not budging when pressed for details, he smirked and said "I got some shit."
Longterm Mentality isn't just a title; it's the plan for the whole TDE operation. When asked what that means to him, Ab responded "That's why we here, we saw all this shit [since 2002/2003].... You can't play chess successfully unless you know the moves five, ten steps ahead. You can't win. You're not goin' be able to win when you play with Bobby Fisher." Now in 2012, it's all finally starting to come together in the biggest way possible. Starting on Four-twenty, Schoolboy Q and Ab-Soul are embarking on The Groovy Tour, a 19-date trek across the country from Washington to Massachusetts, bringing their special brand of TDE to uncharted territories for hip-hop. But not to worry, TDE is also invading your favorite Summer festival this year from Coachella to Pitchfork and the legendary New York Summer Jam stage. World domination is inevitable.
Schoolboy Q & Ab-Soul -- "Druggys with Hoes Again"
Schoolboy Q will be appearing at SOB's for Hot 97's WHO'S NEXT showcase hosted by Peter Rosenberg Wednesday, April 11.
REAL LIFE. REAL NEWS. REAL VOICES.
Help us tell more of the stories that matter from voices that too often remain unheard.