Who said you have to cross the pond to have a proper tea? I had the pleasure of tea for two with my British friend, Harriet, with cucumber tea sandwiches, clotted cream and jam with homemade scones. Before sipping the tea of our choice, we toasted with a glass of bubbly.

Harriet at tea time
The Inn at Irving Place is housed in two landmark townhouses built in 1834 in the historic Gramercy Park area of Manhattan. It has been fitted today with twelve romantically furnished guestrooms and Lady Mendl's Tea Salon. This charming inn evokes a bygone era of gracious living.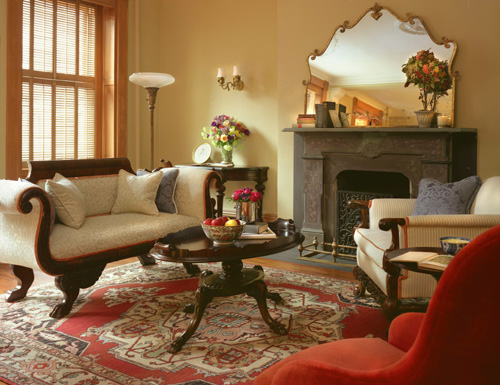 As a former New Yorker, I had never stayed in a hotel in Manhattan. This time I was playing tourist and discovered this inn. Not only was I going back to my old stomping grounds, but now it felt like I was also going back in time. My room was filled with antiques, a four poster bed, fireplace and courtyard view. And to top it off my room was the Loulou de La Falais Suite, perfectly fit for me as a former fashionista.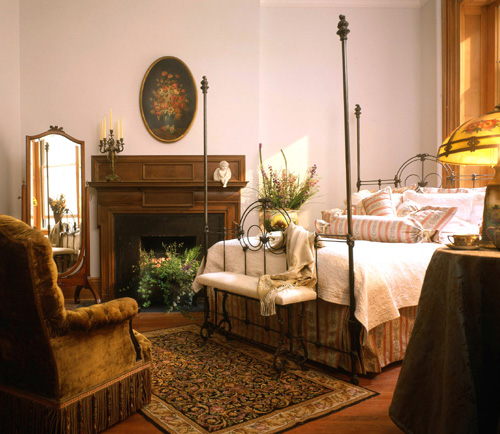 The neighborhood includes the National Arts Club, Players Club and Pete's Tavern, the oldest in New York dating back to 1864. The quiet tree lined streets were once inhabited by notable authors. The Inn at Irving Place actually gives you a cheat sheet to remember who they were. Edith Wharton, a natural born storyteller is one of the most prominent launching her writing career in 1891 bringing us several American classics like The Age of Innocence.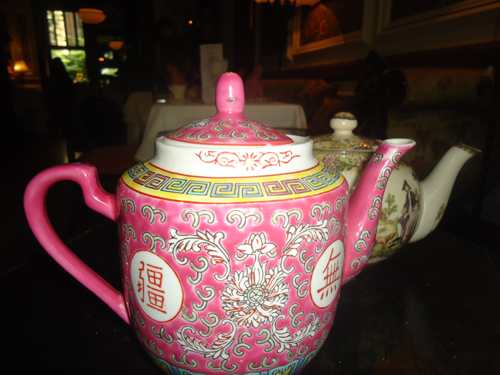 Now back to tea time. Lady Mendl's serves a five course afternoon Royal Tea. The hardest choice was choosing our flavor of tea. The tea menu includes a long list of Black, Oolong, White, Green, Tisanes and Lady Mendl's Signature teas. We both went Green with my choice being 'Berry Green,' a delicate blend of strawberry pieces and cacao nibs, while Harriet took the 'Before the Rain Flowery Jasmine' with leaves picked at the height of spring before the rains. Other selections include ingredients like peoni, orchid, lychee, elder flower, lavender and many many more. Just reading the menu was an education of teas around the world and their various essences. During tea, guests are politely asked to turn off their cellular phones so as not to disrupt the quietly elegant ambiance.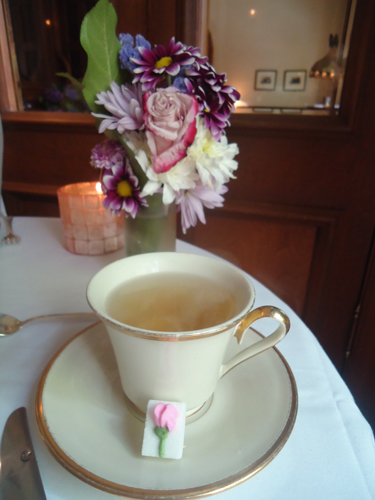 Our tea started with an amuse bouche filled with a delicious squash. Next came our tea sandwiches including smoked salmon with dill cream cheese on pumpernickel, classic egg salad on rye, smoked turkey and cranberry on seven grain and the classic cucumber with mint crème fraiche on brioche. The third course was the infamous scones with Devonshire clotted cream and preserves. The dessert course was Lady Mendl's signature cake, which is layered crepes with cream between all the layers. It's of course calorie-free (ha ha). Our fifth and final course was assorted cookies and chocolate covered strawberries.
Allow yourself a leisurely afternoon to really enjoy the tea service. It lasts about 90 minutes, so be prepared to sit back , relax and let the tea flow endlessly.
Tea time was was truly a treat and worth repeating next time I am back in the Big Apple.
HOPE GAINER of Hope International is a global marketer, imagemaker and branding expert specializing in the luxury lifestyle sector. She also produces upscale events around the world showcasing luxury brands and a unique array of artists and entertainers. She appreciates fine real estate like Inn at Irving Place at 56 Irving Place in Manhattan since she markets and sells marquis real estate properties from around the world as well as luxury properties in Miami and throughout South Florida.
www.ehopeinternational.com
www.ehopeinternational.com/HopeProfileSofiMagazine.pdf