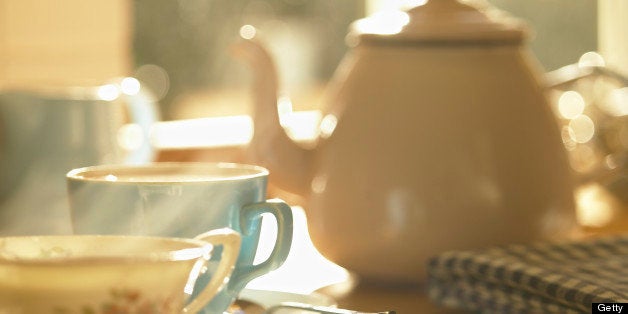 I recently wrote an article on the best benefits of coffee. I read all the comments, and many of the readers mentioned their love of tea as well. So -- it only makes sense to cover the amazing health outcomes that can come with tea drinking too!
If you are trying to improve your health or drop a few pounds, think beyond superfoods and supplements, because this "super-drink" deserves your attention. The things we chew are not the only dietary factors that contribute to weight management, disease fighting, energy boosting and stress reducing. Consumed for thousands of years, tea has provided delicious medicinal benefits to many cultures around the globe. Studies show that the components found in such a small little teabag can do wonders for your health. Drink up - your overall health is about to get a lot better!
Tea can help you in maintaining a healthy weight. A 2011 study in the Journal Obesity found that mice fed a high fat diet and given compounds found in green tea gained weight at a slower rate than mice that were not fed the same compounds. The findings from this study suggest that green tea extracts may actually interfere with fat formation in the body. As a side note: green tea extracts should not be confused with bottled green tea drinks that may be full of added sugar. To get green tea extracts, opt for the real deal -- boiling water with a good old-fashioned teabag or loose tea!
Green tea may help you see better. The eye, like any part of the body, can suffer oxidative stress -- making it more prone to disease. What if you could just add some green tea to your daily diet regimen to combat this? A 2010 study found that components in green tea positively affected the tissues of the eyes, especially tissue related to the retina. Drink on green tea lovers and protect your precious eyeballs!
White tea can help you look younger! White tea has a very high polyphenol count (that means it's really good for you), which deliver fabulously gorgeous benefits! A recent study demonstrated that tea drinkers may have already found their fountain of youth -- in their mug! In the study, extracts in white tea inhibited wrinkle production by strengthening elastin and collagen -- two important factors in your chances of developing what both men and women fear the most -- fine lines and wrinkles. White tea can keep your joints younger too according to this 2011 study.
Black tea can help to reduce stress levels. Stressed out? A cup of black tea may be just what you need. One study found that black tea actually helped in reducing levels of the stress hormones in study participants. The fun does not stop there -- black tea showed yet another benefit related to stress: blood pressure. As stress goes up, blood pressure does too, putting us at risk for developing a heart attack or stroke. A study published in the Journal of the American Medical Association found that six months of black tea consumption lowered systolic blood pressure.
It may help you fight diabetes. A 2010 study reviewing a variety of caffeinated teas found that the caffeine in tea may help in reducing the overall risk of diabetes.
Tea can make your ticker stronger! One study found that green tea helped to improve endothelial function rather quickly after consumption but resist the urge to add milk to your tea if you are drinking for better cardiovascular health! That's because the caseins in milk may actually decrease the cardioprotective benefits you get from tea according to one study.
The tea-takeaway. You can use tea bags or go loose, drink it hot or drink it cold. Either way, tea is fabulous -- and so are all of its benefits. For all the tea veterans, keep drinking your way to good health! For those that have not yet embraced a tea-drinking habit, it's never too late to start brewing a batch! Explore the various types, flavors, and brands to find your tea-mate.
For more by Kristin Kirkpatrick, M.S., R.D., L.D., click here.
Support HuffPost
A No-B.S. Guide To Life
Related
Popular in the Community