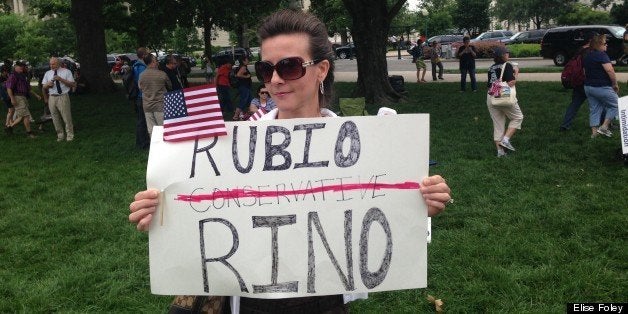 WASHINGTON -- Erin Konkel traveled from Houston, Texas, to go to a daylong tea party rally on immigration reform Wednesday in front of the Capitol, where she held up a handmade sign for more than an hour. "RUBIO RINO," it read, or Republican In Name Only.
She used to be a fan of Sen. Marco Rubio (R-Fla.), who is now pushing a comprehensive immigration bill in the Senate with the so-called gang of eight. Konkel, as a Texan, is concerned about the border, and she is deeply opposed to the gang of eight bill. By supporting it, Rubio seemed to be going against the views of those who voted him into office, she said.
"I believed in him," she said of Rubio. "I thought he was the real deal, but I was wrong."
The gang of eight bill would provide a path to citizenship for some of the estimated 11 million undocumented immigrants currently living in the U.S., while also requiring increased border enforcement and a streamlined legal immigration system. Rubio's work on immigration reform won't necessarily damage his chances for a presidential run in 2016, according to conservative observers. Still, many conservatives at two tea party rallies on Wednesday were disappointed with Rubio.
When Robert Rector, a senior research fellow at the conservative Heritage Foundation, took to the stage with Rep. Steve King (R-Iowa) to decry the gang of eight bill, the crowd booed loudly for Rubio in particular.
"No matter what Marco Rubio says -- who has not read his own bill, incidentally," Rector said, interrupted by screams from the crowd, before going on to say that the bill would give welfare to undocumented immigrants.
There was a palpable anger toward Rubio among some at a nearby rally, which was on the other side of the Capitol with many of the same attendees.
"Traitor," interjected one woman passing by as she overheard The Huffington Post asking another attendee about Rubio.
"I think he's a sell-out. I think he got power mad," said Matthew Bishoff, who waved a sign that read, "No Amnesty 1 Law 4 All."
Bishoff, who lives in Ohio, said he and his dad came to D.C. by bus to attend the rally. He said he didn't know much about Rubio before the immigration debate, but had heard some of his speeches and was impressed with him.
"I thought he spoke really, really well and thought he was maybe a future leader for us," Bishoff said. But after watching Rubio in the immigration debate, he said he thought, "Ok, you were in it more for the power than to truly lead us."
"Why is he trying to pair up with Obama?" he asked. "I think it's his lust for power."
Another Ohio attendee, who only gave her first name, Jane, said she used to like Rubio but she's not sure what he "really stands for at this point." She had a bullseye on her shirt that read, "In the crosshairs of the IRS," with a sad face in the middle.
"I'm surprised he's taken this role," Jane said of Rubio, "but my basic observation of Washington, D.C., is people come here and they lose their perspective of the real world in this bubble."
Like Jane, many of the people HuffPost talked to said they used to admire Rubio but have soured on him because they say the immigration bill he's pushing grants a pathway to citizenship but doesn't do enough on border security.
"We need to secure the borders before anything," said Debbie of Maryland, who declined to give her last name. "So much bad stuff coming over the borders. We need to secure that first."
She grumbled, "I was a fan of Rubio's before this."
Fred and Bonnie, a couple from New Jersey who have been together for 45 years, echoed others' complaints that power has gotten to Rubio's head.
"He was the one saying we were going to do the border first or he's not going to do anything. Now he's on board, all macho, this is what I'm doing," Bonnie said. "It's not right."
Bonnie said her biggest concern with the immigration bill is that Americans will have to shoulder the costs of the millions of undocumented immigrants as they work toward a pathway to citizenship. She emphasized that her opposition to the bill wasn't personal, though.
"I worked in a public school, and I'm still volunteering to help illegals at a Catholic Church," Bonnie said. "It's not the people that I have a problem with. I'm there for them. But I don't want them taking money away from my children and grandchildren. We can't support them."
Bob Henderson, who came to the rally from Winchester, Va., said he thinks Rubio may be regretting his decision to go along with the gang of eight plan.
"He's a young man who let himself get hoodwinked," he said. "It appears to me he's headed down the wrong path and trying to figure out how to turn around and save some face."
Despite their anger, though, some rally-goers said Rubio's immigration views weren't a deal-breaker if it's between him and a Democrat on the next presidential ballot.
"You have to take the bad with the good," said Jim Murphy, who traveled to D.C. from Lake Gaston, N.C., with the Roanoke Valley Patriots, a tea party group. "So if he were to be the nominee in 2016, yes, I would go to the booth, I would cast my vote for him although I disagree with him on that issue. We can go through the entire Senate, and I think we can find at least one issue with each senator that I disagree with."
Support HuffPost
The Stakes Have Never Been Higher
Before You Go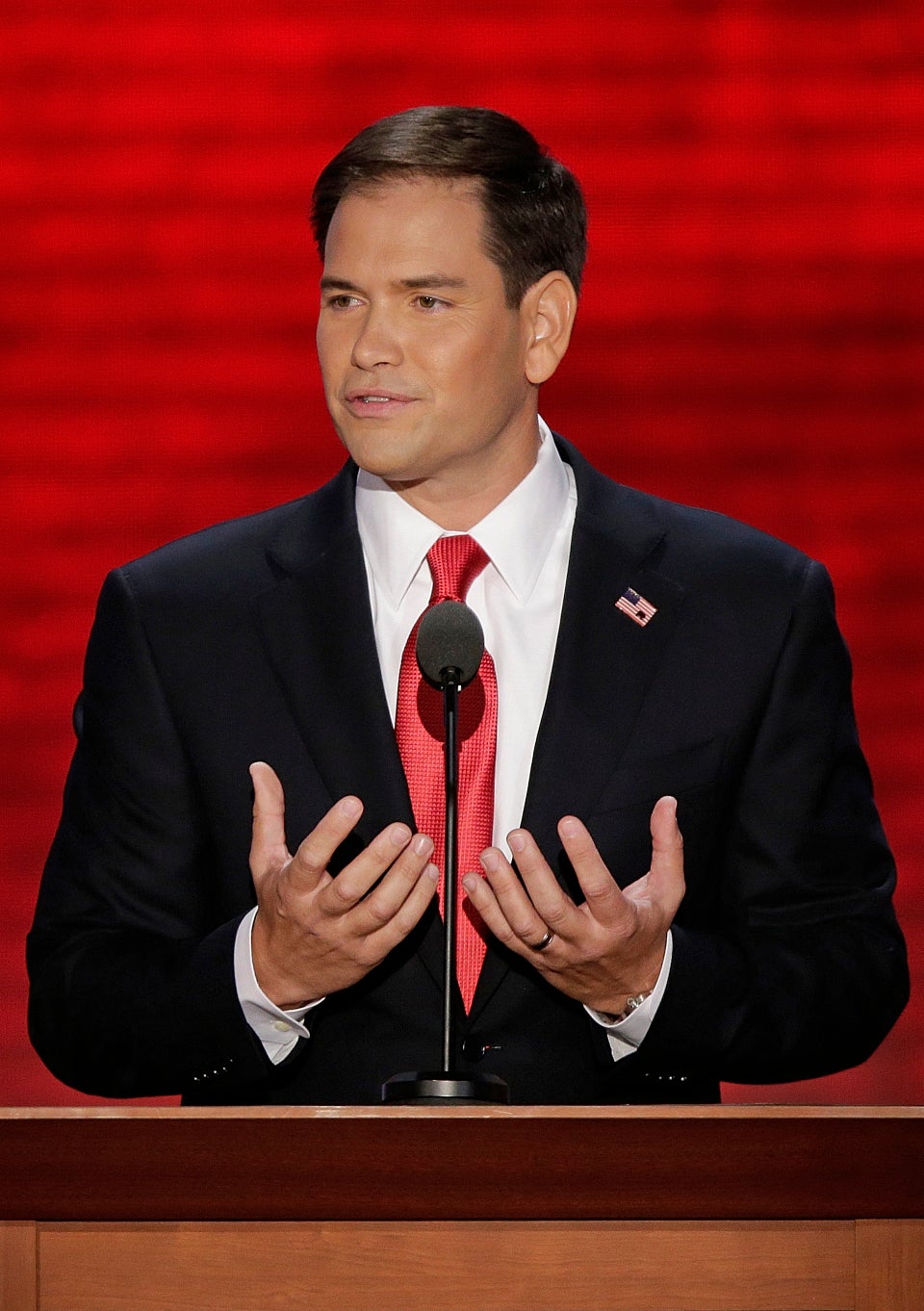 Sen. Marco Rubio
Popular in the Community