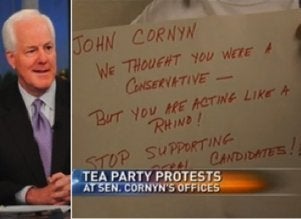 Tea Party activists in Texas protested against Republican home state Sen. John Cornyn on Thursday to make clear they don't want him or the GOP establishment interfering with the electoral ambitions of the conservative movement.
NBC affiliate in Texas KETK reports that angry constituents held demonstrations "at all of" the Senator's offices in the Lone Star State to protest accusations of meddling in Alaska's recent U.S. Senate primary.
Cornyn, who chairs the National Republican Senatorial Committee, caught fire last week after Tea Party-backed U.S. Senate candidate Joe Miller said he sensed "some game play going on" with the NRSC "meddling" in his primary fight to unseat incumbent Alaska Sen. Lisa Murkowski.
The suggestion came in the wake of news that a lawyer for the NRSC was heading to Alaska to help Murkowski's campaign before a final batch of deciding ballots were set to be tallied.
Cornyn signaled at the time that neither he nor the NRSC had any intention of trying to sway the extremely contentious race. But, now even after Miller's primary win, members of the Texas Tea Party still don't appear to be satisfied.
"John Cornyn... We Thought you were a conservative," read one sign brought to a protest over the matter. "But you are acting like a Rhino!"
Popular in the Community