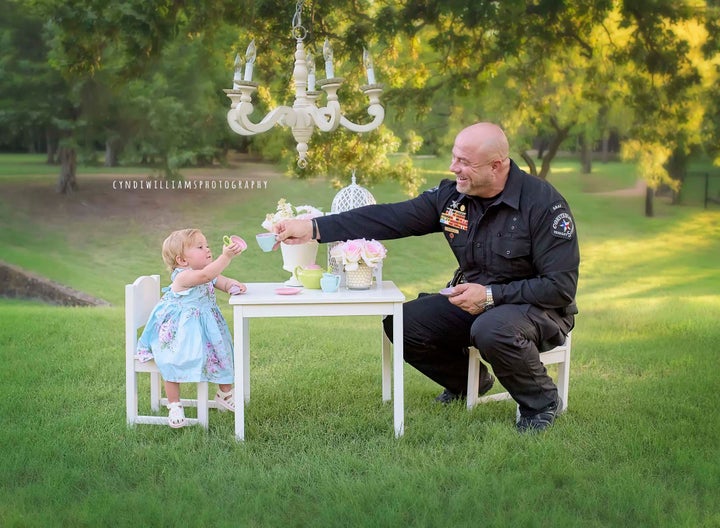 Deputy Constable Mark Diebold's new profile picture on Facebook is sure to melt your heart.
It shows the uniformed Texas police officer, looking like a big, friendly giant as he perches on a tiny white chair, enjoying a tiny tea party with a tiny toddler also dressed in blue.
The toddler is Evelyn Hall, a child whom the Tarrant County cop helped deliver at a Texas gas station a year ago, after her mom went into labor while en route to the hospital.
Evelyn celebrated her first birthday party earlier this month and the tea party photoshoot with Diebold was a special part of the celebration — an adorable memorialization of the bond between the toddler and the stranger who brought her into the world.
"Mark Diebold, without a doubt, is one of the most genuine, loving, thoughtful and caring [people] we have ever met," the mom continued. "He is quick to think of others and we are so blessed to call him friend and family."
Diebold had been on his way to work on July 18 last year when a car hurtled past him, driving over the speed limit. He told TODAY that he flashed his lights to alert the driver that he was going too fast.
At the next traffic light, the driver ― Destiny's Hall's husband, Caleb Hall ― rolled down his window and explained to Deibold the reason for the speed.
Minutes later, parked at a gas station, Deibold helped Destiny Hall deliver her baby. Caleb Hall caught the infant and Diebold helped clear the newborn's airway.
"Mark was like a little kid in a candy shop, high-fiving and celebrating with us!" Destiny Hall recalled in an interview with HuffPost last year. "He just couldn't stop smiling and was telling us that we just 'made his month.' It was such a wild, weird and wonderful experience."
Local photographer Williams heard was so moved by Evelyn's incredible birth story,she reached out to the Hall family to offer them a complimentary newborn session.
As a nod to Diebold's kindness, the family chose to pose the baby with the officer's badge and uniform for the shoot.
"It was amazing," Diebold told ABC News of the photos. "It was heartfelt and it was a big deal. That photo shoot reminded me that [police work] is what I need to keep doing until it's my time to stop."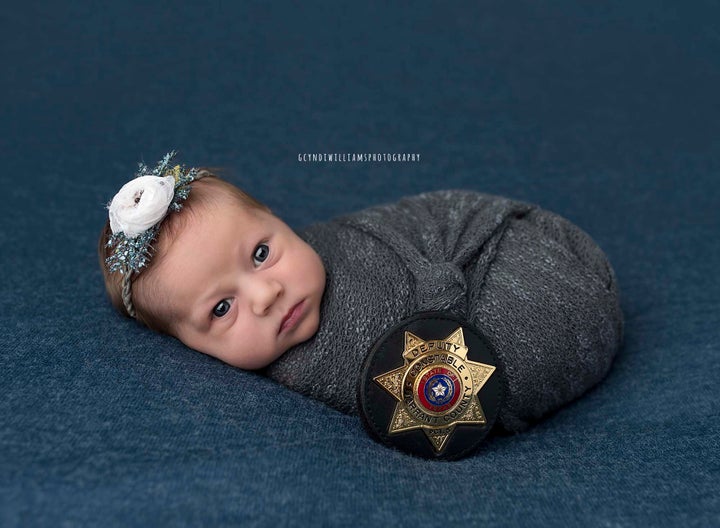 After the recent birthday photo shoot, Williams expressed her amazement at the bond between Diebold and the Hall family.
The officer visited Destiny and Evelyn in the hospital after the birth. And he's stayed in touch with the family ever since.
"Officer Diebold, and the Hall family have remained in close contact," the photographer wrote on Facebook. "The Hall children even refer to Officer Diebold as Uncle Mark!"
Before You Go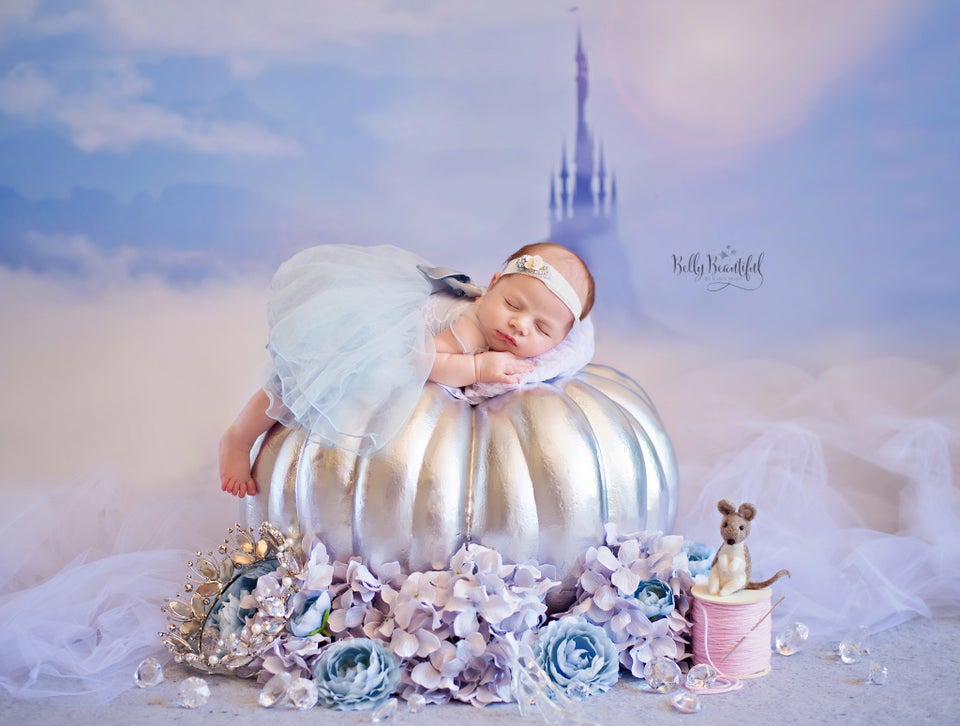 Photographer Takes Cute Pics Of Babies As Itty-Bitty Disney Princesses