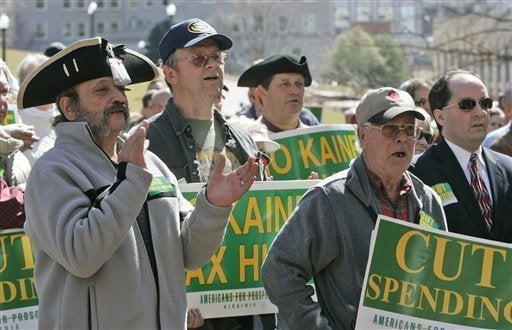 One of the leading organizers and sponsors of the Tea Party movement appears to be paying scant attention -- if any -- to efforts by Congress or the White House to pass regulatory reform.
The group FreedomWorks, which has played an instrumental role in shepherding anti-government and anti-Wall Street angst into a major political movement, does not list efforts to reform the financial sector as one of its six major areas of interest on its website. Nor, as a sharp-eyed observer points out, does it put regulatory reform among the 18 other items it lists as "other key issues." The group does list "Regulatory Reform" as a mission on its mission page. But there are no additional details.
Considering that the FreedomWorks mission is defined as devotion to "free-market economics and limited government" the omission would seem rational. But the group and its header, former House Majority Leader Dick Armey, have tactically allied themselves with the populist movement that bloomed, in part, out of anger towards the preferential treatment Wall Street enjoys within political circles -- which suggests that daylight could exist between the Tea Party protesters and their major benefactor.
A call to FreedomWorks was not immediately returned. But it is a complicated question because it is far from certain whether Tea Party philosophy is synonymous with stronger regulatory reform. When Sen. Chris Dodd (D-Conn.) introduced his bill to rein in Wall Street practices, there was much speculation that it would draw the favor of those angry protesters who thought the financial industry bailout was corrupt. But not everyone was buying it.
"Tea Parties claim to believe they wish the government hadn't rescued the banking system last fall, but I haven't seen a single sign at a rally or a single quote from a rallier to suggest support for enhanced regulation," wrote Matt Yglesias on Think Progress.
On Wednesday, meanwhile, Democratic pollster Celinda Lake argued that financial regulatory reform would help Democrats win over "angry" seniors. But with Republicans doing their best to frame the bills being considered as permanent Wall Street bailouts, the argument is no longer so easy for Democrats to make.
In the end, FreedomWorks' omission of the topic from its website seems more of a reflection of just how amorphous the Tea Party's position on Wall Street truly is than anything else. (It could be a byproduct of the group's strong ties to Wall Street as well.)
As has been reported in countless places, for more than six years Armey earned $750,000 a year lobbying on behalf of major banks and other companies -- many of whom are now lobbying against the regulatory reform structures being pushed by Democrats.

Popular in the Community