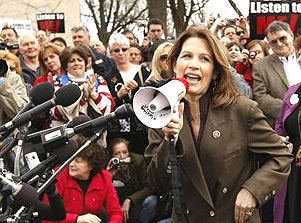 Rep. Michele Bachmann (R-Minn.) has plans in the works to create a Tea Party Caucus in the United States House of Representatives.
Bachmann on Thursday filed paperwork to establish the House affinity group, which the conservative congresswoman says will call for "fiscal responsibility, adherence to the Constitution, and limited government."
"This caucus will espouse the timeless principles of our founding, principles that all Members of Congress have sworn to uphold," Bachmann said in a statement. "The American people are doing their part and making their voices heard and this caucus will prove that there are some here in Washington willing to listen."
Bachmann took to Twitter to credit Kentucky Republican Senate candidate Rand Paul with inspiring her to start the new caucus. "I applaud Rand Paul and look forward to bringing the Tea Party to the House!" she wrote.
Earlier this week, Paul raised the idea of founding a "tea-party caucus" in the Senate in an interview with the National Review.
(By the way, Bachmann already co-chairs the Congressional Media Fairness Caucus.)
Below is a copy of a letter sent by Bachmann to Rep. Bob Brady (D-Pa.), who chairs the Committee on House Administration, to register the Tea Party Caucus: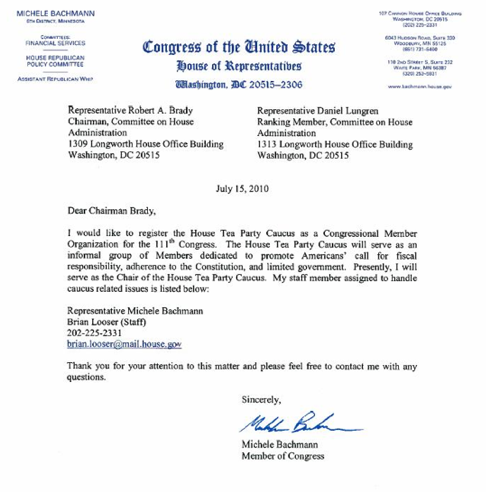 Popular in the Community