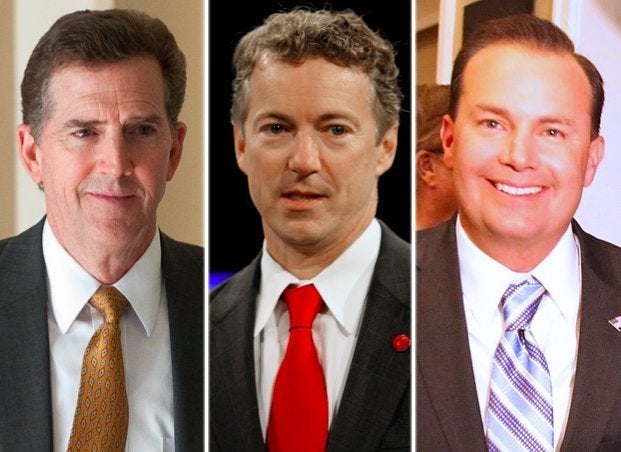 A newly-launched Tea Party caucus in the U.S. Senate will hold its first meeting on January 27, Roll Call reports.
Sen. Rand Paul (R-Ky.), who announced the creation of the political affinity group last week, first spoke of the idea during the 2010 midterm campaign. Shortly after floating the concept, Rep. Michele Bachmann (R-Minn.) took it upon herself to introduce the idea into the U.S. House of Representatives.
Roll Call reports that Sens. Jim DeMint (R-S.C.) and Mike Lee (R-Utah) will be members of the new caucus in the upper congressional chamber.
"Republicans in the Senate have already made a pledge to end earmarks and fight for a balanced-budget amendment to the U.S. Constitution," said Paul in a joint statement released by his office, according to the Washington Post. "By joining with my fellow Senators, Jim DeMint of South Carolina and Mike Lee of Utah, as well as grassroots groups who see the need for government reform, the caucus will work to enact real change to protect our country and its taxpayers from an ever-expanding government."
Lee responded favorably to the idea of forming a Tea Party caucus during the midterm election season. "From the very beginning of my candidacy I've talked about the need to develop a coalition of like minded advocates for limited government in the Senate," he said.
It remains unclear whether newly-elected Sens. Ron Johnson (R-Wisc.) or Marco Rubio (R-Fla.), whose campaigns garnered support from the Tea Party movement, plan to join. During the election season, Johnson was noncommittal when asked whether he would help start the caucus, while Rubio gave a hesitant response when asked about the matter.
"Well I don't know what the need for that would be," said the Florida Republican during an appearance on CNN last year.
On the heels of winning Kentucky's 2010 U.S. Senate race, Paul said that if a Tea Party caucus were to materialize, he would extend an invitation to Senate Minority Leader Mitch McConnell to join. It remains to be seen, however, whether the Republican leader -- whom Paul maintains a complicated relationship with -- will ultimately embrace the group.
Popular in the Community