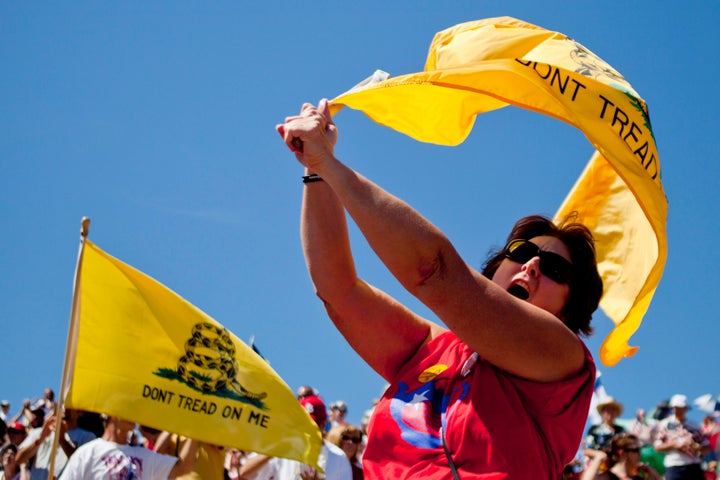 WASHINGTON -- The Tea Party is causing more headaches for Speaker John Boehner (R-Ohio) over his debt proposal.
A coalition of several hundred Tea Party chapters declared Tuesday that a vote for Boehner's debt plan constitutes a violation of its pledge, which 51 Republican lawmakers have signed. The group, known as the Cut, Cap and Balance Coalition, notified its members of its position in a Tuesday memo entitled, "Clarification of the CCB Coalition Stance on the Speaker's Proposal."
"The greatest concern to the Cut, Cap and Balance Coalition is the integrity of the Cut, Cap and Balance Pledge that was signed by 39 House Members and 12 Senators, and whether voting for the proposed deal constitutes a Pledge violation," reads the memo."
"We hold that is does violate the pledge, on several grounds."
Lawmakers who signed the pledge agreed to oppose any debt limit increase unless it met three conditions: substantial spending cuts, enforceable spending caps and a constitutional amendment that requires the government to balance its books each year.
The Cut, Cap and Balance Coalition claims Boehner's plan violates all three conditions.
Boehner's call for $7 billion in first-year spending cuts "is well short of the 'substantial' standard," states the memo. Instead, the coalition has pressed for $111 billion in cuts in fiscal year 2012.
As for spending caps, the coalition says Boehner's plan fails because it limits caps to discretionary spending, which accounts for only about one-third of the budget, and it doesn't address entitlement reform. "Total federal spending is not really 'capped' at all," continues the memo.
Finally, the fact that Boehner's proposal allows for an increase in the debt ceiling prior to the passage of a balanced budget amendment "virtually assures that any vote would be, at best, a purely symbolic vote on a toothless amendment."
Therefore, the memo concludes, "the argument proffered by some Members of Congress who have signed the CCB Pledge that voting for the Boehner bill is not a Pledge violation ... is fallacious."
All told, Boehner's proposal would tie more than $3 trillion in deficit reduction to votes to raise the debt ceiling in two increments, by $900 billion initially and then by about $1.6 trillion next year. It would require lawmakers to vote to raise the debt limit now and then, in a few months, require a vote on the balanced budget amendment. A second vote to raise the debt limit would take place next year. Tea Party groups have howled over the idea of voting for a balanced budget amendment after, not before, agreeing to raise the debt ceiling.
The latest Tea Party missive comes days after the coalition flat-out rejected Boehner's debt proposal. Tuesday's memo serves the additional purpose of warning Congressional allies that their votes on Boehner's bill won't go unnoticed.
Twelve Senators and 39 Representatives, all Republicans, have signed the coalition's pledge. Among them: Sens. Tom Coburn (Okla.) and Lindsey Graham (S.C.), and Reps. Jeff Flake (Ariz.), Michele Bachmann (Minn.) and Allen West (Fla.).
The House is expected to vote on Boehner's bill on Wednesday. Some lawmakers who signed the Cut, Cap and Balance pledge have already said they won't support Boehner's plan, including Reps. Jason Chaffetz (Utah) and Jim Jordan (Ohio). Jordan chairs the conservative House Republican Study Committee, which boasts a whopping 170 members.
Action is needed on some kind of agreement to raise the debt ceiling by August 2, when the government is expected to run out of money to pay its bills and begin to default on its obligations.
Calling all HuffPost superfans!
Sign up for membership to become a founding member and help shape HuffPost's next chapter