The mystery is finally over.

During the Fox News Tea Parties™, Fox anchors and hosts assured viewers that the protests were not Republican nor conservative efforts. Glenn Beck and the rest of the Fox News team went to lengths to mention that the tax day demonstrations were apolitical that also included independents and Democrats.

Investigators were originally unable to locate any actual Democrats who had showed up at the Tea Parties but after an exhaustive probe of the participants, Mr. Elvin Kardos of Levittown, Pa was identified as the registered Democrat who attended the protest(s).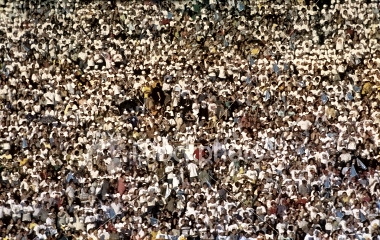 Democrat pictured in lower right corner at Sacramento Tea Party
"The missus and I had actually only wanted to attend one, really just to take advantage of the free tea and Sweet and Low" said the 82 year old Kardos, "but when word got out that I had once voted straight Democrat in our Middletown Township primary, I received a call from a producer from Fox News to ask if I was were interested in being shuttled to a number of them."

According to Kardos that started a Wednesday swirl of private jets and limo transports to Tea Party sites accross the country.

"It was pretty pleasant," said Mrs. Rose Kardos. "We and the Jeffersons, the nice black couple used at many of the protests, were treated like READ THE REST OF THE REVEALING TEA PARTY DETAILS HERE.
Award-winning TV writer Steve Young blogs at the appropriately named steveyoungonpolitics.com
REAL LIFE. REAL NEWS. REAL VOICES.
Help us tell more of the stories that matter from voices that too often remain unheard.