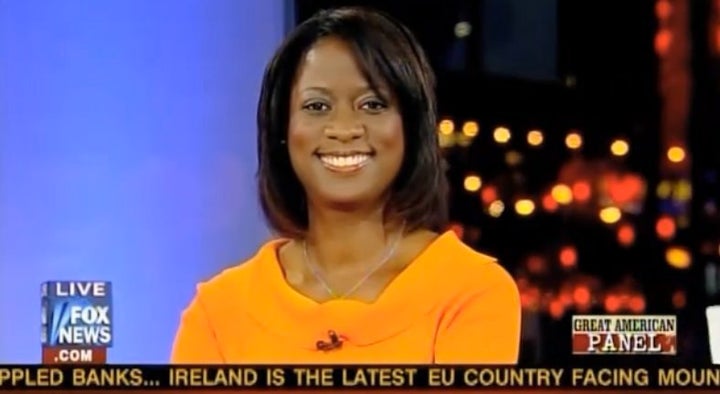 FreedomWorks, one of the nation's major Tea Party groups, has tapped Deneen Borelli, a New York-based conservative activist and commentator, to lead its outreach to minorities.
Borelli is a blogger and regular commentator for Fox News and NewsMax, a conservative news site. Borelli is also author of a book, "Blacklash: How Obama and the Left Are Driving Americans to the Government Plantation."
"In her new role, Deneen will speak at events promoting FreedomWorks' pro-liberty agenda, participate in recruiting grassroots activists -- including minorities -- and aggressively challenge the misleading voices of the liberal black establishment," according to a FreedomWorks statement.
In the introduction to her book, Borelli said that she was upset at the idea that it was culturally unacceptable to be a conservative as a black woman. "There is this strange notion that because I am black I should agree with all black people," she wrote. "But all white people are not similarly expected to agree with Bill Clinton or George Bush. Nor are all women expected to agree with Hillary Clinton or Michele Bachmann. So why is it that black people -- especially black women -- aren't allowed to have their own opinions?"
Tea Party leaders have been trying to distance themselves from the perception that members are bigots by launching campaigns like FreedomWorks' DiverseTea, which is meant to highlight the diversity of the populist movement. "If you actually take the time to get to know the people in the Tea Party movement, you see an amazing amount of diversity, not just different skin colors but people literally from all walks of life that have united around the idea that the government is too big and is spending too much money it doesn't have," said Matt Kibbe, FreedomWorks' president.
Approximately 45 percent of Whites either strongly or somewhat approve of the movement. Of those, only 35 percent believe Blacks to be hardworking, only 45 percent believe Blacks are intelligent, and only 41 percent think that Blacks are trustworthy. Perceptions of Latinos aren't much different. While 54 percent of White Tea Party supporters believe Latinos to be hardworking, only 44 percent think them intelligent, and even fewer, 42 percent of Tea Party supporters believe Latinos to be trustworthy. When it comes to gays and lesbians, White Tea Party supporters also hold negative attitudes. Only 36 percent think gay and lesbian couples should be allowed to adopt children, and just 17 percent are in favor of same-sex marriage.

A 2010 New York Times study found that Tea Partiers were more likely to believe the Obama administration favored blacks over whites, and to say that too much attention has been given to the problems facing black people.
Popular in the Community