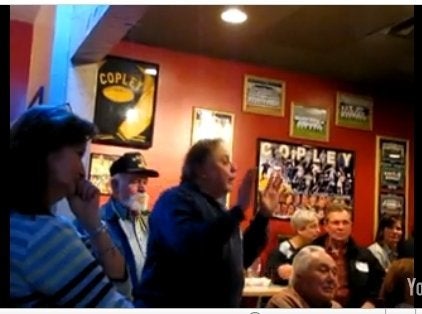 Big bucks are pouring in to the tea party movement. Fox News reports that organizers are making a fortune in merchandise sales -- the online store for the Tax Day Tea Party website has already lodged over $48,000 in sales, according to tea partier Eric Odom.
One wonders how much that fundraiser will resemble the scene in this video of a small event organized by the 9-12 Project, in which a man rouses the rabble with a conspiracy-alleging rant.
"In the early 50s our country was infiltrated by the communist party," he says, calling the Obama administration the culmination of that infiltration. "They're doing everything they can to brainwash our public...This thing they're putting on our TVs," he says, presumably referring to digital cable converters, "it's a brainwash unit!"
As his speech winds down, he exhorts his listeners to get their kids "the hell out of college. They're brainwashing 'em!"
The anti-school message resonates with one woman.
"Burn the books!" she yells from off-camera. The surprised camera man asks if she's serious, and which books she'd burn. "The ones in college, the brainwashing books, like the evolution crap."
(The Huffington Post wants to have citizen journalists at as many of the April 15 tea party events as possible. If you're interested in attending one of the protests and reporting back to us with dispatches, photos, or video, click here to sign up. We'll contact you shortly with further instructions.)
Popular in the Community