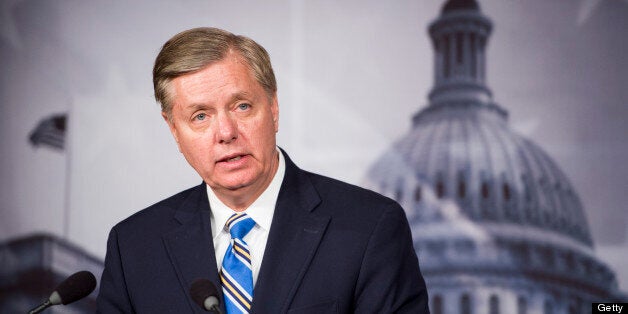 Protesters gathered outside of Sen. Lindsey Graham's (R-S.C.) state offices Monday to protest his vote in favor of immigration reform. The tea party protest, sponsored by Freedom Works, a conservative non-profit founded by David Koch, was held to express unhappiness with Graham's support for the Senate's immigration bill -- though Graham is a member of the so-called gang of eight that drafted it.
"We're tired of him being so wishy washy and him sitting on the fence," Charlotte Hendrix, a member of the Florence Tea Party Patriots, told Carolina Live about the protests. "He'll do one thing that's good and do about four or five that's displeasing to us. We want a real conservative to represent us."
"We have had protestors both in support and opposition to immigration reform," Graham said in the statement. "Previously, the evangelical community and conservative religious leaders have held prayer vigils outside our offices encouraging people of faith to support immigration reform. I expect as the process moves forward we will have more people in the community, and across the state, speak out both for and against immigration reform."
Popular in the Community