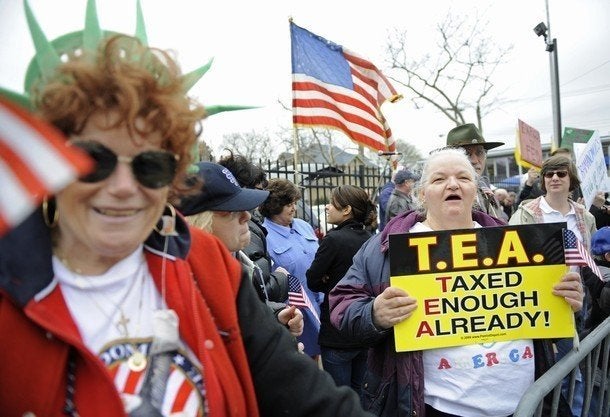 UPDATE 9/11: Tea Party people have descended on Capitol Hill for this weekend's march. On Thursday they held a "Freedom Summit" attended by a number of GOP lawmakers and fired corporate lobbyist Dick Armey. Dave Weigel reports:
"Saturday's going to be an incredible day," said Dick Armey, the former Republican majority leader who has made a political comeback as the chairman of FreedomWorks. "On Saturday, we all be blessed to be a part of the greatest demonstration of free market, individual liberty devotion on the streets of Washington, D.C. in the history of this country. And we didn't get here by accident! We came here by special invitation of President Obama and Speaker Nancy Pelosi!"
The Tea Party movement has been regaining its momentum with anti-health care town hall protests across the country. Now conservative leaders are trying to capitalize on the upswing in right-wing anger with a march on Washington, scheduled for September 12th.
It's time to take the tea party movement directly to Washington, D.C. Please join thousands of local organizers and grassroots Americans from across the country as we gather in our nation's capital to deliver a message to the politicians: Enough!

We've had enough of the out of control spending, the bailouts, the growth of big government and the soaring deficits. And we reject the future tax increases to pay for all of this spending and debt down the road. We are gathering on 9-12-2009 to deliver our message in person that we've had enough!
The march is sponsored by FreedomWorks, the group run by corporate lobbyist Dick Armey. The former House Republican leader just lost his job at the law firm DLA Piper over the controversy surrounding his activist organization. Several other conservative organizations, including the Club for Growth and Americans for Tax Reform, are co-sponsors.
The organization is citing the event's increasing cost in justifying the increased price to conservative allies, one of whom disclosed the details to POLITICO.

"Their 'organizing' is tending to dominate and overformalize what would've otherwise been a more 'freelance' protest," wrote the conservative, who also complained of FreedomWorks' move to "own" the entire event by controlling access both to workshops and to the march itself.
Calling all HuffPost superfans!
Sign up for membership to become a founding member and help shape HuffPost's next chapter