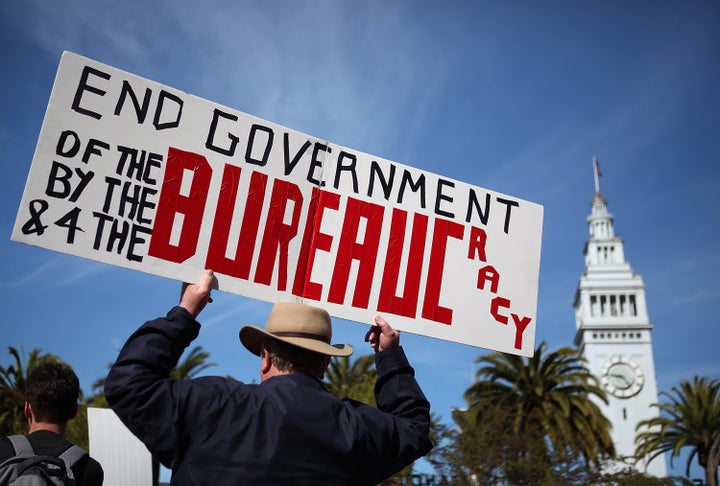 WASHINGTON –- Liberals and conservatives disagree vehemently over what to do with Medicare and Social Security, but among conservative think-tankers and intellectuals it is an article of faith that the massively expensive programs should be radically overhauled to reduce the nation's long-term debt burden.
But an in-depth survey of the conservative grassroots by a top Tea Party group has yielded some sobering results for those who wish -- like Rep. Paul Ryan (R-Wis.) -- to make dramatic changes to the two entitlement programs.
FreedomWorks, a Washington-based nonprofit, said Wednesday that the majority of more than 40,000 voters who have filled out an eight- to ten-question survey has indicated they are "more cautious" about changes to Medicare and Social Security than they are regarding other federal programs or agencies.
And this is not a crowd that is shy about putting federal spending on the chopping block. The point of the survey is to identify $9 trillion in spending cuts over a decade, as an alternative to the quest of the so-called "Super Committee" to find $1.5 trillion in reductions over the same period.
So far, the people surveyed -- some 90 percent of whom self-identified as conservative or libertarian –- have identified about $6 trillion in cuts. At the top of the list: repeal President Obama's health care law, reduce duplicative purchases of Pentagon supplies, eliminate the Department of Education, privatize Fannie Mae and Freddie Mac and reduce discretionary spending to 2008 levels.
But even the most politically feasible changes to Medicare and Social Security received little enthusiasm. Raising the retirement age for the programs, which Republican politicians consider to be a starting point for reform, "tends to have weak support," wrote Dean Clancy, FreedomWorks' legislative counsel.
Respondents, Clancy stated in a memo, "prefer reductions in peripheral elements (such as tightening eligibility for Social Security disability or reducing Medicare teaching hospital subsidies), not cuts to core benefits."
Polls have consistently shown tepid support for cutting government benefits in these programs, but the FreeomWorks survey has tested the largest group of conservative voters to date about their views on the matter.
The feedback suggests that many Tea Party voters have yet to come to grips with the implications of their own calls for reducing the size of government. Liberals and conservatives generally come down in far different places on how much of the economy should be consumed by government spending. And it is very difficult, if not impossible, to achieve the goal most conservatives desire –- bringing federal spending back to its traditional level of between 18 and 20 percent of GDP –- without major changes to Medicare, Social Security and Medicaid.
The left, including the president, has ridiculed older conservatives who said they do not want government health care but also didn't want reductions to their taxpayer-provided benefits.
"I got a letter the other day from a woman. She said, 'I don't want government-run health care. I don't want socialized medicine. And don't touch my Medicare,'" Obama said in 2009 when he was still pushing for the government-run "public option" that was ultimately taken out of the health care overhaul. "I wanted to say, you know, that's what Medicare is: a government-run health care plan that people are very happy with."
FreedomWorks officials said that the data was a wakeup call of sorts to the need for more advocacy and engagement with voters on the issue.
Conservatives attitudes on the subject "may be due to lack of education on the program's deep fiscal shortfalls, or a mistaken belief that these programs represent true 'earned entitlements' or 'vested rights,'" Clancy wrote.
Adam Brandon, the communications director for FreedomWorks, said the findings gave their group "our marching orders for the year."
"Our primary mission is still education," he told reporters at a briefing midday Wednesday.
Clancy was less clear about what the final report of the "Tea Party Debt Commission" will recommend regarding entitlement programs. The report will be presented at a Nov. 17 hearing on Capitol Hill, hosted by Sen. Mike Lee (R-Utah). But, Clancy indicated that the report will recommend a restructuring of the entitlement programs even if that is not one of the top choices of those polled in their online survey.
"The plan, when it comes out, is definitely going to address Social Security and Medicare," Clancy said. "We're going to do it big, because you have to."

Calling all HuffPost superfans!
Sign up for membership to become a founding member and help shape HuffPost's next chapter